A 10-year-old girl's dog bit a man that tried to abduct her while she was walking on a Virginia road.
Prince William County police told Fox5 that while she was walking her dog when the man assailed her, grabbing her arm.
However, the girl's companion stepped in and launched an attack.
The suspect, who wasn't caught, was forced to immediately flee, and the girl wasn't harmed in the incident.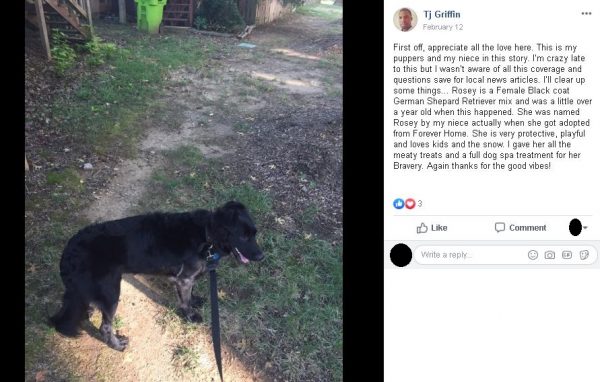 A Facebook user, writing on the Prince William County Police Department Facebook page, said that the girl was only "a little over a year old" when the incident took place. He said the girl is his niece.
"She is very protective, playful and loves kids and the snow," TJ said of his beloved dog. "I gave her all the meaty treats and a full dog spa treatment for her bravery," he added, Taphaps reported.
The dog was adopted via Forever Home, a rescue foundation in Chantilly, Virginia.
He wrote: "First off, appreciate all the love here. This is my puppers and my niece in this story. I'm crazy late to this but I wasn't aware of all this coverage and questions save for local news articles. I'll clear up some things… Rosey is a Female Black coat German Shepard Retriever mix and was a little over a year old when this happened. She was named Rosey by my niece actually when she got adopted from Forever Home. She is very protective, playful and loves kids and the snow. I gave her all the meaty treats and a full dog spa treatment for her Bravery. Again thanks for the good vibes!"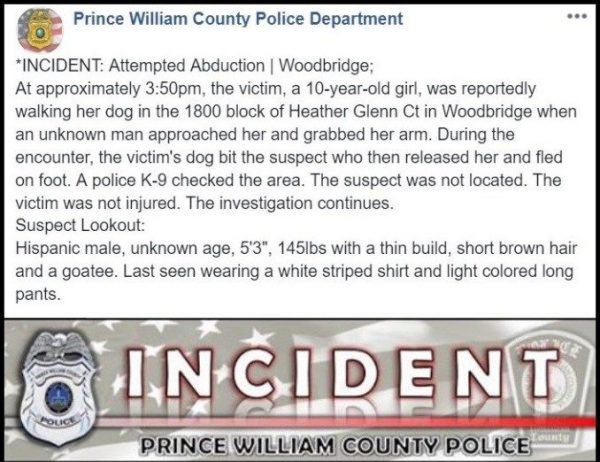 The suspect was described as a man in his late teens or early 20s who is 5 feet 3 inches to 5 feet 6 inches tall.
He weighed about 145 pounds with short dark hair and a goatee.
Other details about the incident are not clear.
Stranger Drives Dog 1,000 Miles to Home
A man who was apparently angry and upset abandoned a pit bull mix named Zimba in Maryland and refused to answer calls from his girlfriend.
Zimba had taken a road trip with the unnamed boyfriend, but when the two broke up, he made the dog a victim, according to CBS Baltimore.
The dog was rescued by a local animal shelter. The problem? The owner (and ex-girlfriend) lived 1,000 miles away in Wichita, Kansas.
"We tried contacting Airlines but that proved to be an unsuccessful solution," the Caroline County Humane Society wrote on its Facebook page. " We even contacted the Humane Society where his mom had originally adopted him. They did not have a solution for us either."
The woman said she wasn't able to drive to Maryland due to her children and job.
Zach Holt, a former shelter employee, volunteered to drive the dog back after he heard the story.
"I'm a bartender," he told the station. "I strictly work, you know, the weekends and Monday and I have Tuesday, Wednesday, Thursday, Friday off. And four days is plenty of time to get to Kansas and back, so I said, 'Why not?'"
They began their journey, and on the first day, Zimba slept most of the day.
"All the hard work, you know, of coordinating everything and having him found, you know, the person that took time out of their day to actually, you know, wrangle Zimba and make sure that they got in contact with somebody. I mean that was awesome… it was just as easy for them to just ride on by and be like 'Oh look, there's a stray dog,'" Holt said.