Four people were killed and two others injured by a man "full of anger" who targeted random victims across Orange County in California, armed with a machete-style knife.
Two hours after starting a string of attacks on Aug. 7, the suspect was apprehended as he emerged from a 7-Eleven where he had just stabbed to death a security guard, said authorities, who have not yet released the suspect's name.
The late afternoon crime spree appeared to evolve from robberies to random violent attacks along a 10-mile swathe of Orange County from Garden Grove to Santa Ana, police said, according to local reports.
"These were random acts of violence—our suspect was not involved with any of the victims," Garden Grove Police Lt. Carl Whitney said at a news conference, reported ABC.
Whitney said the motive appeared to be robbery, as well as anger and hate.
All of the victims were Latino, according to authorities, as is the suspect himself.
"I've been a police officer for 30 years, and this is the first time I've ever seen a suspect kill four people and stab others," Whitney said, according to the LA Times. "It's pure evil."
The police said the incident started with the 33-year-old suspect robbing a bakery in Garden Grove at knifepoint, reported KABC.
Next, the suspect stabbed two men during a confrontation at his apartment complex in Garden Grove, leaving one dead inside an apartment and another wounded on the balcony, who later died at a hospital.
The staff were left unscathed as the suspect then robbed a nearby check-cashing business, before turning his attention to an insurance agency, where Whitney said he attacked a 54-year-old employee with a machete-style knife.
"This female employee was very brave; this guy was armed with knives," Whitney said, according to the Times. "She fought as best as she could against this armed suspect and sustained multiple stab wounds."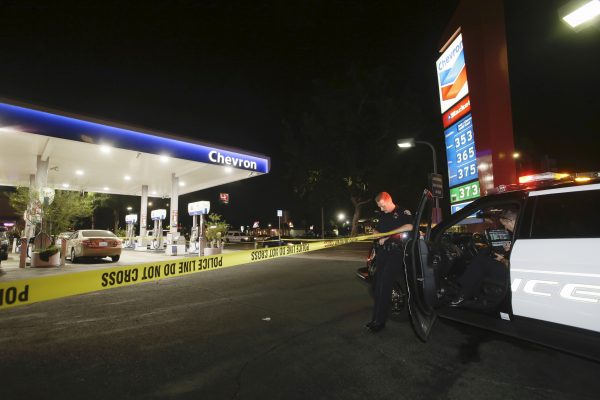 Just five minutes later, around 6:10 p.m., he attacked a man pumping gas at a station in Garden Grove, stabbing him in the back and almost cutting off his nose, police said, according to the Times. The victim is expected to survive.
That attack appeared to be "for no reason," Whitney said, according to The Associated Press. "There was no robbery."
The suspect then stopped at a Subway sandwich shop in Santa Ana where he killed a man, before walking across the street and stabbing a security guard at the 7-Eleven to death.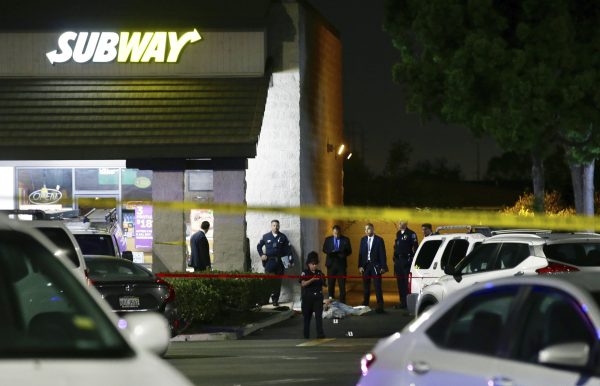 It was at this point that law enforcement finally caught up with him, detaining him as he emerged from the 7-Eleven, holding the dead security guard's gun.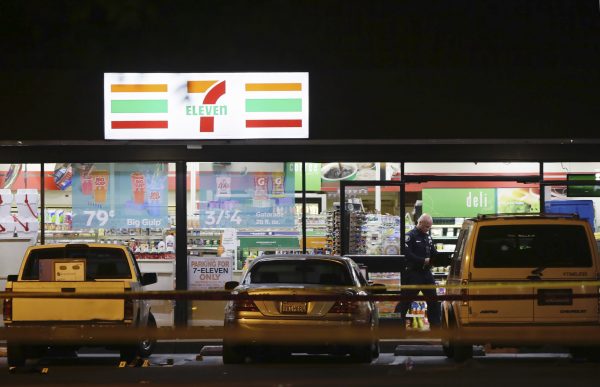 Several weapons, including a machete-like knife, were used in the attack, according to KABC.
GGPD working multiple scenes with several homicides. Multiple robberies and stabbings by suspect. Suspect in custody by #GGPD at Harbor and First in Santa Ana. PIO at Puryear and Chapman in GG. #GGPD32 #homicide pic.twitter.com/62Xq8lm97n

— Garden Grove Police (@GardenGrovePD) August 8, 2019
Some of the carnage was caught on surveillance cameras.
"We have video showing him attacking these people and conducting these murders," said Whitney, reported AP.
Asked about a motive, Whitney replied, "We don't know," according to KABC. "It's just pure hate that this guy did this," he added.