Dmitriy Andreychenko, the 20-year-old arrested after walking around a Missouri Walmart with a rifle while wearing body armor, said that he wasn't going to shoot anybody and merely wanted to test his Second Amendment rights.
Andreychenko entered a Springfield Walmart on Aug. 8 and walked around with an AR-style rifle slung across his chest over a ballistic vest, the Springfield Police Department said in a probable cause statement.
People evacuated the store after an employee was ordered by a manger to pull the fire alarm after seeing the man with the gun.
After being arrested, Andreychenko told police officers that he got out his phone and started recording himself after he parked at Walmart and continued doing so as he went inside. He said he wanted to capture the moment, if it happened, of an employee telling him to leave.
"I wanted to know if Walmart honored the Second Amendment," Andreychenko said.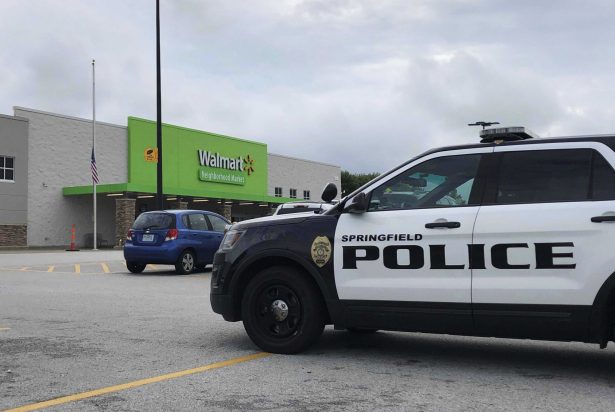 He said that he wanted to buy grocery bags and didn't want anyone to confront him, noting the rifle had a loaded magazine inserted but not a chambered round, though a handgun he was carrying did have one round in the chamber.
He said he was surprised by how people ended up reacting. "This is Missouri," he said. "I understand if were somewhere else like New York or California, people would freak out."
When he heard the fire alarm, he walked out of the store. That's when an off-duty fireman pointed a gun at him and held him until police officers arrived.
In a statement sent to news outlets, Walmart said that Andreychenko is banned from its stores.
"This was a reckless act designed to scare people, disrupt our business, and it put our associates and customers at risk," said spokeswoman LeMia Jenkins. "We applaud the quick actions of our associates to evacuate customers from our store, and we're thankful no one was injured."
#BREAKING: Photo obtained by @kolr10kozl of the man arrested at a Walmart in Springfield, Missouri today. Police say man had armor & rifle when an armed off-duty firefighter detained him until police arrived. https://t.co/rQqDTM1Mtt pic.twitter.com/yzA9kUlulX

— Mitchell McCoy (@MitchellMcCoy) August 9, 2019
Andreychenko's wife told police she tried telling him it wasn't a good idea to go into the Walmart with a gun and said he was immature.
She said that he typically keeps a vest and a gun in the trunk of his vehicle.
The suspect's sister said he called her earlier in the day and asked her if she would film him going into a Walmart with a gun, calling it a "social experiment" to see if his Second Amendment rights would be respected in a public area.
She said she wouldn't film him and told him it was a bad idea, particularly because of the recent mass shootings and the fact that one of them took place inside a Walmart.
The officer writing the probable cause statement said he believes Andreychenko "poses a danger to the community," citing the suspect's actions and the admission by the suspect that he was aware of the El Paso Walmart shooting.
According to Missouri law, open carrying guns is legal when "any person who has a valid concealed carry endorsement issued prior to August 28, 2013, or a valid concealed carry permit, and who is lawfully carrying a firearm in a concealed manner, may briefly and openly display the firearm to the ordinary sight of another person, unless the firearm is intentionally displayed in an angry or threatening manner, not in necessary self-defense."
In a statement, Greene County prosecuting attorney Dan Patterson said, "Missouri protects the right of people to open carry a firearm, but that right does not allow an individual to act in a reckless and criminal manner endangering other citizens."
"As Justice Oliver Wendell Holmes famously explained, 'The most stringent protection of free speech would not protect a man in falsely shouting fire in a theater causing a panic,'" Patterson added. He asked people to carry their weapons in a responsible manner.
Andreychenko was charged with making a terrorist threat. If convicted, he faces up to four years in prison and a fine of up to $10,000.