A Utah man held hostage by the Venezuelan socialist government has been released after almost two years of detention, according to statements by President Donald Trump and Senator Orrin Hatch (R-Ut.).
"Good news about the release of the American hostage from Venezuela," Trump said on Twitter on Saturday morning, May 26. "Should be landing in D.C. this evening and be in the White House, with his family, at about 7:00 P.M. The great people of Utah will be very happy!"
Good news about the release of the American hostage from Venezuela. Should be landing in D.C. this evening and be in the White House, with his family, at about 7:00 P.M. The great people of Utah will be very happy!

— Donald J. Trump (@realDonaldTrump) May 26, 2018
Shortly after, Senator Orrin Hatch released a statement on Facebook announcing the release of the hostage as well as the hostage's wife.
"I'm pleased to announce that after two years of hard work, we've secured the release of Josh and Thamy Holt, who are now safely on their way home to the United States from Venezuela," he said.
Holt, 26, used to be a Mormon missionary, which led him online to meet his future wife, Thamara Caleño, 27, a mother of two and also a Mormon. After meeting Caleño for the first time in the Dominican Republic, Holt traveled, on June 11, 2016, to the Venezuela capital of Caracas to marry her.
Yet, after a week-long honeymoon on the dreamy Margarita island, their life turned into a nightmare.
On June 30, police were conducting door-to-door searches in the crime-ridden Ciudad Caribia public housing complex, where Caleño lived. Holt was staying in her apartment and when the police came in around 6 a.m., he took out his phone a started recording them.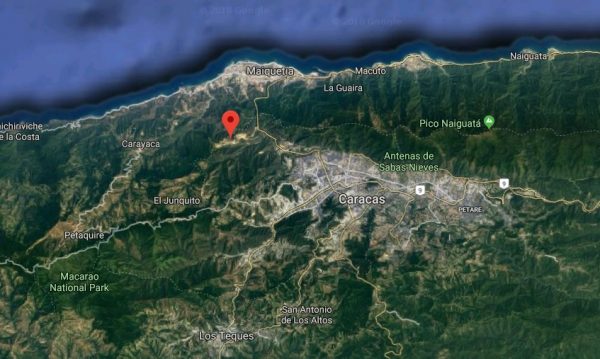 "In his country you can't search without a warrant, so he thought it was noteworthy," a witness, who wished to remain anonymous, told the Miami Herald. "They confiscated his phone and took him away with other people."
Two hours later, some 30 masked officers came to the apartment complex. They hauled a large black bag up to the couple's apartment as several neighbors watched. While some of the officers distracted Caleño, one of the officers went out of sight and then announced he found the black bag with weapons inside, the witness said. Venezuelan news then reported that two rifles, an AK-47 and an "imitation" AR-15, were recovered by police, along with a grenade.
The witness was convinced the couple was framed.
"The only reason they have him is because he's a gringo," said the woman. "I don't care what color his eyes are, what color his hair is, where his passport says he's from—he's innocent and his human rights are being violated."
She said Holt couldn't have bought the weapons since Caleño's relatives were keeping a close eye on him. His Spanish wasn't great and they feared for him getting into trouble. Moreover, Caleño's daughters, five and eight, stayed in the apartment. "[I]f they had touched anything, it would have blown away three buildings," the witness said.
Holt and Caleño were reportedly detained in Caracas at the El Helicoide, a military and intelligence office building combined with a prison.
After a revolt broke out at the prison earlier in May, Holt barricaded himself in his cell and later managed to send a video and voice messages to the outside world.
"I'm calling on the people of America, I need your help to get me out of this place," Holt said in one message, according to Miami Herald. "I have been begging my government for two years. They say they are doing things, but I'm still here and now my life is being threatened. How long do I have to suffer here?"

Sen. Hatch detailed the efforts to free the Holts, which were aided by the Senate Foreign Relations Committee as well as Caleb McCarry, former official of the second Bush Administration with expertise on Venezuela.
"Over the last two years I've worked with two Presidential administrations, countless diplomatic contacts, ambassadors from all over the world, a network of contacts in Venezuela, and [Venezuelan] President Maduro himself, and I could not be more honored to be able to reunite Josh with his sweet, long-suffering family in Riverton," Hatch said.
President Donald Trump imposed additional sanctions on Venezuela on Monday, May 21, shortly after socialist dictator Maduro won an election that senior American administration officials called a sham.
Fourteen South American nations refused to recognize the May 20 election in Venezuela as legitimate, according to a Lima Group joint statement by Argentina, Brazil, Canada, Chile, Colombia, Costa Rica, Guatemala, Guyana, Honduras, Mexico, Panama, Paraguay, Peru, and Saint Lucia.
Watch Next:
An Oasis of Calm in London's Leicester Square
Wearing yellow costumes that glimmered in the sunshine, practitioners performed the slow-moving exercises of the practice in the bustling central London square.