Life Makeovers With Plastic Surgery
April 25, 2013 11:32 am Last Updated: April 26, 2013 12:55 pm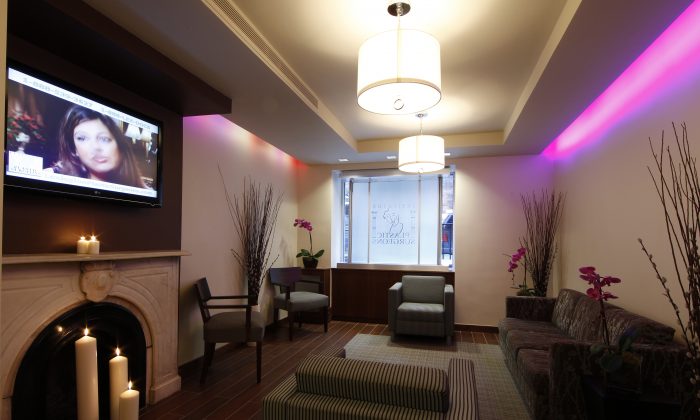 NEW YORK—After long, emotional battles with cancer, obesity, and being in and out of hospital, people often choose plastic surgery to help get their lives back to normal. For many of them, Lexington Plastic Surgeons is a safe haven.
Lexington Plastic Surgeons, located just off Grand Central station, takes procedures out of the sterile, stressful hospital environment and recreates it in a spa-like retreat. The quiet, wood-paneled, softly lit atmosphere promotes healing. A handful of surgeons work with a small support staff who get to know each patient individually.
"I treat every patient like she's my mother," said Dr. Alan Bienstock. "You have to be their friend, their doctor, their therapist all in one. You can't look at it just as a surgical procedure."
Bienstock is the newest surgeon to join Lexington Plastic Surgeons's team. He specializes in full-body sculpting after lap-band surgery and breast reconstruction following mastectomy, neither of which are simple procedures, given the complex issues patients bring with them.
A Rational Approach
As eager as patients coming out of major health crises are to get a new body, Bienstock makes sure that they get the emotional, nutritional, and psychological care they require at this critical juncture in their lives.
Bienstock says he "not infrequently" turns patients away if they are moving too quickly for their own good.
"They still have health issues—mental, physiological, nutritional. A lot of patients, even though they've lost the weight, they're still not healthy from a nutritional standpoint," he said, referring to post-bariatric patients.
Many times, patients who have lost weight through a crash diet have not yet learned to eat well. In these cases, he refers patients to a nutritionist and waits several months for them to plateau at a sustainable weight before recommending surgery.
Others are still dealing with emotional trauma and may not respond well to another life-rocking event such as surgery.
"If I don't feel they are psychologically ready, I refer them to a therapist or the bariatric group to determine if there's someone in their support system who can help."
An Integrative Approach
Bienstock isn't afraid to engage other health professionals to help with a case.
"When I was a resident, we had patient who was extremely anxious about losing her breast," he said. "She had a family history of breast cancer. Her husband just left her, so she had an enormous amount of emotional burden and she canceled surgery multiple times because she wasn't ready."
Finally Bienstock made sure that the patient, her surgeon, therapist, and oncologist sat down and painted the whole picture for her.
For surgeons unaffiliated with a hospital or academic institution, it's hard to pull everyone into the same room, but the trend is toward increased transparency between disciplines.
"What happens so often in medicine is that the patient sees so many doctors that they don't get the multi-discipline team approach," Bienstock said. The patient did the operation a week later. "As soon as she got to the operating room, she was fine."
Breast Reconstruction
For many women who have survived breast cancer, restoring the breast is an important part of recovery.
"Some people just want the cancer eradicated and see it as vain to have the breast reconstructed," Bienstock said. "We don't look at it as vain. We look at it as part of the whole picture. You want to be disease-free, and the other issue is to restore what I call the body's mind and spirit."
Whether the patient had cancer or not, a hefty binder of before and after photos makes evident that Bienstock and his colleagues' approach is conservative—the changes are subtle, not drastic.
Since each person who has breast reconstructive surgery or lumpectomy will have different results, a thorough consultation and collaboration between the surgeon and patient is paramount.
Depending on the individual, a fat graft from the abdomen or thighs might be done, or fat is taken from the healthy breast to create symmetry. In some cases, tissue is taken from the patient's back, or implants may be considered.
"I present all the options and recommend a top two," Bienstock said. "Together as a team we decide which of the options is best for them."
Post-Bariatric Surgery
Bienstock's other speciality is post-bariatric body contouring. After a patient loses a significant amount of weight, he or she is left with a lot of excess skin all over the body.
"The old paradigm is to do multiple procedures. I try to do as much in one procedure that's safe," Bienstock said. "For a younger patient I would do breasts, arms, back, buttocks, abdomen, and thighs. When you do it all at once, you're looking at the body as a whole. [Otherwise] it'd be like a painter only painting a hand."
This way, it takes longer in the operating room but the overall results are more unified, and recovery time is shorter. Typically, it takes Bienstock 8 to 10 hours, and the patient can expect full recovery in six weeks. With multiple procedures, recovery is interrupted by more surgery.
With Bienstock, it's always about the big picture.
"The reason why I enjoy this is because it's looking at someone who's lost a lot of weight, dealt with addiction and psychological components, and I'm seeing them at the second stage, which is getting them back to a happier, physically pleasant way of living," he said.
Lexington Plastic Surgeons
115 E. 39th Street
New York, NY 10016
212-223-0716
www.lexingtonplasticsurgeons.com