Hundreds Share Intimate Knowledge of NYC, Celebrating Jane Jacobs
A series of free walking tours this weekend will convey keen observations of the city's neighborhoods
May 1, 2014 6:04 am Last Updated: May 2, 2014 6:22 am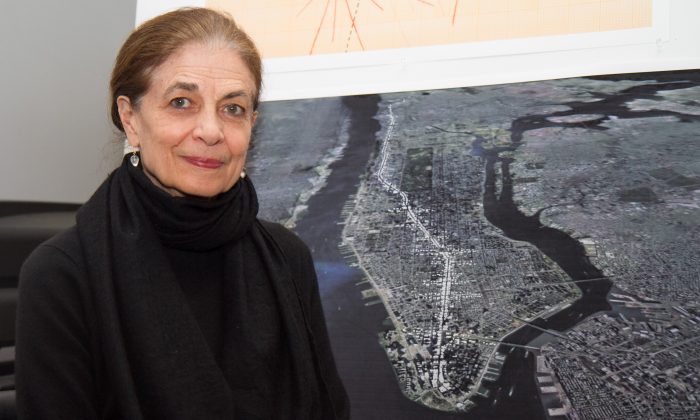 NEW YORK—When Laurie Fabiano was 16, she discovered her grandmother had been kidnapped by one of the many Italian gangs on Elizabeth Street in Lower Manhattan at the turn of the century.
It set Fabiano off on a journey to learn more about her family history, and what she uncovered informed her novel, "Elizabeth Street," a rare story amid a popular romanticization of the Mafia.
Despite so much rebuilding on Elizabeth Street, the decade Fabiano spent researching the area has given her a unique perspective.
"For me, when I walk around that area, it's really bizarre because I'm walking around with 1909 eyes, and everything I'm seeing, I'm seeing in relation to that time period," Fabiano said. "That particular neighborhood is just filled with history."
Fabiano is one of the 100-plus people who will be leading Jane's Walks around New York City this weekend in celebration of the urbanist Jane Jacobs's birthday.
Jane Jacobs's Legacy
"More and more, people come from all over the world specifically for Jane's Walk," said Mary Rowe, director of Urban Resilience and Livability at the Municipal Art Society (MAS). The mission of MAS is to promote urban literacy, and Jane's Walks are "a beautiful way to animate that," Rowe said.
Though Jane Jacobs was not an urban planner by education or profession, her ideas have undeniably influenced the growth of cities through the present day.
"Cities have the capability of providing something for everybody, only because, and only when, they are created by everybody," Jacobs wrote in her book, "The Life and Death of Great American Cities."
Jacobs's ideas came from the keen observation of the neighborhoods and cities she lived in. The walks, which started seven years ago in Toronto, aim to do the same. They've since expanded to over 100 cities globally and not all on foot. From Adelaide to Zurich, fans of Jacobs's work puts it into practice by getting to know cities at the street level.
Some of the walk leaders have studied Jacobs thoroughly. Others come in through word-of-mouth to share the neighborhoods where they live or work, or just take a particular interest in.
"It's surprising the range of people you get," said architect David Cunningham, who is leading a walk in Tribeca for the second year.
"There was someone from the local community board, longtime residents, someone from Seattle, Scandinavia," he said.
Creative Journeys
Environmental artist Mary Miss is collaborating with game designer Josh Debonis to create something of a treasure hunt on her walk near Madison Square/Flatiron.
"[Jane Jacobs] is like something that's in the air you breathe if you're an artist or designer that's interested in the public realm," Miss said.
Miss began doing Jane's Walks three years ago to highlight her project Broadway: 1000 Steps. That first year, the walk was a grand 12 hours (most are closer to 90 minutes) down Broadway, from the Bronx to the tip of Lower Manhattan.
Though Miss hasn't even read Jacobs since her college years decades ago, the ideas seem to inform every aspect of her work. The project, which includes many PlaNYC initiatives, brings environmental issues to the street level in a way that engages the average person.
It's about the importance of place, Miss said, and "trying to create a more intimate connection to the city, trying to keep a diverse culture instead of ending up with a monoculture."
Sharing Knowledge
Jane's Walks are open conversations, not walking tours.
"The idea behind a Jane's Walk is everyone contributes their observations," said economist Sanford Ikeda. As a professor at Purchase College, he's used to giving lectures. "I'm trying very hard to not make it a monologue."
Ikeda has studied Jacobs's theories of the economy of cities, comparing her work to other economists. "Jane Jacobs considered her main contribution to intellectual thought economic theory, even though she's considered an urbanist," he said.
Ikeda has lived in Brooklyn Heights with his family for 20 years and will lead his fourth walk of the neighborhood this weekend. It's the city's first historic district, but the walk will focus on how people use public spaces, not just the built environment itself.
"I always learn something. Sometimes tour guides have taken my walk, architectural historians have taken my walk," Ikeda said.
The sharing of knowledge is something that occurs on every walk, Rowe said, so new leaders shouldn't be hesitant just because they feel like they don't have all the answers. More and more new leaders join every year.
Form and Function
About two years ago, Upper East Side plastic surgeon Alan Engler wrote a book about a plastic surgeon leading a walking tour going back in time.
This weekend, he'll do the same.
"I find the Gilded Age particularly beautiful from an art standpoint," Engler said. Parts of the Upper East Side are landmarked, creating a sort of museum on the street from when the Fricks and Carnegies and Vanderbilts gifted their daughters elegant townhouses for their weddings.
It will be Engler's first walk, though he has led tours as a docent through Grand Central Terminal in his spare time since last fall.
Art and architecture aren't an added interest for Engler, he said, they bring the best of form and function in a way he sees in plastic surgery as well. For example, the main terminal in Grand Central is beautiful, but the station itself is ingenious and efficient, Engler said.
"They could've just left it as a big concrete slab, but they didn't," Engler said. "It's very much the same thing in plastic surgery, I started my work in hand surgery … you're talking about restoring the function but you also want to make it look as nice as possible."
And the buildings on the Upper East Side are beautiful.
"They're real characters from that time," Engler said of the buildings and their original owners. "I just find it interesting and intriguing, and so do other people."