By Allene Edwards, Organic Lifestyle Magazine
When it comes to cleaning your home, how do you choose products? Marketing companies try to convince us that scrubbing bubbles or a bald genie will do all the work. These advertisements may entice much of the population to purchase these products, but chances are most of us choose cleaning products by habit. Many of us probably use buy the same household cleaners our parents used.
The problem is, these conventional cleaners are made with chemicals. They pollute our water, they pollute our homes, and they pollute our bodies. We come in contact with these toxic chemicals through our skin and we breathe in the fumes, long after we have finished using them.
In this toxic world, we are exposed to so many chemicals, why would we want to go to the store, buy more chemical solutions, and expose ourselves to a daily dose for the sake of cleaning? Is a toxic home a clean home? No! Of course not!
It's time we skip a generation or two and learn how to clean from our grandparents or great grandparents. Two of their best-kept secrets were vinegar and baking soda.
Use Vinegar to Clean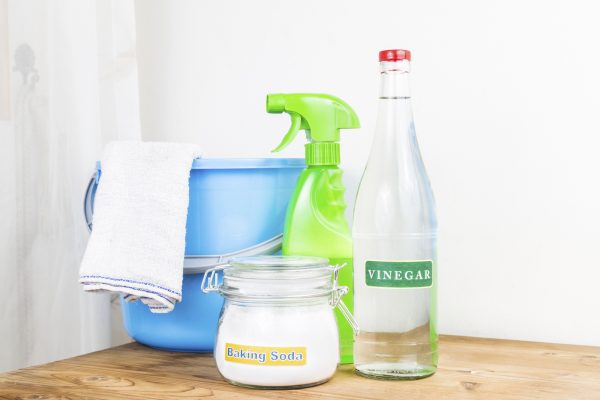 Vinegar, plain white vinegar, is a great non-toxic cleaner. It removes odors and is great for lifting dirt. And don't worry, the smell of vinegar does not last.
Add a cup of vinegar to a bucket of warm water to clean wood, linoleum, and tile floors. (Do NOT use on stone floors.)
Mix equal parts of vinegar to water in a spray bottle to clean mirrors, windows, countertops, refrigerators, walls, and more. (Do not use on granite or marble counters or tables.)
Mix with an equal amount of olive oil to use as a furniture polish and to remove glass rings from wooden furniture.
Freeze vinegar in an ice cube tray – use to clean disposals.
Use full strength to disinfect cutting boards.
Use full strength to clean mildew in showers or on patio furniture.
Add one cup of vinegar to final laundry rinse for soft soap-residue free laundry. (Use with Dr. Bronners liquid soap to wash your clothes. Works great!)
Soak rusted tools or nut and bolts in full strength vinegar for several days. Takes dried paint out of paintbrushes, too.
Remove glued on tags and stickers with full strength vinegar.
Add 1-2 cups to the bottom of the dishwasher to make dishes and glasses shine. (Use in a regular cycle along with your soap).
A mixture of 1 part vinegar, 1 part lemon juice, and 2 parts water was able to eliminate 99.9% of E.coli, Listeria and Staphylococcus bacteria from surfaces. The acidic nature of vinegar makes it a good disinfectant that is also effective against mold.
Equal parts salt, vinegar, and borax makes a great stain remover for carpets and fabrics.
Use Baking Soda to Clean and Remove Odors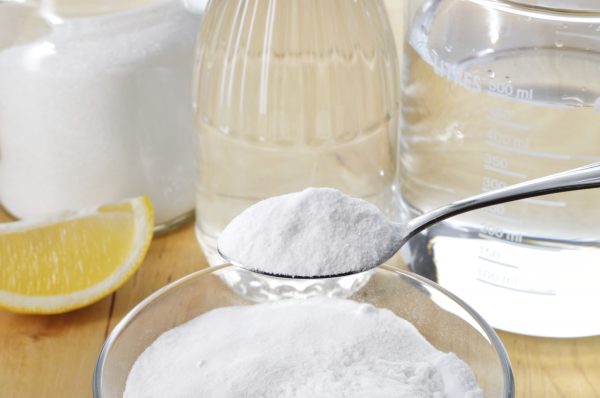 Baking soda is also an excellent cleaner and odor remover.
Sprinkle baking soda on countertops, stovetops, or inside refrigerators. Scrub with a damp rag. Rinse with a clean wet rag.
Make a paste with water to clean ovens. Leave on overnight. Wipe out with clean wet rag the next day. You can also make a paste with hydrogen peroxide and baking soda for really stubborn caked on food.
Sprinkle baking soda in pans with burned on food. Add hot water and soak overnight.
Add to wash load – you can even replace half of your laundry soap with baking soda.
Make a paste with water to clean the bathroom sink, tub, tile, and toilet.
Sprinkle baking soda in trashcans before and after adding trash bags.
Sprinkle baking soda on the dog and brush.
Soak diapers in a solution of baking soda before washing to remove odors. (Great addition to diaper pails).
Sprinkle baking soda on carpets, let stand for 15-20 minutes and vacuum to remove odors.
Leave an open box of baking soda in the refrigerator.
Add to kitty litter to control odors.
Combine Baking Soda and Vinegar
It seems to be all the rage to combine these two wonderful cleaning products together, but basic chemistry puts a damper on this. One is an acid and one is a base, and the result when you mix the two is essentially water; they cancel each other out.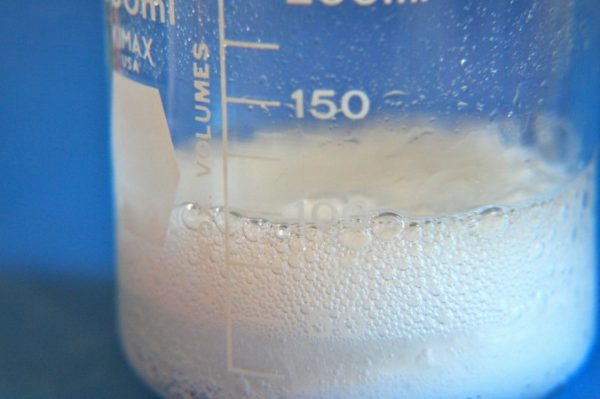 *Image of "chemical reaction" via Kate Ter Haar/Flickr/CC BY