Hopelessness Haunts China's Desperate Petitioners
March 24, 2006 12:00 am Last Updated: March 24, 2006 12:00 am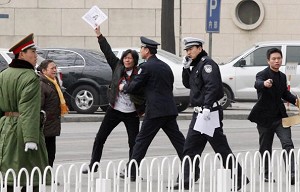 BEIJING — Wu Xulai is a desperate woman.
So much so, the Shanghai native says, she considered trying to throw herself in front of Chinese Premier Wen Jiabao's car this month after his annual press conference, in a last ditch bid to draw attention to a festering property dispute.
But when two women in front of her outside the Great Hall of the People, where Wen had been speaking, started trying to give out their own letters of protest and were swiftly pounced on by two burly policemen, Wu instead melted into the crowd.
"I didn't want to be arrested again," said the slightly built Wu, who did not want her real name used for fear of retribution against her family. "I've already been beaten up so many times. But then again, I really have nothing else to lose."
Wu, 48, says she used to be a successful businesswoman, until her world was turned upside down in 1998 when people she calls "gangsters" forced her family to move from their house to make way for luxury apartments. Her allegations, and those of other petitioners, could not be independently confirmed.
But the desperation is real. She has travelled to Beijing several times to press her case at the regime's quaintly named Letters and Visits Office, where petitioners from all over China come to complain of everything from local corruption to police brutality.
Wu is part of a tradition stretching back hundreds of years, when peasants would come to the capital to put their cases of injustice to imperial officials. In modern China, with its carefully controlled press and compliant courts, the petitions system is still seen as a final recourse to justice.
Few people ever make it to the petitions office. Some provinces send their own law enforcement officials up to Beijing to drag home petitioners, fearful of letting the central authorities get wind of problems in outlying regions.
Others simply lack the money for the trek to Beijing.
Today, hundreds congregate daily near the Beijing South train station, the location of one of the main petition offices. Many are too poor to afford the $1 a night the grim hostels nearby charge for a sleeping space, and are forced to camp out in the open amid garbage and scampering rats, the smell of open latrines filling the air.
"Does the premier even know places like this exist? I don't think he does," said Wu. "The first time I came to Beijing I was horrified to discover such a disgusting hole. This is supposed to be China's capital."
Stability
Wen pledged at this year's meeting of parliament to channel China's surging economic growth to narrow the rich-poor gap.
That divide has been linked—along with corruption, land grabs and other problems—to a rise in social unrest in the countryside, home to more than 700 million people who earn just a third of the annual wages of their urban counterparts.
The Communist regime, which values stability above all else, fears that if it cannot keep a lid on popular discontent, protests could spin out of control and threaten its 57-year grip on power.
Petitioners' rights were supposed to be better protected under new rules passed last year requiring all petitions to be addressed within 60 days. Petitioners also have a right to inquire about any progress made and to a written response.
This does not appear to have helped those camped at the train station. Many petitioners in Beijing were rounded up and sent back to the provinces before parliament opened. Others were put under house arrest to stop them coming to the capital.
Yet despite the detentions and the harsh treatment many complain the police mete out, they still come.
"I was brutalised by four policemen," says Li Shanyuan, from the eastern city of Hangzhou, desperately clutching a pile of tattered papers in her callused hands outlining her complaint.
"Please help me! Please tell the premier to help me!" wails another woman, tears streaking down her cheeks.
Others hold pictures of bloodied bodies and alarming wounds they say are of relatives attacked by police or thugs hired by local ruling bodies or companies for various reasons.
Graffiti, Blood
The streets surrounding the station, one of the city's smallest and least used, are covered in graffiti and crude posters outlining petitions and denouncing the regime and senior leaders.
Other posters are hand-written in brown Chinese characters. Some petitioners say these are written in blood.
Zhang Zhengyin, from the southwestern city of Chongqing, has a CD-Rom of his petition about the apparent beating to death of his son, which he said the police did not consider murder.
As for Wu, she says she'll probably go back to Shanghai soon, if only for a brief while, to see her daughter.
She holds out little hope for a conclusion to her case.
"I'm already dead," Wu added, looking blankly ahead.
Additional reporting by The Epoch Times