Hong Kong's pro-democracy camp has posted huge gains in the city's district elections on Nov. 24, as final tallies start rolling in.
As of around 4:45 a.m. local time, pro-democracy politicians are leading with 254 seats against 27 pro-establishment lawmakers; a total of 170 seats are yet to be declared.
Several pro-Beijing lawmakers were unseated in shock defeats, including controversial legislator Junius Ho, who lost his seat in the Tuen Mun district council to his rival by a margin of around 1,200 votes. He said that the poll result was "unusual" and had "turned heaven and earth upside down."
His defeat was celebrated by more than a hundred pro-democracy supporters in Tuen Mun, who cheered and popped open champagne bottles. Similar scenes repeated throughout the city, with crowds revelling in pro-establishment groups' defeat.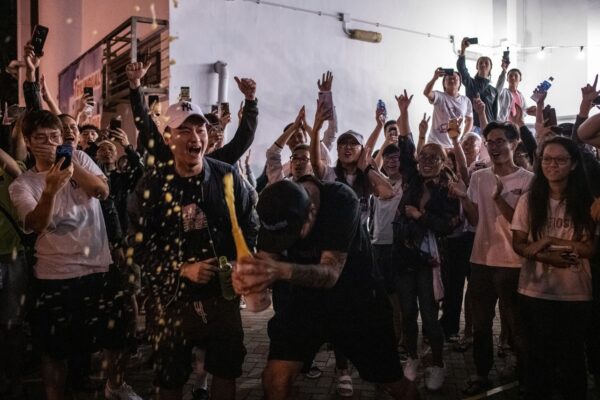 The lead up to the election has been marred by the arrests of multiple pro-democracy candidates, as well as attacks on politicians and activists. Pro-democracy lawmaker Andrew Chiu, whose ear was partially bitten off by knife-wielding assailants, secured a second term in Taikoo Shing with 4,390 ballots.
The Sunday vote will determine the 452 counselors for 18 districts in Hong Kong. Of those, 117 will become part of the 1,200-member committee that elect the Chief Executive. The committee is currently dominated by pro-Beijing members. Six seats of the district council will also form part of Hong Kong's unicameral legislature, the Legislative Council.
A record number of approximately 2.94 million took to the polls, a turn out rate of 71.20 percent.
The turnout was two times as large as the last district election in 2015.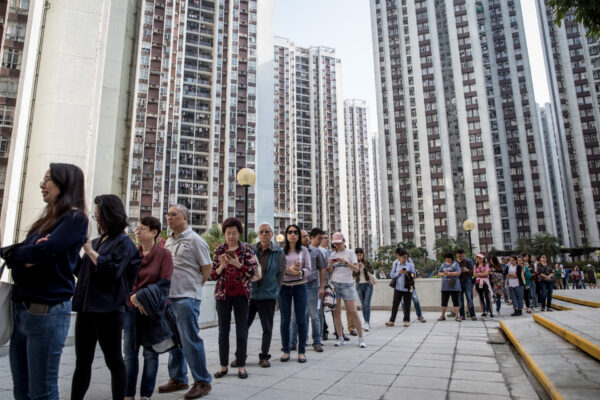 Election Day
Millions of Hongkongers stood in queues stretching for blocks to cast their vote in the city's district council elections on Nov. 24, which is widely seen as a test of support for the government amid a months-long pro-democracy movement that has racked the city.
"To say no to tyranny, the ballot on our hand is very important," Anson Chan, former chief secretary of the Hong Kong administration, told The Epoch Times before casting her vote. She said that the election was an opportunity to show the government the real public sentiment.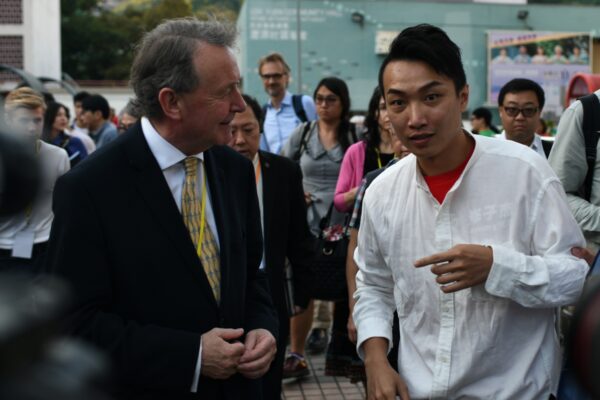 David Alton, a member of the House of Lords and vice chair of the Westminster Friends of Hong Kong, was among a number of international observers in Hong Kong to monitor the election proceedings. He hailed Hongkongers' "unprecedented enthusiasm."
"Many people expressed their desire to be able to hold to account the city's leaders, through the ballot box—especially in preserving basic freedoms, autonomy and the rule of law—not rule by law," he said in a Facebook post.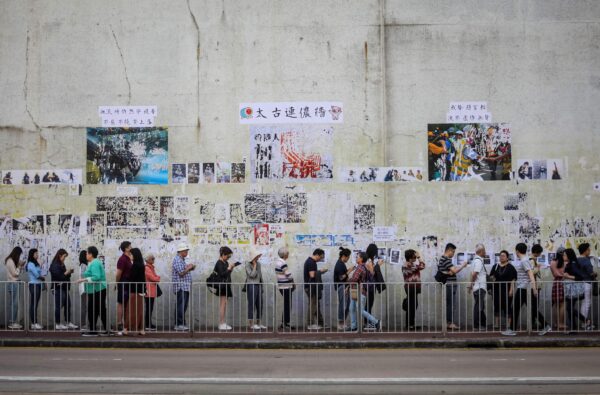 Every Vote Counts
After standing in line for 45 minutes at a ballot stall in Mei Foo, a man, who declined to be identified, said such a long voting line was unheard of in Hong Kong's history.
"Over all these years I never had to wait during elections before," he told The Epoch Times, adding that they wanted to "kick out some people …The DAB [pro-establishment] people and such."
"Every additional ballot would mean a lot," he said.
Earlier, protesters issued statements on social media saying they would not stage any demonstrations on the day so that people could focus on the elections. Greater democracy and free elections have been a major rallying cry for the demonstrators over the nearly six months of protests in the city.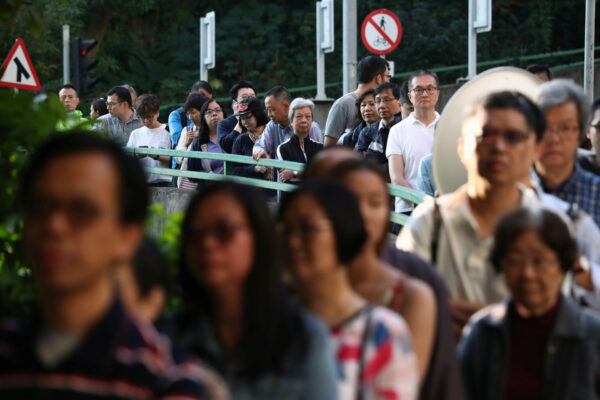 Results for the election were already trickling in around 1 a.m. or 2 a.m. local time the next morning.
Fears of voter fraud and election rigging also surfaced in the lead up to the elections. Around 6,540 complaints election-related complaints were filed as of Sunday.
A voter surnamed Ng filed a complaint on Sunday after finding that someone had used her identity to cast the vote, according to Stand News.
Videos also captured tour buses escorting seniors to the polling stations, with some getting red envelopes as they stepped out. Chinese people traditionally use red envelopes to gift cash to friends and family during festive occasions such as Chinese New Year and weddings.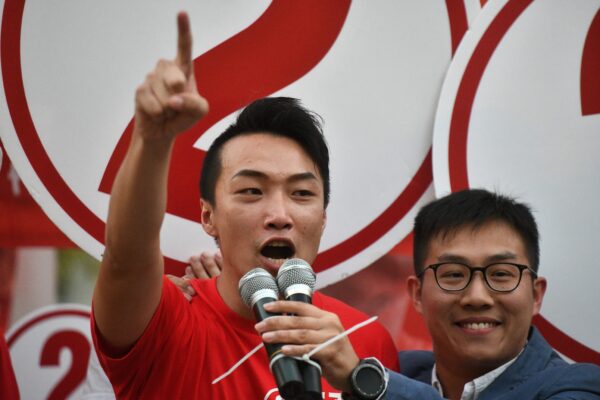 'A Clear Message'
Jimmy Sham, convenor for the Civil Human Rights Group and a candidate for Lek Yuen district, said that the high turnout demonstrated that "all citizens are showing their stance." Sham was elected by 3,283 votes.
Sham, who has helped organize some of the biggest Hong Kong protests, was assaulted twice during the protest movement in suspected intimidation tactics to keep him quiet. The latest attack on Sham on Oct. 16 saw four to five people hitting him with hammers, which left him bleeding heavily from the head.
"It's using fear to silence people, getting people to give up, but Hongkongers…young protesters, they are not giving up," he told The Epoch Times at a polling stand while supporting himself with crutches.
He expressed hope that with the democratic system, Hongkongers can elect individuals who can stand up to Beijing and realize the public demands in a peaceful way.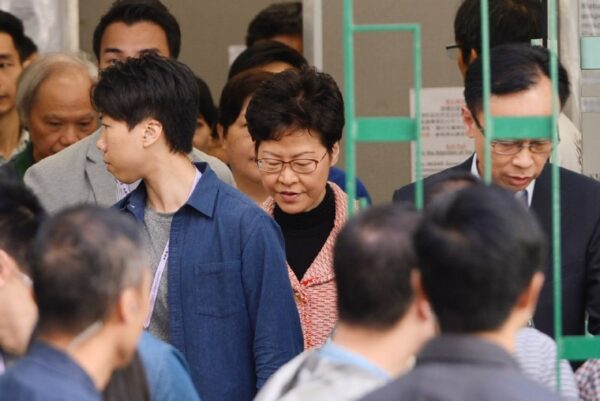 "The pro-establishment people … are endorsing [Hong Kong Leader Carrie] Lam's policies of using rubber bullets to crack down on people, to silence a generation of people," he said.
Pop singer and activist Denise Ho said that the vote is an "indirect referendum" and part of the protest movement.
She told The Epoch Times' sister media NTD that since the pro-democracy movement began, Hong Kong leader Carrie Lam and pro-establishment parties "have been trying to deliver this message that those who are on the streets, and who are fighting for the freedoms, are the minority."
But if the pro-democracy camp dominates the election, "that would be a clear message to the government that we are not the minority here," she said.