Hong Kong's high court ruled Monday that a 14-year-old protester arrested during the clearing of a protest site won't be taken from his parents after all.
In a closed-door hearing, the department of justice withdrew a police application for a care and protection order for the teen boy, and also dropped a contempt case for obstructing bailiffs, Agence France-Presse (AFP) reports. According to Patricia Ho, the boy's solicitor, he will still get separate summons for obstructing a public officer.
The secondary school student was arrested with about two dozen others when bailiffs and police evicted pro-democracy demonstrators from occupied streets in Mong Kok on Nov. 25. Police detained him for almost a full day, threatened to send him to a children's home, and applied a care and protection order for the boy, which would separate him from his parents if granted.
After the court's decision, the boy told AFP that the authorities' actions were "extremely unethical" and "politically motivated."
"Their intention is to scare people off by punishing one person," the teen said. "Going to a children's home can change someone's future in Hong Kong."
"What the government is doing is below the belt because they are using all means to try to stop young people from carrying out political campaigns."
The boy added: "The more we are suppressed, the more we think we are doing the right thing."
Not Alone
The high court decision came after a public outcry over a similar case involving a 14-year-old girl.
The girl was arrested early morning on Dec. 23 for chalking flowers on the pro-democracy "Lennon Wall" in Admiralty and detained for 17 hours.
Following a court ruling on Dec. 29, the girl was sent to a children's home, but was released on bail two days later when a high court judge stepped in and overturned the initial order. She is now back in her father's care under strict curfew restrictions until the next court hearing on Jan. 19.
Pro-democracy groups showed "Chalk Girl" their support by chalking encouraging messages on the road outside the children's home before she was released on New Year's Eve, as well as on "Lennon Wall." Some even held "die-ins" at the International Finance Center (IFC), one of Hong Kong's biggest shopping malls, and in other locations.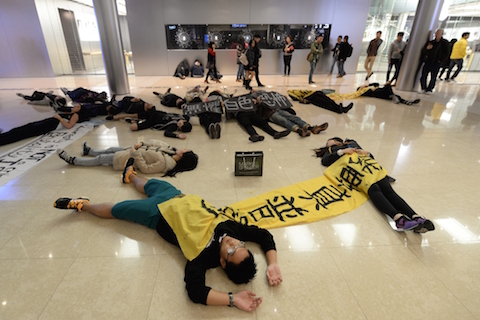 And on Sunday, Jan. 4, pro-democracy groups held two separate events in support of "Chalk Girl," one at "Lennon Wall" and the other at police headquarters in Wan Chai, according to Hong Kong news website metrohk.com.
The groups in Admiralty criticized the authorities in a joint statement, saying that police were making an example out of the 14-year-old girl to scare others from joining political activities.
In Wan Chai, League of Social Democrats lawmaker "Long Hair" Leung Kwok-hung and others demanded that police commissioner Andy Tsang issue an official statement explaining the incident. The group also blamed the police for destroying the creativity of youths.
Police have since stopped preventing members of the public from doodling on "Lennon Wall" with chalk. A policewoman said Saturday that police will only take action against people if the Leisure and Cultural Services Department, who manages the building, asks the police to intervene, according to the South China Morning Post.
However, the Leisure and Cultural Services Department hasn't removed the "Post no bills" and "No graffiti" signs on Lennon Wall as of Jan. 5. The signs were put up after the girl's arrest.
Appreciation
In a message attributed to "Chalk Girl" and shared on social media, the teen thanked her supporters, saying that she is "touched" by their encouragement and doesn't feel "lonely" anymore.
The 14-year-old also requests that reporters not contact her until her hearing on Jan. 19 as she and her family require some space.
"Chalk Girl" adds that she will study hard so as not to let down "everyone's support and expectations."