An incident whereby Hong Kong police sprayed blue-dyed water from its water cannon vehicle onto the city's largest mosque has sparked outrage among locals.
On Oct. 20 afternoon, roughly 350,000 Hongkongers marched from Tsim Sha Tsui to the Kowloon neighborhood to protest an anti-mask law recently enacted by the government in an attempt to quell unrest.
Around 4 p.m. local time, a police water cannon truck passed by Nathan Road in Kowloon.
According to exclusive video footage shot by The Epoch Times' drone camera, as the water cannon vehicle was approaching the Kowloon Masjid and Islamic Center, very few people were on Nathan Road.
The truck stopped and first fired toward the mosque's front gate and steps. Local resident Mohan Chugani and about a dozen others were outside the front gate at the time. They quickly tried to escape.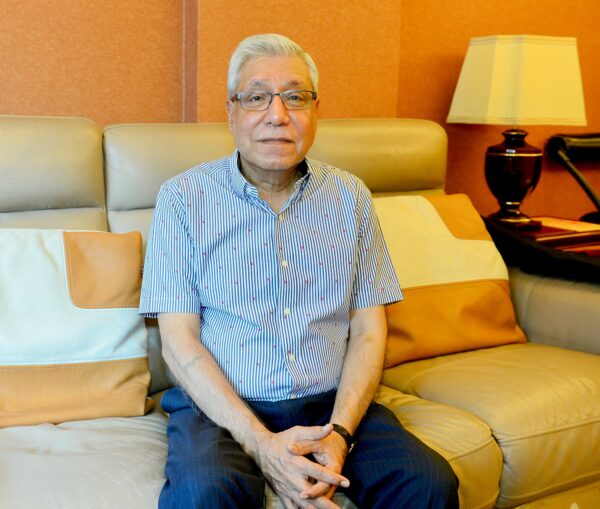 Before the group could find shelter, the truck fired again, spraying at the gate and then sweeping toward the group.
"[Hong Kong government leader] Carrie Lam called me this morning [Oct. 21] and said an apology to me, but I can't accept it," said Chugani, who is the former head of the Hong Kong Indian Association.
This is the moment the Hong Kong Police Force fired the water cannon at Kowloon Mosque.

The water cannon is only supposed to be used to disperse large crowds. But apart from those worshipping/a few people guarding the mosque, there was no one there. #HongKongProtests pic.twitter.com/sXEEAV7GLK

— J P (@hyjpang) October 20, 2019
Chugani was born and raised in the city. He is a successful businessman and has influence among Hongkongers of South Asian descent.
Chugani is neither a Muslim nor a protester. He said he was chatting with friends when he got sprayed from head to toe by the police water cannon.
Jeremy Tam Man-ho, a lawmaker in the city's Legislative Council, was also at the scene livestreaming footage, when he got sprayed by the water cannon.
In Tam's recording, Tam and others hit by the water could be heard coughing and retching. They asked for water to wash out their eyes.
Unknown Blue Dye
"The water cannon shot me twice! I'm 73 years old now and I can't run easily," Chugani told Epoch Times reporters at the scene on Oct. 20. "It's totally out of my expectation that police can shoot at the elderly."
Chugani said his body felt pain after being sprayed.
"About 20 minutes after I was shot by the water, my eyes still couldn't see anything," Chugani added.
After taking a shower and resting for a while, Chugani's body was still in pain. He decided to go to the hospital on Oct. 20 evening.
Chugani told the Chinese-language Epoch Times in an Oct. 21 interview that his friend called for an ambulance for him and sent him to the Queen Elizabeth Hospital, a major tertiary public hospital.
The doctor and nurse there arranged him to take more showers and six or seven eye drops. When he said his eyes were still uncomfortable, the doctor transferred him to the ophthalmology department, where he needed to wait for an appointment.
"Then I wanted to be transferred to a private hospital where I could meet a doctor soon," Chugani said. "But a close friend of mine who works for a private hospital suggested not to go there."
The doctor told Chugani that the private hospital did not know the chemical ingredients inside the blue-dyed water, and thus did not know how to properly treat Chugani's eyes.
He was frustrated by the experience. "The [Hong Kong government] should tell all emergency rooms of all hospitals about which kind of medicine should be used to treat patients [affected by the water cannon]," Chugani said.
Police have not disclosed the makeup of the dyed water, but protesters hit by it have complained of skin irritation.
Apology
Chugani used to support the police force and attended pro-police rallies. "Now I do not trust them," he said. He believed that the police intentionally fired the water cannon at the mosque.
"Just let me down!"

Supporter of Hong Kong's police no longer trusts the authorities after his mosque was attacked during Sunday's protests with blue dye

More than 300,000 Muslims call #HongKong home pic.twitter.com/2fbxAMSmOF

— The Epoch Times – China Insider (@EpochTimesChina) October 22, 2019
After the incident, many officials—including Lam, the city's second-in-command Matthew Cheung, and pro-Beijing lawmakers—personally apologized to Chugani. Lam and police representatives also visited the mosque to meet with representatives of the Muslim community on Oct. 21 and apologize in person.
Chugani said he would not accept their apologies because "police have crossed the line. Now Hong Kong doesn't have rule of law."
He added that Cheung said in his apology email that there was an "unruly crowd" in the area.
But Chugani said: "It's not true… I wouldn't be standing there and chatting with friends if the streets were in chaos."
Police Vs Public
The Hong Kong police and government have maintained that the water cannon had "inadvertently" shot at the mosque and that the police did not have "malicious intent."
However, Hongkongers did not buy that explanation.
Allan Au, a Hong Kong senior journalist, published an article in Stand News, in which he raised suspicions about the police's initial statement, which said the water cannon was deployed to disperse "rioters."
But local media took photos of the crowd standing in front of the mosque. They were holding placards notifying protesters not to damage the building. Another held a sign explaining that protesters have pledged not to damage the mosque or other buildings in neighborhoods with a heavy South Asian population.
On Oct. 20 evening, 24 pro-democracy lawmakers also published a joint statement, in which they accused the police of blatantly lying in their statement.
Religious venues "should not be disrespected and tarnished," they said.
The Hong Kong bureau of The Epoch Times contributed to this report.