Hong Kong leader Carrie Lam took to Facebook on Aug. 24 to seek protesters' cooperation for dialogue to resolve the ongoing crisis that has gripped the city since June. However, her online post was soon flooded with thousands of responses rebuking her delayed efforts.
Lam wrote that she had invited a group of people to meet with her that morning to provide suggestions on how to establish her proposed platform for dialogue. She added that while she didn't expect such a platform would "untie the dead knot" and end all protests, she said that "after more than two months, everyone is tired, could we all sit down and have a talk?"
The platform was proposed by Lam during a press conference on Aug. 20, two days after more than 1.7 million people took to the streets in protest of a now-suspended extradition bill. Many fear that the bill would erode the city's judicial independence, since it would allow extraditions of anyone passing through Hong Kong by the Chinese Communist regime, which oversees an opaque judicial system in mainland China.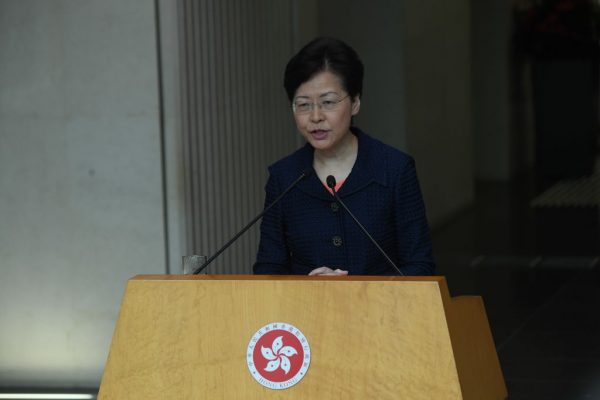 The protesters' initial demand for the full withdrawal of the bill is now part of "five demands," which include an independent inquiry into police use of force toward protesters and universal suffrage.
She acknowledged the five demands in her post, saying that some Hongkongers were angry because the city government couldn't fulfill their calls. However, she said that the continued protests would not be "the way out," and her platform would be the first step in "untying different dead knots" in society.
Overwhelmingly, there was one common response from people to Lam's post, which was "five demands, not one less."
"Forming an independent commission of inquiry is the first step to dialogue," one user wrote.
Carrie Lam says everyone is tired and people should find a way out via communication.

She received 46,000 angry emojis. pic.twitter.com/83gZ5KOGvp

— Kris Cheng (@krislc) August 24, 2019
Another user wrote, "Citizens are also tired but you establish a platform before you make any response to the demands. What is the point?"
Several users said that the last time Lam held talks with protesters during the 2014 Umbrella Movement, four of the five student leaders—Alex Chow, Eason Chung, Nathan Law, and Lester Shum—ended up in prison or with suspended sentences. Lam was Chief Secretary, the city's second-in-command, at the time.
In 2014, protesters calling for universal suffrage camped out on the streets of Hong Kong's main business district in Central for almost 3 months. The movement ended without a single demand of the protesters being met.
Clashes Turn Violent Again
Lam's Facebook post did little to stop protesters taking to the streets.
Thousands of protesters marched through the streets of Kwun Tong in the eastern part of Kowloon Peninsula to demand that Lam address their five demands, with some also voicing their opposition to the government's installation of "smart lamp posts," which they suspect could be used for surveillance or facial recognition.
Some protesters tore down lamp posts and photographed the electronics parts inside to publish online after Tony Wong, a government information officer, confirmed back in July that each post was fitted with a high-quality camera for monitoring for illegal dumping of waste. But he told local broadcaster RTHK, "we have not activated them" due to the public's concerns.
Hong Kongers don't need facial recognition tower for surveillance #chinazi#StandWithHongKong#FreeHongKong pic.twitter.com/0qp1Zz20uq

— Cherry (@Cherry34190542) August 25, 2019
The protests again turned violent in the evening after more than a week of peace and no tear gas being fired by police.
Protesters clashed with police outside Ngau Tau Kok police station where people were reportedly throwing petrol bombs and bricks at police who fired tear gas and bean bag rounds to disperse the crowds.
In the neighboring district of Wong Tai Sin, police were also said to also have fired tear gas to clear protesters. And in nearby Kowloon Bay, a protester's left eye was hit by a rubber pellet during the clashes.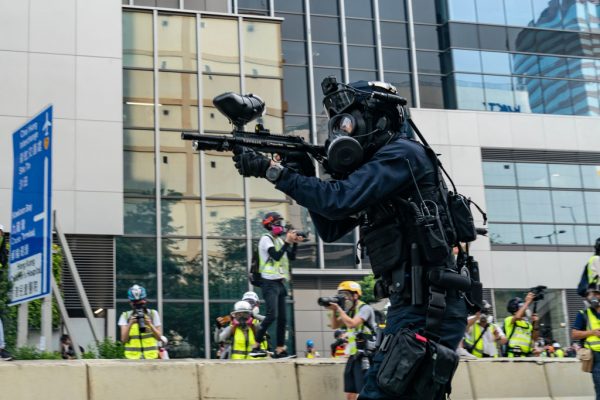 A similar incident happened on Aug. 11, when a female volunteer medic's right eye was hit by a bean bag round in Tsim Sha Tsui. Her injury has since galvanized the protest movement, with protesters covering up one of their eyes in a show of support.
British NGO Hong Kong Watch issued a report on Aug. 16, concluding that "tear gas, rubber bullets, pepper spray, and batons have been used dangerously and indiscriminately by the Hong Kong Police Force, resulting in serious injuries."
Hong Kong police issued a statement on Aug. 25 saying that 29 people—19 men and 10 women—had been arrested after the clashes overnight.
On Aug. 23, about 210,000 people held hands to form a human chain, dubbed the "Hong Kong Way," spanning more than 60 kilometers (about 37 miles) across the city.
The peaceful demonstration took inspiration from the peaceful "Baltic Way" protest 30 years ago, when over 2 million Estonians, Latvians, and Lithuanians formed a 420-mile-long human chain in protest against Soviet rule.
Reuters contributed to this report.