Speaking on behalf of Hong Kong leader Carrie Lam, Chief Secretary Matthew Cheung reaffirmed the city's commitment to be on high alert in face of the new pneumonia outbreak in China on Jan. 21, saying that the government does not take the health crisis lightly.
Cheung explained that he was stepping in for Lam because the Hong Kong leader was leading a delegation to the World Economic Forum in Davos.
Cheung said that there were now 106 suspected cases in Hong Kong, although none of them have been confirmed to be the new virus originating from the Chinese city of Wuhan.
There are four confirmed cases outside of China, two in Thailand, one in Japan, and one in South Korea.
Cheung added that airline passengers traveling from Wuhan to Hong Kong will now all be required to fill out a health declaration.
When asked if passengers coming from Wuhan on board the high-speed rail would also be required to fill out such a declaration, Cheung said that this was not necessary at the moment because there were body-temperature monitoring stations at the railway stations.
Also during the press conference, Cheung said the decision to downgrade Hong Kong's credit rating by rating agency Moody's was "regrettable and unfair."
On Jan. 20, Moody downgraded Hong Kong's rating to "Aa3" from "Aa2" based on its view that the strength of the city's institutions and governance is "lower than previously estimated," according to Reuters.
In the early hours of Jan. 21, the Hong Kong government issued a statement saying it "strongly disagrees with Moody's assessment of Hong Kong's current situations."
Cheung also took a question from the press in response to an opinion article penned by Luo Huining, director of Beijing's liaison office in Hong Kong. The article was published by China's state-run media People's Net on Jan. 20.
In the article, Luo suggested that Hong Kong's "one country, two systems" model be "improved" by taking from the "experiences" of Macau's "one country, two systems" model that is more closely aligned with Beijing's wishes.

The reporter asked if the liaison office was putting pressure on the Hong Kong government to push forward Article 23—an anti-subversion law that many Hongkongers protested in 2003, forcing the government to scrap it over fears it would impinge on their civil liberties. Cheung responded by saying that Lam had commented on this issue before, which was that the city government would "create the necessary social conditions" first before trying to introduce Article 23 again.
Macau passed legislation to implement Article 23 of its Basic Law in 2009.
Cheung did not address the demands of the 150,000 people who attended a peaceful rally on Jan. 19, when Hongkongers gathered to call for international sanctions against Chinese Communist and Hong Kong officials who violate human rights.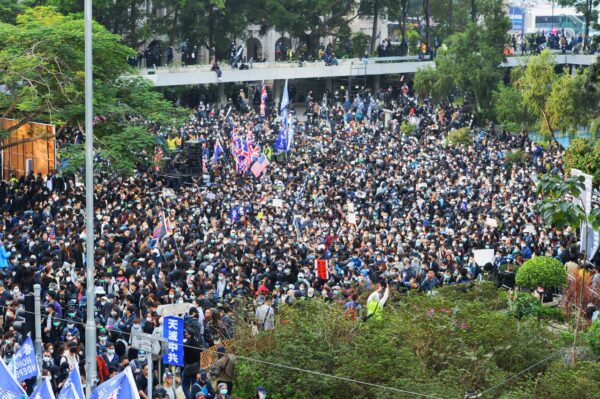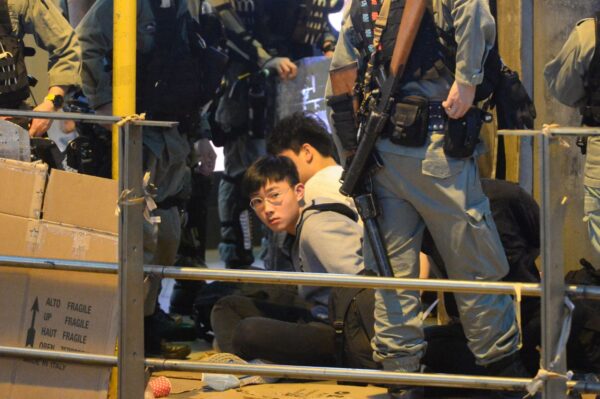 Local police arrested the rally's organizer, Ventus Lau, that evening for "inciting the crowds" and for violating regulations stipulated in the police application for the assembly.
Lau is scheduled to appear at the Eastern Magistrates' Court at 2:30 p.m. local time on Tuesday, according to the pro-democracy group that he leads, Hong Kong Civil Assembly Team.