Holiday gift season is upon us! Show your love with healthy, homemade treats that you can whip up in your kitchen in an hour or less. Invite a friend or enlist your kids to help so you can easily make double recipes and check off everyone on your list.
Invest in fancy ribbons, mason jars or pretty tins for a boutique-worthy presentation – healthy and homemade can be elegant, too! Double bonus: your healthy gift may create a spark of food-health awareness in your gift recipients and inspire healthier eating in their future.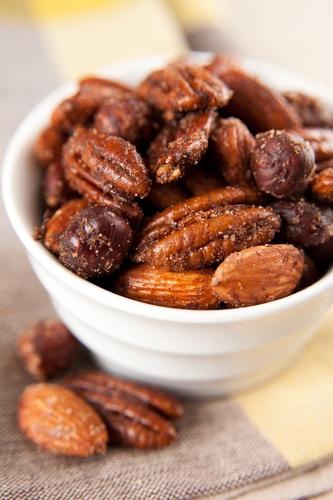 1. Sweet and Spicy Roasted Pecans
Chock full of minerals, fiber, and powerful anti-oxidants, pecans make a healthful treat during the holidays. Great for party snacks and as gifts, these roasted nuts are easy to prepare. If you prefer almonds, walnuts or other nuts, feel free to substitute or create a blend of different nuts.
Preheat oven to 275° F
In a skillet over medium heat, melt 2 tablespoons of pastured butter or coconut oil; once melted, stir in 2 tablespoons of maple syrup
In a bowl, blend 1 teaspoon each of chopped fresh thyme and rosemary, 1½ teaspoons sea salt, ½ teaspoon of freshly ground pepper, and a pinch of cayenne pepper.
Pour 1 pound of pecan halves into the butter-syrup pan and stir gently to coat.
Distribute pecans onto a large baking sheet and bake for approximately 20 minutes, until toasted; stir every five minutes or so.
Once lightly browned, remove pecans from oven and sprinkle with herb blend and let cool before packing into jars.

2. Savory Sea Salt
Almost daily, I rely on a favorite sea salt and herb blend which I use for everything from sautéed chicken breasts to roasted vegetables to salad dressing. For meats, vegetables, soups, and eggs of all kinds, salt blends make flavoring foods easy and delicious. This year, I'm ordering sweet little jars from Mountain Rose and packaging up my special blend; you can also buy herbs and spices from Mountain Rose for one-stop shopping. My recipe couldn't be easier: For a large batch, I combine ½ cup Maldon Sea Salt Flakes with 5 teaspoons of "Herbs du Provence" and chop lightly in a food processor or mortar and pestle, leaving some chunkier salt flakes. Other scrumptious salt blends you may want to try include:
Fennel Saffron Salt: ½ cup Maldon Sea Salt with 3 teaspoons fennel seeds and ½ teaspoon saffron threads
Citrus Rosemary Salt: ½ cup Maldon Sea Salt with 2 teaspoon each of dried lemon zest, dried orange zest and dried rosemary
Lime Chile Salt: ½ cup Maldon Sea Salt with 2½ teaspoon red pepper flakes, 3 teaspoons dried lime zest, and 1 teaspoon smoked paprika
Note: To make dried citrus zest, peel the citrus, avoiding the white pith, and slice into thin pieces; spread in a single layer on a baking sheet and bake for 25 – 30 minutes in a 200°F oven.
3. Chocolate, Fruit and Nut Energy Bites
Earlier this year, we featured this recipe in our review of Elizabeth Nyland's Cooking with Coconut Oil. Wrapped up in wax paper in a fancy tin or box, these delectable treats make a wonderful gift. Find the recipe here.

4. Chocolate Date Coconut Bars
Similar to the Energy bites, above, these healthful and delicious bars make a beautiful gift when packaged in gift wrap with ribbon.  With easy to find ingredients, this is my go-to recipe for a sweet treat for kids and families trying to cut their sugar intake – which is especially difficult during the holidays. Find the recipe here.
5. Beet Kvass
For your more health-oriented friend or colleague with an interest in traditional or cultured foods, homemade beet kvass is a special and unique gift. When we over-indulge during the holiday season, this liver supporting tonic comes at just the right time! Reuse glass bottles you have at home or purchase Mountain Rose's large cork top bottle for a beautiful presentation. Follow our recipe here to make your own beet kvass.
This article was originally published on www.drfranklipman.com. Read the original here.
*Images of "nuts", "bar", "salt" and "chocolate" via Shutterstock