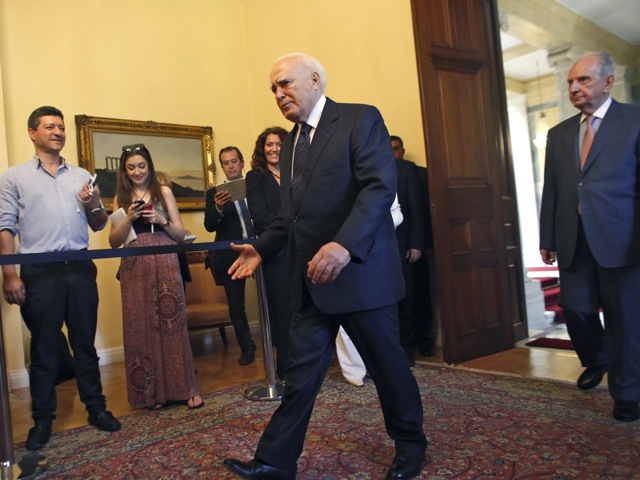 Greek President Karolos Papoulias started talks Sunday with smaller political parties in the hopes of finding enough support to form a coalition government.
The move came after Papoulias failed to convince the three biggest parties in a splintered Parliament to form a coalition on Saturday, jeopardizing the country's already shaking economic deal and raising the possibility that Greeks may have to head back to the polls.
Greece's two traditional parties, the New Democracy (ND) and PASOK, which finished first and third respectively in the May 6 vote, along with the Democratic Left, were willing to enter a coalition. However, the second biggest party, Syriza, refused to join a bloc that intends to keep the debt-ridden country in the eurozone—even if the other parties pledged to make big changes to the International Monetary Fund-European Union debt deal.
Alexis Tsipras, leader of the radical left Syriza party, wants any new government to reject the austerity measures that Greece agreed to in order to receive the next loan installments.
Receiving the loans is essential for Greece to pay off its creditors. If it fails to do so, the country is likely to default on its debts.
Four other parties won enough seats in elections to have seats in Parliament, and are now being consulted.
During the elections on May 6 many voters abandoned the two main parties and instead voted for many smaller or newly formed anti-austerity parties.
"Greece will not receive any more financial aid if it does not stick to the agreed bailout deal," European Central Bank official and head of Germany's Bundesbank Jens Weidmann was quoted as saying by Athens News.
"For Greece the consequences would be much more grave than for the rest of the eurozone," he added.