Golf's New Focus: Fast-Forwarding Fitness
Expert trainer Ben Shear explains what the world's best golfers do—and you can too.
May 7, 2014 10:03 am Last Updated: May 7, 2014 10:03 am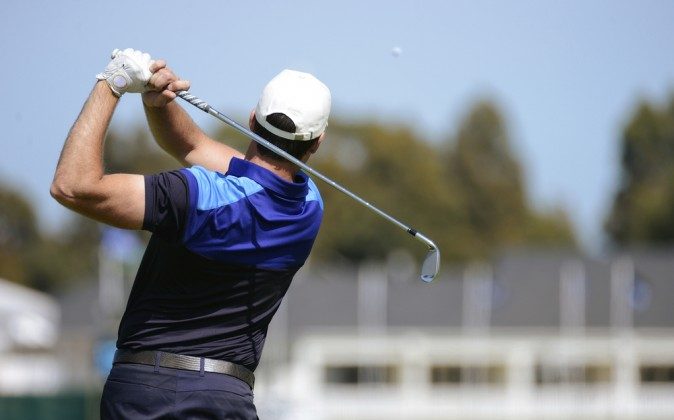 Today's PGA Tour stars eschew body types seen from the distant past. Then potbellies and rotund figures were just as prevalent on golf's world stage as those seen at any regular golf course. No longer.
The competitive rigors and need to extend careers now mandate constant attention—not just on swing mechanics but heeding skilled advice of professional trainers—taking lessons applied from sports such as the National Football League, Major League Baseball, and the National Basketball Association.
Ben Shear is the director of Performance at Golf & Body NYC, the only private club in Manhattan dedicated to getting the best out of your body and golf game. Shear travels much of the PGA Tour circuit, providing strength and conditioning, biomechanics, and performance nutrition expertise for his professional clients who include former World No. 1 Luke Donald, 2012 U.S. Open champion Webb Simpson, and 2014 Accenture World Match Play champion Jason Day, to name just a few.


Expert trainer Ben Shear (R), orients a student at his studio in Manhattan. (Courtesy of Matt Ward)
Shear shares some of his unique approaches to golf performance orientation.
Matt Ward: Golfers such as Gary Player and the late Frank Stranahan were pioneers in golf fitness in the 1950s and 1960s. Then a long lag in training until recently. Why?
Ben Shear: That's easy: Tiger Woods. When Tiger came along and won majors by 15 strokes, the other golfers said, "Oh-my-God, we can't compete with this guy." Of course, health and wellness are more popular now than 25 or 35 years ago, but when it comes to golf, Tiger was the motivation.
Mr. Ward: There's been plenty of attention given to the physique of Tiger Woods. Is his enhanced muscle tone a hindrance to his playing the game?
Mr. Shear: I have no first-hand knowledge of what he's doing. You'd have to ask him and his people. That being said, I believe that muscle tone does not affect mobility, hence golf performance. If you look at male gymnasts, you will see huge muscles and unbelievable flexibility at the exact same time.
Mr. Ward: What's more important: overall flexibility or muscle tone?
Mr. Shear: Muscle tone. I'd rather have a short, compact, explosive swing that I can control than a long, loose swing that is out of control.
Mr. Ward: What role do nutrition and proper eating play in golf?
Mr. Shear: If you're significantly overweight and out of shape, and you're walking four to seven miles a round, it plays a role. Even riding the course and playing golf is fatiguing, both mentally and physically. It'll wear you down. You might not feel it on the first few holes, but you will. You should increase your intake of fruits, vegetables, and especially water, not just on the course but in your life.
Mr. Ward: Not all golfers have the time or money to hire a fitness coach. What can golfers do to get healthier that doesn't cost much or take up too much time?
Mr. Shear: Anything you do fitness-wise that helps you get stronger and more flexible will help. Take a class at a local gym or YMCA. Do anything you can, and as you physically improve, your golf will benefit.
Mr. Ward: Your efforts are about building a better body to handle the rigors of the full swing. What do you do regarding the often forgotten areas of short game expertise and putting?
Mr. Shear: You're right, my focus is the full swing, generating speed and power, and protection against injury. But if you work on those things, you'll also be creating more stability in your lower body, and that will mean more control in putting and the short game. Honestly, any fitness and wellness improvement aimed at the long game will give at least indirect benefit to the short game.
Mr. Ward: What type of accreditation or certification should golfers look for when searching for help with their body and golf?
Mr. Shear: For golf-specific training, look for Titleist Performance Institute (TPI) certification. But you'll get help from anyone certified by the big three of general sports training: National Academy of Sports Medicine (NASM), American College of Sports Medicine (ACSM), and National Strength and Conditioning Association (NSCA). They deal with all sports, so tell them that you are there to help your golf game.
Mr. Ward: How much advantage would someone get simply by walking more and riding less?
Mr. Shear: That depends on what shape that person is in now. If he or she is in great shape, walking won't do much; it won't hurt, but it's not going to help a lot. But if that person is out of shape, walking will be incredibly helpful.
Mr. Ward: What's the biggest misconception you hear from your students and how do you deal with it?
Mr. Shear: That there is some type of "ideal" swing. There isn't, there is no one right way. You want the swing that fits your body. And that's what I train them for.
M. James Ward is a member of the Golf Writers Association of America (GWAA) and has been reporting on golf in a wide variety of areas since 1980.

My Start as a Professional Golf Trainer
By Ben Shear
I actually went to college for economics and finance—with plans for Wall Street, but there was a problem: I hated it.
I'd always been a workout guy, so I took some classes in fitness and nutrition, and those books I actually read. So I started a continuing education program in fitness and got certified in 1991.
Working at a gym in New Jersey, I began training athletes. But there aren't many professionals living in the Northeast—most of my clients were high school and college kids.
Working with them was great, but they were in school all day, which left me a lot of free time. So I started training the country-club sports, golf and tennis. One golfer introduced me to Scott Paris, head golf professional at Plainfield Country Club. He trained with me and was so impressed he sent over some of his members to do likewise.
Scott trained with a golf pro in Florida named Simon Holmes, one of David Leadbetter's teachers. One winter in the late 1990s, Scott was in Orlando with Simon. Another of Simon's pupils also was there, Robert Karlsson from the European Tour.
One rainy day when they couldn't play, Scott said he was going to the gym, and Robert went with him. The next thing I knew, Scott and Robert were on the phone, and then I was flying down to Orlando to start training Robert the next day. That was my introduction to the Tour and here I am, 15 years later, working with Jason Day, Luke Donald, and other great golfers.
Now I'm the director of Performance at Golf & Body NYC, the only private club in Manhattan dedicated to getting the best out of your body and your golf game. It's the epitome of what I'm trying to do with golfers. All because I disliked Wall Street.
*Image of "fairway shot" via Shutterstock