Government-mandated protective mask wearing policies have contributed to a more than 8,000 percent spike in global mask pollution with scientists calling on authorities to consider policies encouraging reusable PPE products in future.
On Dec. 9, science journal Nature Sustainability published the results of a study that examined the correlation between litter levels of personal protective equipment (PPE), and the timing of policies from the World Health Organization (WHO), as well as 11 national governments—Australia, Belgium, Canada, France, Germany, the Netherlands, New Zealand, Spain, Sweden, the United Kingdom, and the United States.
The scientists examined two million records of data from Litterati, a site dedicated to tracking, photographing, and tagging the location of litter.
They found that the proportion of masks in litter increased exponentially from when the WHO first announced a health emergency in March 2020 to October 2020.
This resulted in an 84-fold (8,400 percent) in mask litter compared to the previous year, from less than 0.01 percent of global waste to greater than 0.8 percent.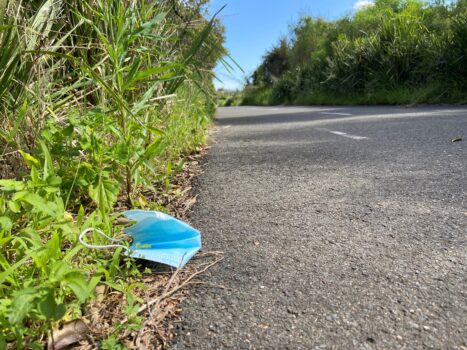 "The introduction of mask-wearing policies had a clear impact on PPE litter dynamics. Masks show the greatest response with ~0.01 percent on average before legislation but increasing thereafter," the study's authors stated.
"As nations legislating mask use increased, masks also increased as a percentage of litter over time," it continued. "Compulsory use of masks has a significant impact on wipe littering, whereas gloves show a decrease suggesting other factors are associated with glove littering."
The experts noted varying increases and decreases in glove and wet hand wipes littering over the course of the pandemic.
"Occurrences of mask, glove and wipe litter has been influenced by the instigation of new legislation requiring the use of masks and the need to clean surfaces and hands," they said.
Of the nine countries examined, the United Kingdom contributed the highest proportion of mask, glove, and wipe litter, accounting for more than 5 percent from August to October 2020.
Other countries, like Sweden, had many months with no COVID-19-related litter recorded. Incidentally, the Nordic nation has avoided deploying major public health restrictions over much of the pandemic.
Keiron Roberts, research fellow at the University of Portsmouth in the United Kingdom, said Australia did not see a major increase in littering because it has largely relied on hard lockdowns and restrictions on movement—limiting the need for masks.
"When you guys go into lockdown, you really go into lockdown," Roberts told the Australian Broadcasting Corporation.