Getting Help With College Application in NYC Can Be a Challenge
September 29, 2014 9:09 pm Last Updated: September 29, 2014 9:11 pm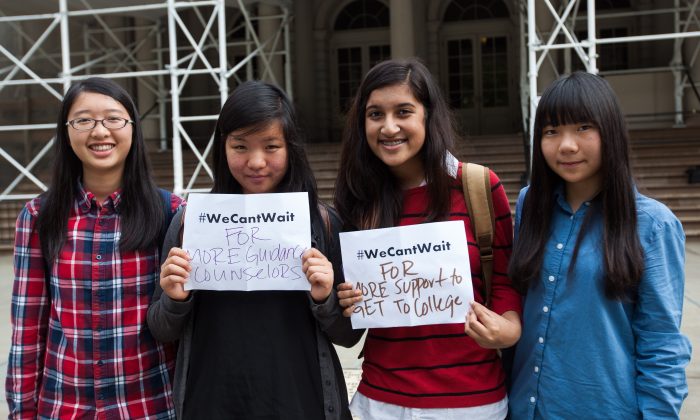 NEW YORK—Aronno Shafi is on top of her college game. A sophomore at the selective Stuyvesant High School, she visits her college guidance counselor sometimes every other day to figure out her schedule and make sure she's on track to higher education.
Dannie Li would very much like to do the same. But being a senior at the overcrowded Fort Hamilton High School, the line in front of her guidance counselor's office is just too long.
Guidance counselors became one of the focuses of the new Schools Chancellor Carmen Fariña. They are supposed to help children with academic development, personal and social development, and career and college plans.
There are more than 3,000 of them in the city's public schools, 250 added this year after Fariña re-established an office within her department dedicated just to guidance counseling.
The office works mainly on professional development, making every middle and high school have at least one guidance counselor, and educating principals on what the counselors are supposed to do.
And it looks like there's a lot to do.
The example of Stuyvesant and Fort Hamilton is telling. Both have about a dozen guidance counselors, but the level of service is different for a couple of reasons.
One lies in demographics. While Stuyvesant has about 1 percent of students yet to learn English, Fort Hamilton has over 20 percent of such students.
Dannie Li has lived in the United States for two years, struggling to navigate the school system. "I didn't know anything about education in America," she said. "But my guidance counselor didn't talk to me about this." 
Many such students can't expect help from their parents, who usually know even less English.
Another problem is overcrowding. Stuyvesant and Fort Hamilton alike are dimensioned for about 2,700 students. Stuyvesant's counselors seem to manage serving some 3,200 students, almost 20 percent over capacity. Yet Fort Hamilton is 60 percent over capacity, serving more than 4,000.
"Every time we want to change our program or have any question, the line is so long," said Boey Zhang, a senior at Fort Hamilton. She would need to skip a class to get to see her counselor.
In the end, they manage to see their counselors about once a semester. But even that is just in-and-out. "You are going to take this class. Blah, blah, blah. Ok, finished, done. You can go," another Fort Hamilton senior Ying Dong described the process. "It's very quick."
To make things worse, not every counselor plays the same role. The students said that out of 13 counselors available, only one is assigned to helping almost 800 seniors with college applications. "We really need help," Dong said. With early college application deadline approaching, she still has no idea where to go.
What Should They Do?
Even with a challenging environment, guidance counselors can still do a good job, according to Carol Dahir, professor at the School of Counseling of the New York Institute of Technology. She's been in guidance counseling since the '70s.
She said the school principals and the counselors themselves first need to be clear on what is actually their job. Up until the 1980s, the job required almost half the amount of training that's mandated today.
She remembered at her first job she was told to sit in her office and wait for students to knock on her door. Even some colleges still train guidance counselors in "old-school" ways, Dahir said.
Once principals know what counselors should do, they have to make them do it, Dahir said. But there's no formal evaluation system for guidance counselors. Almost all neighboring states already have one. "New York hasn't got there yet," she said.
Dahir said one counselor can manage 300 students, if "you build a culture in the building," set priorities, and cooperate well with school administrators.
Having some 25 interns in schools across the city, she sees instances of passionate teams going "the extra mile." But she also hears about schools responding to initiatives of her students with "We don't do this here."
Some schools are not interested in putting a small group of students together to work on a shared problem, like tardiness. Some schools are not interested in counselors visiting classrooms. But Dahir insists. "Tell them you have a crazy professor who's making you do that," she advises her students.