Head coach Kirby Smart led the Georgia Bulldogs to their first National Championship in 41 years, defeating the Alabama Crimson Tide 33–18 in the CFP Monday night in Indianapolis. Smart was a 11-year assistant under Alabama's Nick Saban; and had lost the Championship game to Alabama in 2017.
Smart played at Georgia and was an All–SEC defensive back his senior year. Alabama dominated Georgia in the SEC Championship game a month ago. Whether it's the Smart–Saban matchup, or the perseverance of quarterback Stetson Bennett, the ending was legendary.
"It's not about me. It's never been about me," said Smart. "I wanted to do right for a program that was really good to me, and sent me out into life. "I think Georgia is the greatest job in the world. Our fans have been tremendous. Our our financial support has been tremendous. Our players have been tremendous. "I'm just very thankful for this opportunity."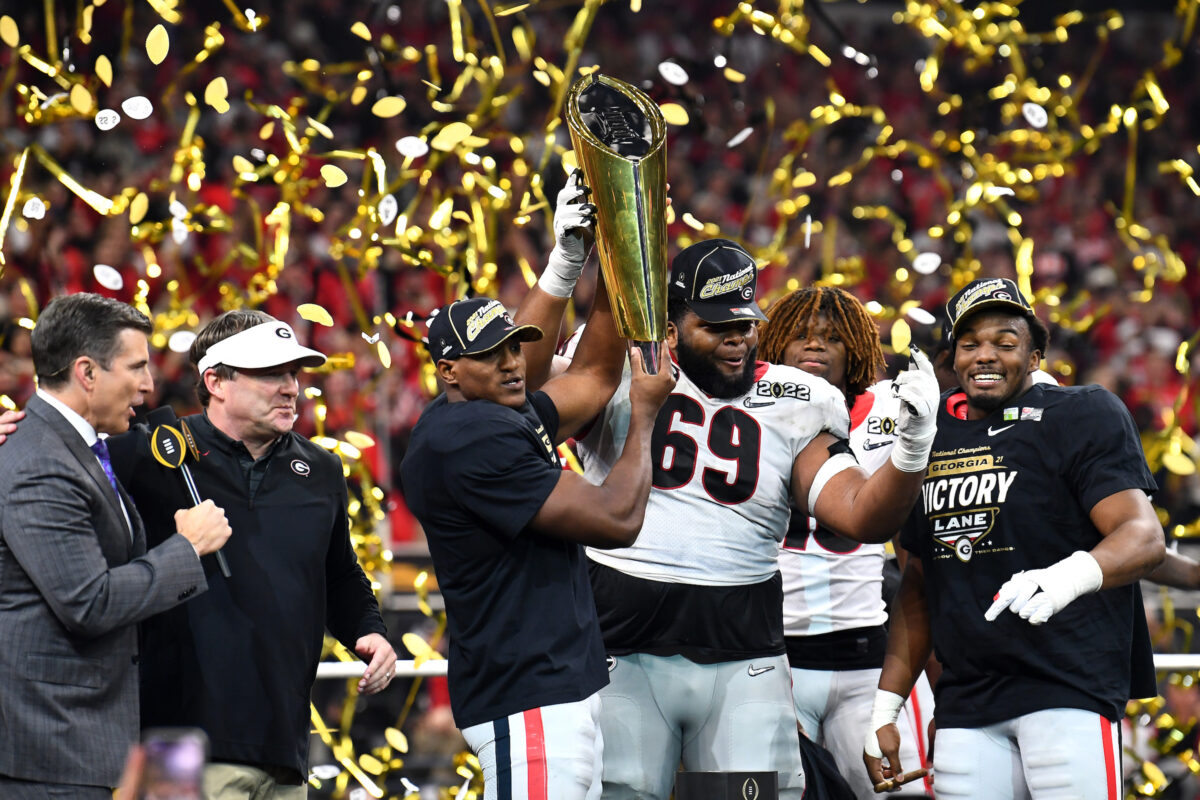 At three years old, Bennett told his father that he would be the starting quarterback at Georgia, but was not recruited by any major programs. He first attended junior college, eventually walked-on to Georgia, left, and returned to the program. Bennett began the season as the third string quarterback. Offensive coordinator Todd Monken believed in Bennett, and he would get the starting job after one month over USC transfer J.T. Daniels because of his excellent mobility.
The first half of the championship was dominated by the two top defenses. Alabama would have the edge offensively, and the scoring was limited to field goals; Bama led 9–6 at halftime.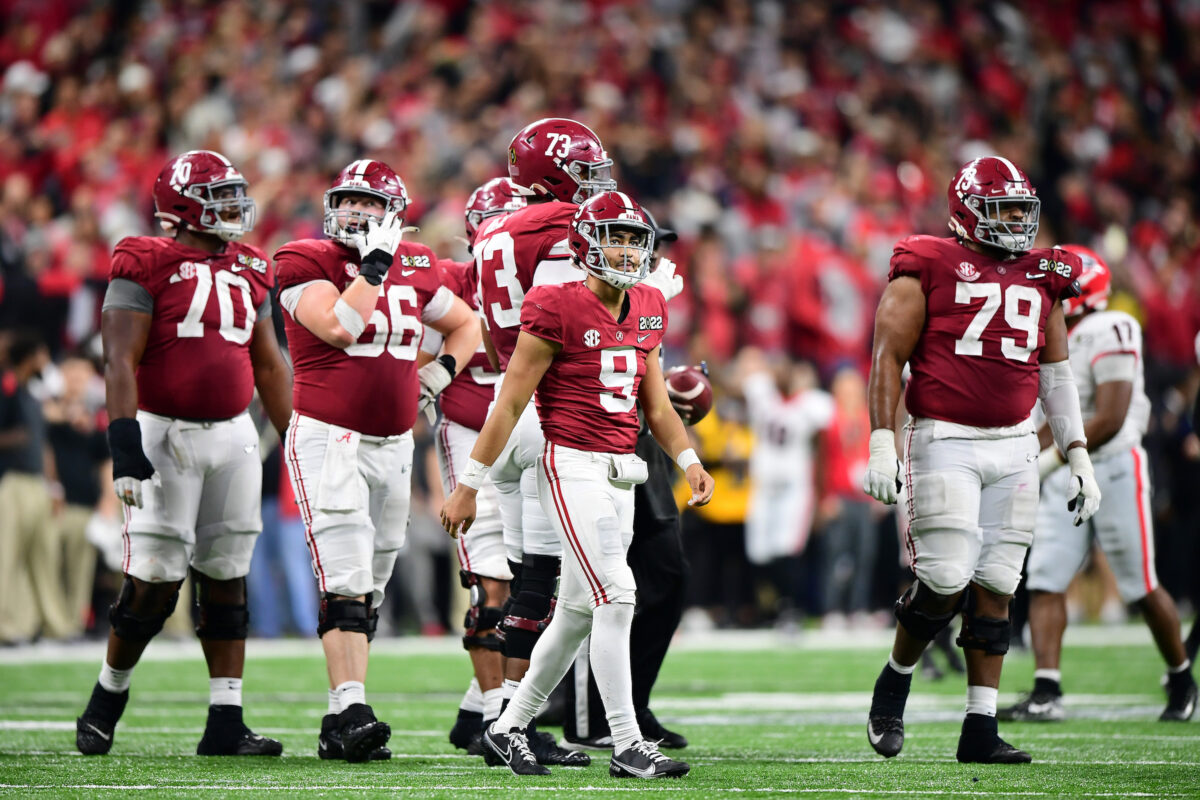 Heisman Trophy winner Bryce Young led Alabama with 369 yards on 35 of 57 attempts for one touchdown and two interceptions.
Young's top target, Jameson Williams, would not return following a knee injury at the end of a 40-yard reception in the second quarter after making a cut in an attempt to gain more yardage.
"We haven't had probably one drive where we didn't have a negative play to start off," said Smart at halftime. "We were shooting ourselves in the foot. We're first and 15, second and 20. You're not a good football team when you do that. We got to get some plays together on offense." Georgia committed seven penalties in the first half under heavy pressure.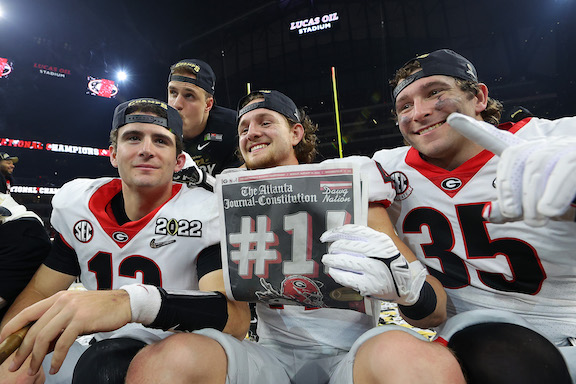 The Bulldogs came out for the second half with fiery offensive intensity that resulted in an 80-yard drive on their third possession, culminating in a Zamir White one-yard touchdown run to take the lead 13–9. James Cook had a 67-yard run on the drive; the longest run Bama had allowed all year was 37 yards. The Georgia crowd exploded with excitement that carried through the remainder of the game.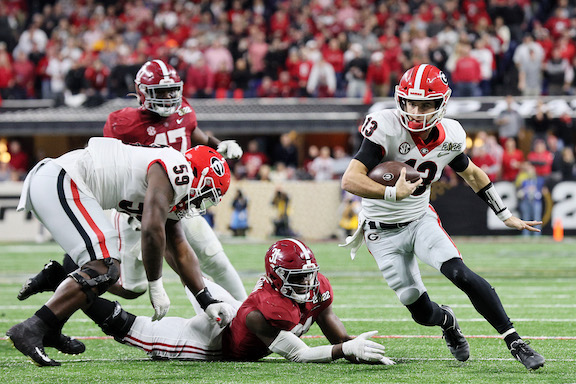 Georgia QB Bennett would pass for 224 yards from 17 of 26 attempts, for two touchdowns. But he turned the ball over early in the fourth quarter when sacked by Christian Harris, which led to Alabama's first touchdown of the game to take a lead of 18–13. "I just knew there's gonna be no way we're gonna let a turn over like that stop us from from winning a national championship," said Bennett. "I was not gonna be the reason we lost."
The Bulldogs would quickly respond on a four play drive of 75 yards. The touchdown came from a Adonai Mitchell reception of 40 yards; the two-point conversion failed to retake the lead 19–18 with 8:09 remaining in the game.
The defense got the ball back for Georgia on a three and out, and the offense would march 62 yards, with several solid runs by Zamir White, capped off with a screen pass to the left to freshman Brock Bowers, who ran in for a 15-yard touchdown pass with 3:33 remaining in the game, 26–18.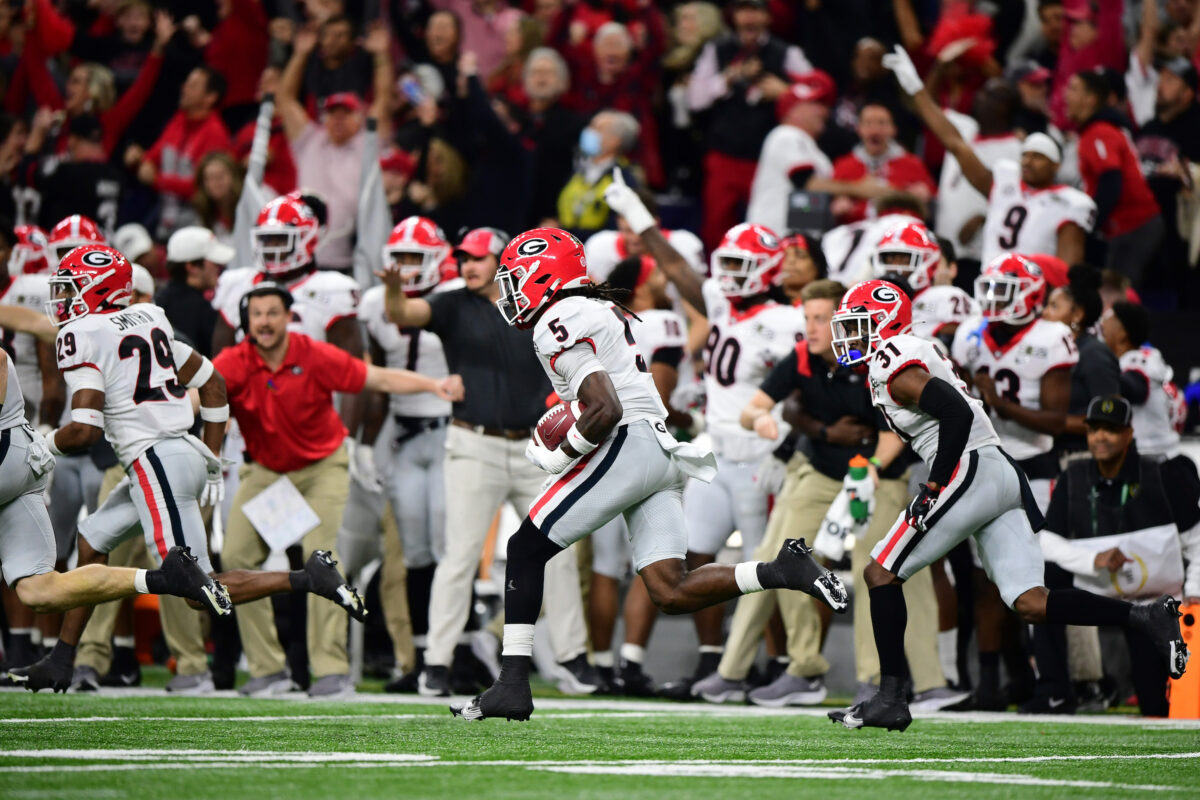 Alabama would take their potential last drive and Young would throw a long pass that was intercepted by Kelee Ringo and returned for a 79-yard pick six to seal the victory 33–18.
The Georgia defense had led the country allowing an average of 9.6 points in the regular season, but allowed Alabama to score 41 points in the SEC Final.
In preparation for the National Title, coach Smart said, "We went back to work. We gotta play better defense…and be more explosive on offense."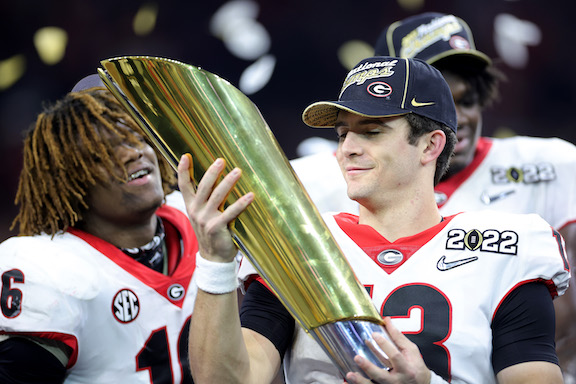 Bennett, the offensive MVP, broke out in tears on the sidelines and congratulatory hugs all throughout the Georgia bench ensued. "These are the greatest fans in the world. This is the greatest team…I love everything about this place," said Bennett following the game. He added that his success came from a belief in himself and hard work. When asked to compare the championship win to his childhood dream, Bennett responded, "I cried. So pretty good."