Lilia Vu came from four shots behind to win her first major in a playoff over fellow southern Californian Angel Yin at the Chevron Championship in The Woodlands, Texas, on Sunday, April 23.
In the playoff, the safe play is to avoid the pond short of the green at the par-5 18th hole at The Club at Carlton Woods—and Yin was able to save par after taking a drop following her approach shot that landed in the water hazard.
Vu's approach was long over the green with a 7-iron, but she was able to get up-and-down, rolling in her birdie putt of approximately 13 feet into the low-sided edge.
"We hit a good shot, and then I knew the green was really fast, but I wasn't sure with all the rough and into the grain from the fringe, so I left it short," said Vu. "But I knew on that last putt, all I had to do was just do my routine, read the putt how I usually do, and just hit this putt because I've hit that putt a million times and I knew I could make it."
The 25-year-old native of Orange County, Calif., won her second career LPGA title having recently won her maiden title at Honda LPGA Thailand in February.
"Everything happens for a reason," Vu said. "I was definitely my own enemy, and I don't know how I pulled this out."
Vu was a standout at UCLA with eight individual titles, while holding the top world amateur ranking for 31 weeks from 2018–2019.
However, Vu soon considered quitting, having made just one cut out of nine in her rookie season of 2019, before regaining her LPGA status with three victories on the Symetra Tour in 2021.
"Yeah, the reason I'm here is because of my grandpa," said Vu. "He passed away at the beginning of COVID. I was just in such a bad place with my golf game. Just everything was life or death. I just saw everybody that I've competed with being successful, and I just compared myself all the time. … The last thing he told me was to play my best. He's in the hospital, thinking of me and my tournament. … That's something that I think about a lot."
"Even today, I was getting really upset on the course, and I just had to remind [myself], 'Grandpa is with you, and he'd be really disappointed if you were getting upset like this,'" Vu concluded.
This was the first year that the new sponsor Chevron moved the first major of the year to Texas from Mission Hills Country Club in Rancho Mirage.
Vu continued the long-standing winner's tradition of jumping into Poppy's Pond at the 18th hole.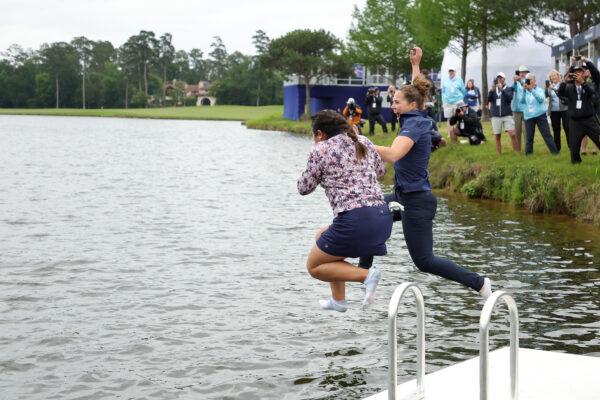 Vu shot the low round of the day with a 4–under 68 (along with World No. 3 Jin Young Ko who finished T9). She made five birdies at holes Nos. 2, 3, 8, 17 and 18 along with a bogey at the par-4 9th hole.
Yin shared the 54-hole lead with fellow American Allisen Corpuz of Hawaii and held the lead at 11-under with a birdie at Nos 13—but bogeyed both the par-4 16th and par-3 17th, with approach shots into sand bunkers.
The Los Angeles native Yin birdied No. 18 in regulation for an even-par 72 and force a playoff with Vu. She came into the tournament ranked No. 172 in the Rolex Women's World Golf Ranking.
Yin tied her career-best finish in a major championship, at the 2019 U.S. Women's Open. "Honestly, I held it together, and then 16 and 17 really just was like bad club decision ... and then obviously in the playoff hole, I just didn't hit a good shot," said Yin. "It just kind of spoke a lot about today."
"I think I've just come a long way," added Yin. "I'm just really happy with who I am, where I am, and what I'm doing right now. Just a lot to appreciate."
World No. 2 Nelly Korda shot a final round 71 to finish third at 9–under 279 by draining a long eagle putt on the final hole.
"Every single time I can finish well at a major, put myself into contention, that's what I strive to do," said Korda. "A little sad that I didn't really have my best stuff today. My putter kind of let me down this week a little. Even though I made some really good putts, I also missed some putts that I usually don't.
"Overall I have a lot to work on, but for it to be the first major of the year, I think I played pretty well, and hopefully I can continue building [on it]."
Corpuz shot a final round 74 for a 5-way
 tie for fourth at 8–under with Thailand's Atthaya Thitikul (71), Switzerland's Albane Valenzuela (73), and South Korea's A-lim Kim (72) and Amy Yang (73).