Gas Blast Kills 29 Coal Miners in Northwest China
October 31, 2006 12:00 am Last Updated: October 31, 2006 12:00 am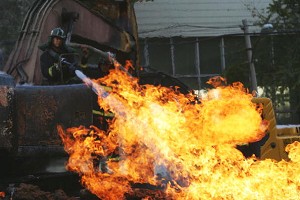 BEIJING—A gas explosion at a coal mine in northwest China on Tuesday killed 29 miners and injured 19, Xinhua news agency said, in the latest accident to hit the world's deadliest mining industry.
The blast occurred just after noon at the Weijiadi coal mine in Baiyin city in Gansu, an underdeveloped province containing part of the Gobi Desert, Xinhua said.
Seventy-one miners were working underground at the time of the explosion and 36 escaped immediately after the blast, 13 of whom were among the injured, Xinhua said.
It had previously quoted Wang Jun, general manager of the Jingyuan Coal Industry Corporation, the mine's operator, as saying 39 miners had been working in the mine, with four escaping unhurt.
China is struggling to meet booming demand for coal, which fuels about 70 percent of its energy consumption.
In the rush for profits, safety regulations are often ignored, production is pushed beyond limits and dangerous mines that have been shut down are reopened illegally.
Last year, 3,300 coal mine blasts, floods and other accidents killed nearly 6,000 people, according to official figures.
Despite a 23 percent decline in the death toll for the first nine months of 2006 compared with the year-ago period, 3,284 coal miners have died in more than 2,000 accidents through September.