I don't know about you, but a potluck or barbeque, like those held every Fourth of July, can trigger surprising digestive explosions along with the expected ones in the sky.
You may know what I mean, but have never put any rhyme or reason to it. It's just become, over the years, a part of your independent right to both celebrate and suffer.
Many of you may be approaching the Fourth of July with a new found sense of digestive caution. Will the sugar- and dairy-laden strawberries and cream entice you, or will you make a dairy- and gluten-free 'Whipped Cream' Tart that's the hit of the party?
So as we get fired up for the festivities on July 4, I'd like to share my top four tactics for facing the Fourth of July.
1.Satisfy Yourself. Make or bring a dish to your holiday festivities that will both captivate your culinary cravings (as well as quench the appetites of those around you), and soothe the potential for digestive distress.
My trick when attending parties is always to bring both a sweet and a savory dish. That way none of my hankerings are neglected. For your sweet treat, try this Gluten-Free and Dairy-Free "Whipped Cream" Tart. For your savory dish, the Summer Carrot Fennel Slaw is a must.
2. Alcohol Considerations. If you're going to drink alcohol during your bash, take these pointers to heart:
If you drink your spirits on an empty stomach, about 20 percent gets absorbed right through the walls of the stomach (not even making it to your small intestine, where absorption takes place for most of what we consume) and reaches your blood and your brain within minutes. This causes not just a spike in blood sugar, but also a decreased sense of perception. My directive: Eat before you drink.
The hotter your body, the drunker you'll feel. Booze impairs your ability to control your body temperature. If it's as hot where you are as it is here, go slowly and be sure to tune in to your body's wisdom.
Try alternating your distilled drink of choice with a nonalcoholic beverage to slow your pace and aim to stick with just one libation. Your blood, your brain, your body, your belly, and your slumber will thank you.
3. Customize Eating. If you've been adopting a new way of eating that feels good to you, know that you don't have to jump ship just to please others. This is your temple we're talking about.
In the words of Replenish nutrition expert Megan Liebmann:
"One way I like to look at opting into social situations, even with a more custom (I like to use the word custom rather than limited) way of eating, is through the lens of exercising a new social muscle. Just like training for a marathon, it can take some time to get those muscles good and strong. For me, looking at it this way shifts my mindset from the 'I can't have this,' to 'I get to work on flexing my new muscle!'"
I'd say those flexed muscles look pretty good in a sundress or surf shorts. Don't underestimate their appeal. At the same time, if the peach cobbler is calling, and the call won't quit, have some, savor each bite, and see how you feel.
4. Enjoy Simplicity. Have fun and don't complicate things. This is a time for celebration.
Digestion is a complex chemical and physiological process. It can get easily confused. And for some of us that complexity will result in digestive fireworks when we complicate the feeding court.
Eating foods that we don't usually consume, ingesting a wide variety of foods that require different digestive enzymes and processes, as well as overeating, can all inspire tummy tumult. Knowing this is half the battle. Enter with the power of perspective, and you're bound to enjoy not just the Fourth of July, but July 5 as well.
To a Fourth filled with flavor, fun, and festivity!
Recipe: Whipped 'Cream' Tart

This recipe is inspired by a tart my mom used to make. It's not a coconut cake per Martha Stewart (though that sounds like a good weekend challenge), yet it is an easy (no coconut throwing) and delicious dessert to bring to your weekend holiday gatherings. And it's bound to please. Thanks to Kelly Brozyna of The Spunky Coconut, whose coconut cream recipe informs the "cream" in this tart.
The amounts here are for a medium-sized tart. If you want to go large, double the ingredients.
Crust
• 1 cup nuts, ideal would be raw almonds or raw or dry roasted hazelnuts
• 1 pinch Himalayan or Celtic sea salt
• 1/4 teaspoon nutmeg
• 1/2 teaspoon cinnamon
• 1/4 heaping cup chopped dates, soaked if very dry
Cream
• 1/2 cup raw cashews, soaked about 2 hours
• 1/2 cup unrefined coconut oil, gently liquefied
• 1/4 raw honey, ideally local to you
• 1/4 teaspoon liquid stevia, vanilla cream flavored. I prefer the green liquid, which is less processed than the clear.
• 2/3 cup full-fat coconut milk
Preparation
Crust: First spread some coconut oil into a tart pan—ideally one with a removable bottom. Then place the nuts in a food processor and pulse to a fine powder. Add the remaining ingredients and pulse until a crust-like ball forms. Remove and press into the greased pan. Place the pan in the freezer while you prepare the cream. Note: A springform pan will also work if you press the crust up the sides a bit.
Cream: Drain and rinse the soaked cashews. Pour cashews into blender. Add coconut oil and honey. Blend or puree for about 2 minutes. Add remaining ingredients and blend or puree until creamy. Remove the tart from freezer and pour the blender contents into the crust. Then back it goes into the freezer to harden up a bit.
To finish: When the cream has hardened somewhat, you can remove the tart and decorate it as you wish. I chose strawberries, raspberries, and blueberries. You can decorate with kiwi, shredded coconut, flaked chocolate, or whatever you wish. It's very versatile.
Store the tart in the freezer until about 1 hour before serving.
Recipe: Summer Fennel Carrot Slaw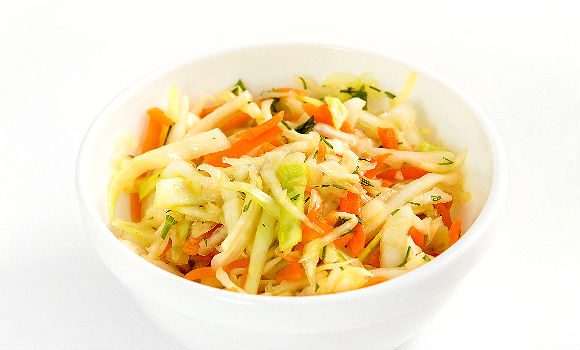 This is a great recipe to feed a crowd and support your digestive flow. Fennel is used medicinally to nurse indigestion, gas, and digestive spasms. The recipe is easy to prepare and can be served as is or with added fresh herbs, radishes, or other seasonal shredded vegetables. Try sprinkling some sunflower seeds on top for added protein and crunch.
• 3 large fennel bulbs or 4 medium-sized bulbs, sliced thin with a mandolin slicer
• 2 medium-sized carrots, shredded
• 3 tablespoons olive oil
• 3 tablespoons apple cider vinegar
• 1 clove garlic, minced
• 1 teaspoon honey or other liquid sweetener
• 1/4 teaspoon sea salt
• Optional: sunflower seeds, raw, sprouted, and dehydrated, or toasted
In a large bowl, combine fennel and carrots and toss well to combine. Set aside. In a small bowl, whisk together oil, vinegar, garlic, honey, and sea salt. Add the dressing to the fennel and carrot mixture and massage the slaw with your hands. Top with a handful of sunflower seeds, if desired. Best served chilled.
Serves 4–5 (double or triple to feed a crowd)
Recipe provided by Andrea Livingston for Replenish PDX
With a career born of a personal family health crisis, functional nutritionist Andrea Nakayama takes the idea of food as personalized medicine beyond a clinical practice. Her online programs at ReplenishPDX.com and HolisticNutritionLab.com guide her clients in taking ownership over their health. Info@replenishpdx.com
*Image via Shutterstock