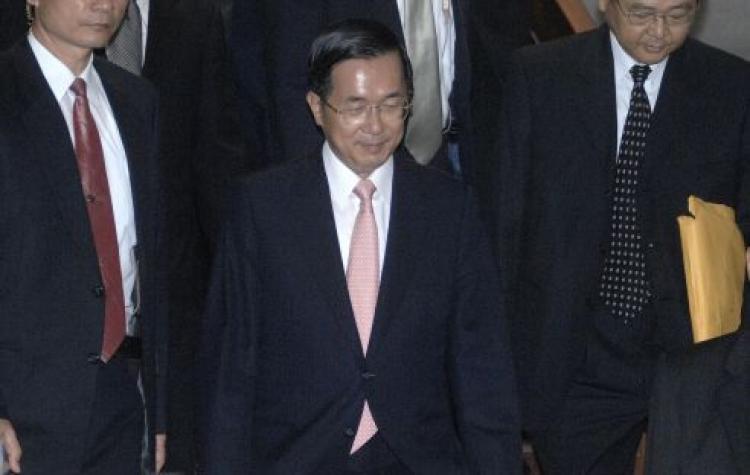 On August 14, the former president of Republic of China (ROC, also known as Taiwan) Chen Shui-bian confirmed that his wife, former first lady Wu Shu-jen, remitted surplus funds overseas during his campaign.
Chen also apologized to people across the country and announced that he and his wife will leave the Democratic Progressive Party after the press conference.
Chen Shui-bian explained that the surplus from his campaign fund was managed by the former first lady and maintained that he had no knowledge of the details.
Chen admitted that in the past he had failed to fully declare his campaign funds but had not been notified that the funds were sent over to an overseas account.
After Chen apologized, he also questioned the strategy of the Kuomintang's (KMT) last three presidential campaigns and called for a special investigation. According to Chen, investigating both sides would level the playing field.
KMT spokeswoman Chen Shu-rong urged Chen not to shift all the responsibilities to his wife and asked him to provide more detailed information about his election funds, the source, and the whereabouts of the huge surplus.
Accoring to various media reports, Chen's daughter-in-law, Huang Jui-ching, placed the money illegally in a Merrill Lynch bank account in Switzerland.
The ROC Ministry of Foreign Affairs (MOFA) spokesman, Henry Chen, asserted that a former representative office in Switzerland received a request for international judicial cooperation from the Swiss Federal Ministry of Justice. Accorinding to MOFA, this information will be transferred to them and they will cooperate with the international judicial cooperation.

Click here for the original article in Chinese: http://www.epochtimes.com/gb/8/8/14/n2228856.htm