LONDON—A French former trader with Barclays, tried in his absence by a London court, has been convicted of helping to mastermind a five-year plot to rig global interest rates after an 11-week trial.
Philippe Moryoussef, a 50-year-old former senior derivatives trader, was found guilty of conspiracy to defraud by dishonestly manipulating Euribor—or Euro interbank offered rate—between January 2005 and December 2009.
The jury at Southwark Crown Court acquitted German Achim Kraemer, a Deutsche Bank manager still employed by the bank.
Reporting restrictions were lifted on July 12 after the jury failed to reach a verdict on three former Barclays co-defendants: Carlo Palombo, an Italian-born former junior trader, Sisse Bohart, a Danish former junior trader and rate submitter, and her British former boss, Colin Bermingham.
A sixth defendant, 46-year-old former Deutsche Bank star trader Christian Bittar, a Frenchman who investigators said was once one of the world's best-paid traders, pleaded guilty before the trial began. He is already in custody.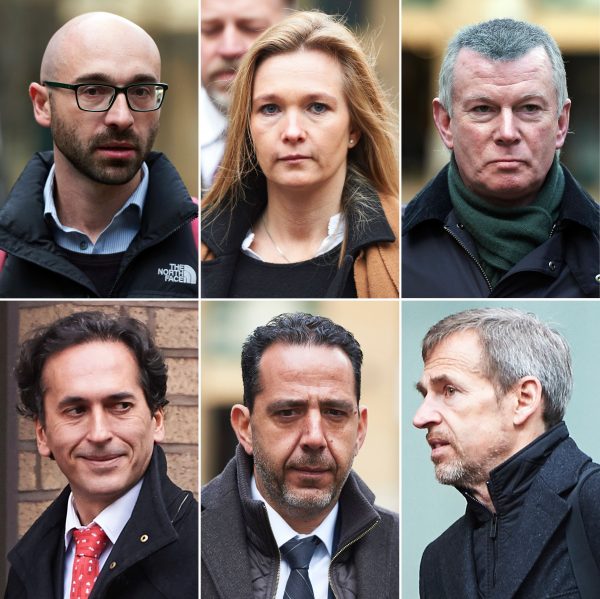 The UK's Serious Fraud Office (SFO), which prosecuted the case, said it would decide within seven days whether to seek a retrial of Palombo, Bohart, and Bermingham.
A conspiracy to defraud conviction carries a jail sentence of up to 10 years.
The SFO alleged bankers deliberately disregarded rules that Euribor should not be set with an eye on commercial gain, that they dishonestly plotted for rates to be false or misleading, and risked prejudicing the economic interest of others.
Brussels-based Euribor is a benchmark for interest rates on around $150 trillion to $180 trillion of financial contracts and consumer loans worldwide.
Sentencing Next Week
The judge penciled in July 20 for sentencing Moroccan-born Moryoussef and Bittar, who was born in Senegal. But as Moryoussef is not in the country, it is unclear whether or when he will serve time in jail.
The former trader left for France after Bittar's guilty plea was made public and had no defending counsel in court. His Paris-based lawyer, Francois De Casto, said his client was under the protection of French law.
"Philippe Moryoussef will eventually refer this case to the European Court of Human Rights," he said.
While global authorities have fined leading banks and brokerages around $9 billion and charged about 30 people over rate-rigging allegations, the latest SFO prosecution is the first to focus on Euribor, the Brussels-based equivalent of Libor (London interbank offered rate).
Prosecutors cast Bittar and Moryoussef, old friends who cut their teeth in banking at France's Societe Generale, as the ringleaders of an international, inter-bank scam to deliberately flout rules by asking rate submitters to nudge rates up or down to bolster trading books in a "zero sum game."
Vast derivatives profits could ride on a basis point, or 0.01 percent, change in Euribor rates, which are set over various time frames.
'Good Luck'
In messages read out in court, Moryoussef emailed Palombo on Oct. 1, 2006, saying, "My mobile won't be connected on Monday. Two things, ask Sisse to put a high 6 month [Euribor] … and Christian as well … we have 2 billion on that date. We definitely have to make one BP [basis point] on that fixing. Good luck, bye."
The defendants denied dishonesty, said they had learned their trade on the job and that they believed there was nothing wrong with requesting or accommodating preferential trades.
Rate requests were made openly and fell within a range of equally valid rates, they said.
Defense lawyers also said there was no evidence their clients had financially benefited from the alleged scam.
In a statement read out to the jury during the trial, Moryoussef said trader requests were an established practice at Barclays when he joined in 2005 and that he believed submitters would choose a correct rate from a permitted range of estimates.
By Kirstin Ridley