Floods, Mudslides Kill More Than 50 in China
June 8, 2006 12:00 am Last Updated: June 8, 2006 12:00 am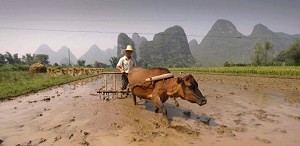 BEIJING – Floods and mudslides triggered by heavy rains have killed more than 50 people in south China in recent days and forced more than 350,000 people to flee their homes, state media said on Thursday.
In Fujian province, 41 people were killed in floods and 356,200 people evacuated from their homes, the official Xinhua news agency said.
Mudslides killed 12 people in Wuzhou, a city in the southern autonomous region of Guangxi.
"An 11-hour rain storm hit the city at 8 p.m. on Wednesday leaving many road sections flooded and triggering mud-rock flows in three districts," the agency quoted Wuzhou Mayor Yu Yuanhui as saying.
A section of the railway between capital Beijing and Hong Kong was also destroyed in east Jiangxi province.
South China is plagued by typhoons, heavy rain and floods in the summer, causing widespread deaths and damage to crops and infrastructure.