Michigan is the first state in the United States to ban flavored e-cigarettes after Gov. Gretchen Whitmer, a Democrat, used executive power to implement a six-month ban.
After the six months, the ban can be extended for another six months.
The governor said she wants legislators to write the ban into law.
"As governor, my number one priority is keeping our kids safe, and right now, companies selling vaping products are using candy flavors to hook children on nicotine and misleading claims to promote the belief that these products are safe. That ends today," Whitmer said in a statement obtained by the Detroit Free Press.
"Our kids deserve leaders who are going to fight to protect them. These bold steps will finally put an end to these irresponsible and deceptive practices and protect Michiganders' public health."

Companies are using sweet and fruity flavors to hook teenagers on nicotine, Whitmer said.
"One of my biggest, most important jobs of being governor is protecting the kids of Michigan. I'm living with two teenagers. I know a lot of their friends are vaping. We see it every day. We see this constantly bombarding kids with this as a healthy option, getting kids hooked on nicotine before their brains are fully formed, and now we're seeing kids showing up with respiratory problems. So we know this is a national health crisis," Whitmer told Fox 2.
The move applies to retail and online sales of any e-cigarettes other than those flavored with tobacco.
The order went into effect on Sept. 4 but businesses have 30 days to comply.
The executive action takes place amid increasing scrutiny of e-cigarettes, which have become a popular replacement for regular cigarettes, particularly among millenials.
U.S. Surgeon General Dr. Jerome Adams declared in December 2018 that the use of e-cigarettes among youth was an "epidemic." The Centers for Disease Control (CDC) and Food and Drug Administration said in late August that 193 potential cases of severe lung illness associated with use of e-cigarettes were reported within two months across 22 states.
A death was reported in Illinois soon after.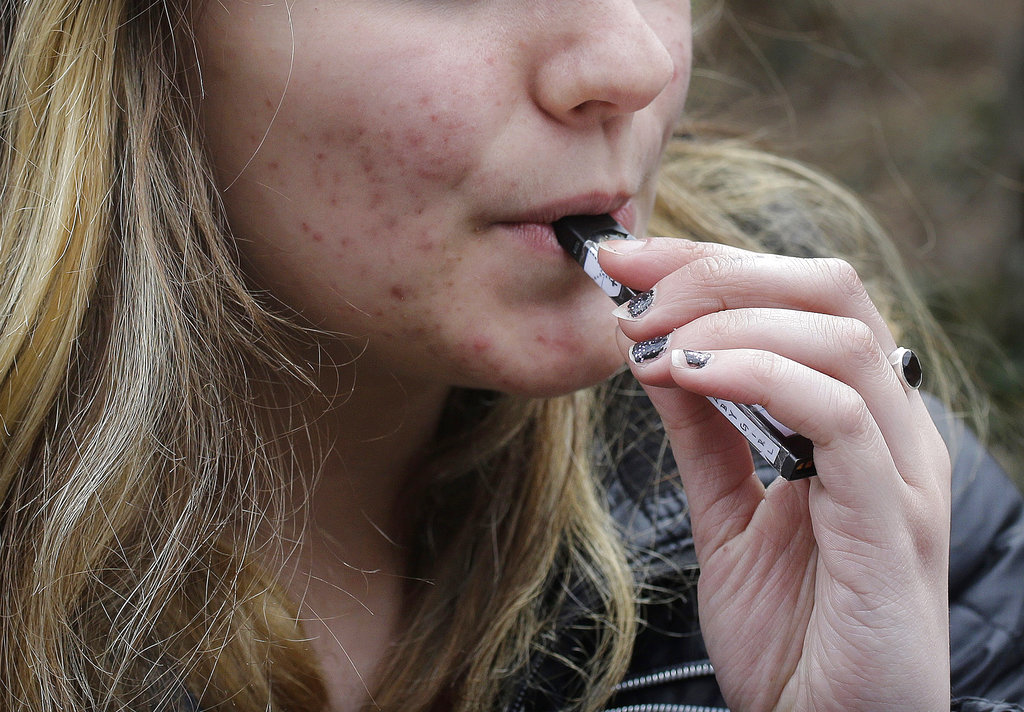 "This tragic death in Illinois reinforces the serious risks associated with e-cigarette products. Vaping exposes users to many different substances for which we have little information about related harms—including flavorings, nicotine, cannabinoids, and solvents. CDC has been warning about the identified and potential dangers of e-cigarettes and vaping since these devices first appeared. E-cigarettes are not safe for youth, young adults, pregnant women, or adults who do not currently use tobacco products," Robert Redfield, director of the CDC, said in a statement.
Dr. Jennifer Layden with the Illinois Department of Public Health told reporters in a call that the death was of an adult who was hospitalized with an unexplained illness after vaping or e-cigarette use.
In many of the cases, patients reported a gradual start of symptoms including breathing difficulty, shortness of breath, and/or chest pain before hospitalization, authorities said. Some cases reported mild to moderate gastrointestinal illness including vomiting, diarrhea, and fatigue.
The Wisconsin Department of Health Services said last month that it was investigating 15 cases and that another 15 were confirmed. The Minnesota Department of Health said that four cases of severe lung injury were found to be potentially related to vaping and Dr. Ruth Lynfield, medical director of the department, said in a statement, "We are encouraging providers and parents to be on the look-out for vaping as a cause for unexplained breathing problems and lung injury and disease." The Michigan Department of Health and Human Services was another of the agencies probing cases possibly linked to vaping.
"The severity of illness people are experiencing is alarming and we want Michiganders to be aware using e-cigarettes and vaping can be dangerous," said Sarah Lyon-Callo, state epidemiologist for the department, in a statement. "E-cigarettes/vaping products can contain harmful chemicals that can result in damage to a user's lungs, heart, or other body systems."
The move in Michigan came three months after Gov. Whitmer signed two bills that made clear it's illegal to sell e-cigarettes and other non-traditional nicotine products to minors.
"This is an important step in protecting public health and keeping tobacco products out of the hands of our kids, but we have to keep working to ensure that minors don't have access to any tobacco products, including harmful e-cigarettes," Whitmer said at the time. "That includes raising the legal age for purchasing these products to 21, curtailing internet sales of e-cigarettes, and banning the marketing of all tobacco products to children. I'm ready to keep working with the legislature to make sure we're doing everything we can to protect our kids and our public health."