FAQ Obamacare: Answers to Frequently Asked Questions About Obamacare
September 28, 2013 8:54 pm Last Updated: September 28, 2013 8:56 pm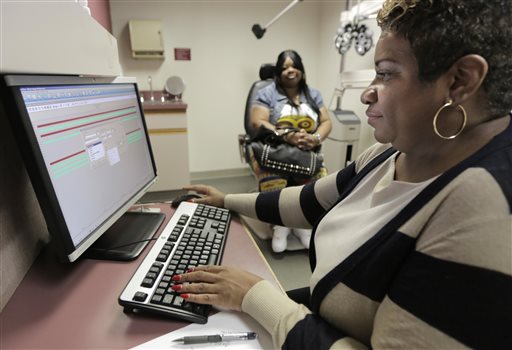 Much work is left to demystify the Obama administration's Affordable Care Act and how the massive new health care initiative will affect Americans. A key part of the new program launches Tuesday when a new insurance marketplace goes online. Here are answers to questions Americans may have:
Q. Why is Tuesday important?
A. It's the first day of the open enrollment period for new health insurance options under the health law. Consumers have until Dec. 15 to sign up if they want coverage to start Jan. 1.
After that, you can still enroll through the end of March to avoid penalties for 2014. The law requires almost everyone to have health insurance. Tuesday is the first day people can start shopping for health insurance on a new marketplace where they can get financial help with the cost.
Q. What are the fines for not enrolling?
Unless you qualify for an exemption, you will face a fine if you don't have insurance.
The fine for 2014 is $95 per person or 1 percent of income, whichever is greater.
However, by 2016 the fines are up to $695 per year, or 2.5 percent of income. For families, the tax is 2.5 percent of income or $2,085, whichever is greater.
The fines are also known as income tax penalty.
According to Obamacare Facts, "The requirement can be waived for several reasons, including financial hardship or religious beliefs. If the tax would exceed 8% of your income you are exempt, also some religious groups are exempt. That tax cannot exceed the cost of a 'bronze plan' bought on the exchange."
Other imposed "fines" that are part of Obamacare:
-People making more than $200,000 will have Medicare payroll taxes increase from 1.45 percent of income to 2.35 percent. 
-Small businesses with over 50 employees have to insure their employees or pay a penalty–$2,000 per employee
-An annual $63 fee levied by ObamaCare on all plans (decreased each year until 2017 when pre-existing conditions are eliminated) to help pay for insurance companies covering the costs of high-risk pools.
Q. Who should shop for health insurance on the new online marketplace?
A. The marketplace is meant for people who can't afford health insurance right now and for people who want to comparison shop for insurance. The website will tell you whether you qualify for new federal tax credits to help pay the cost of coverage. It also will tell you whether you're eligible for free care through Medicaid or if your children are eligible for the Children's Health Insurance Program.
Q. If I already have affordable health insurance through my job, why should I care?
A. If more people get insurance, fewer medical costs will be shifted onto people with good health insurance by hospitals and other providers that end up providing free care to the uninsured.
Q. Will insurance coverage cost more or less than what's available today?
A. The law requires certain benefits, so health plans will be more comprehensive and probably more expensive than the ones some people buy currently. But the tax credits will help bring down costs for most low- and middle-income people. People who have pre-existing medical conditions won't have to pay higher premiums than healthy people. Insurers will be prohibited from charging women higher prices.
Q. Do I have to buy health insurance on the new marketplace?
A. Some Americans already have coverage through their jobs, and their employers pay a portion of their premiums. They don't have to buy new insurance. In fact, if your insurance is affordable and meets certain federal criteria, you won't qualify for tax credits on the marketplace.
People already insured under Medicare or Medicaid don't have to do anything new. Veterans who are enrolled in Veterans Affairs health care don't have to buy additional insurance. U.S. citizens living abroad aren't required to get coverage.
Q. Can't I just buy insurance after I get sick?
While Obamacare forces health insurance providers to not deny coverage for major health problems, it will take a while for insurance to kick in. In other words, you can't just buy insurance when you need it.
Coverage people buy starting Oct. 1 of this year takes effect Jan. 1, 2014, according to the Tampa Bay Times.
"If you don't sign up by March 31, 2014, you can't sign up again until Oct. 15, 2014, and it won't take effect until Jan. 1, 2015. The exception: If you lose insurance due to a "qualifying event," such as getting laid off or moving to another state. But even then, coverage doesn"t take effect until the month after you buy it."
Q. Can I buy insurance that starts before January 1, 2014?
You can buy individual insurance that starts before January 1, 2013, but some rights and benefits won't apply yet.
For instance, a hallmark of Obamacare–that pre-existing conditions can't be denied–won't be in place. You may be denied for coverage, or have certain kinds of care limited.
Additionally, women may be charged more than men.
Q. Where can I get information and help?
A. County health departments, community health centers and libraries can answer questions and help you get started. Many community organizations have trained outreach counselors who can walk you through the enrollment process. Insurance agents and brokers also can help.
The federal government has a call center taking questions at 1-800-318-2596.
To find live help in your neighborhood, enter your ZIP code under "Find local help" at this link
The Associated Press contributed to this report.