EPL Transfer Deadline Day 2014: Danny Welbeck Leaving Man United, Liverpool for Victor Valdes, Jay Rodriguez to Tottenham, Daley Blind Signs for Man United
September 1, 2014 9:24 am Last Updated: September 1, 2014 3:25 pm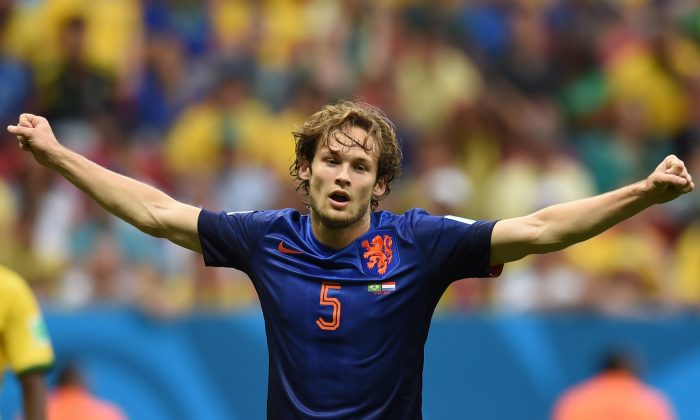 Danny Welbeck is likely to leave Manchester United, Liverpool could move for Victor Valdes, Jay Rodriguez could move to Tottenham Hotspur, and Daley Blind joins Man United.
Man United striker Danny Welbeck has fallen out of favor in recent times, and has been linked with a loan move to a number of EPL clubs. 
Things have gotten worse for Welbeck now that United have signed Monaco's Radamel Falcao on loan, and the 23-year-old England international is keen to leave Old Trafford, preferably to Tottenham Hotspur, according to the Mirror. 
Everton are also said to be interested in securing Welbeck's services, and the latest to signal their desire for the United man is Sunderland, the Sun reports. 
Up on Merseyside, Liverpool are keen to give their first choice goalkeeper Simon Mignolet some competition by bringing in former Barcelona goalie Victor Valdes, according to ESPN FC.
At present, Valdes is recovering from a torn cruciate knee ligament, and is expected to be fit only by November at the earliest.
However, because Valdes is a free agent, he can join the Reds outside the summer transfer window, and Liverpool are reportedly willing to give him a chance to heal up before signing him. 
Reds boss Brendan Rodgers has hinted that he still might sign players before September 2, but will focus on offloading players. 
"Players will mostly be going out rather than coming in," he said.
"Maybe one more will come in. A few boys have been told they aren't going to get much game time so they have been given that respect early on to help themselves find a club."
Meanwhile, Tottenham Hotspur are going to make a last ditch attempt to sign Southampton's Jay Rodriguez before the transfer window closes, according to the Independent. 
Spurs boss Mauricio Pochettino is willing to swap winger Andros Townsend for Rodriguez as part of a £14 million deal ($23.3 million). 
Pochettino is not going to make a move for defensive midfielder Morgan Schneiderlin, another one of his former Southampton proteges. 
A deal that has been in the works for some time that has finally come to fruition is Daley Blind to Man United. 
The 24-year-old Netherlands international completed a £14 million move to Old Trafford on Monday. 
United made a move last week, and Ajax accepted the bid on Friday. Blind has since cleared his medical and agreed personal terms to join the Red Devils. 
Blind told the media at the weekend: "I just want to be part of the team, in whatever role that is going to be, in defense or in midfield. I got a call on Friday night that the clubs had agreed a deal.
"I was with my girlfriend and we went to my parents to drink a glass of wine.
"I am enormously proud to be at one of the biggest clubs in the world. Everything has happened so suddenly.
"What exactly has gone off in the background only my agent and my dad know, but it was a very exciting and tense time."