COPENHAGEN—The whistleblower who revealed alleged money laundering involving Danske Bank said Nov. 19 that a major European lender helped process as much as $150 billion in suspicious payments and that two U.S. banks were also involved.
Payments totaling 200 billion euros ($228.5 billion) made through Danske Bank's tiny Estonian branch between 2007 and 2015 have sparked inquiries in Denmark, Estonia, Britain, and the United States in a growing global scandal.
Howard Wilkinson, the head of Danske Bank's trading unit in the Baltics from 2007 to 2014, told a Danish parliamentary hearing that several other lenders were involved in the payments through its Estonian branch, adding that many involved two large U.S. banks and the U.S. subsidiary of a big European bank.
"I would guess that $150 billion went through this particular bank [the large European bank] in the U.S.," the Briton said, without naming any of the banks in question.
"No one really knows where this money went. All we know is that the last people to see it was these three large banks in the U.S. They were the last check, and when that failed, the money was into the global financial system."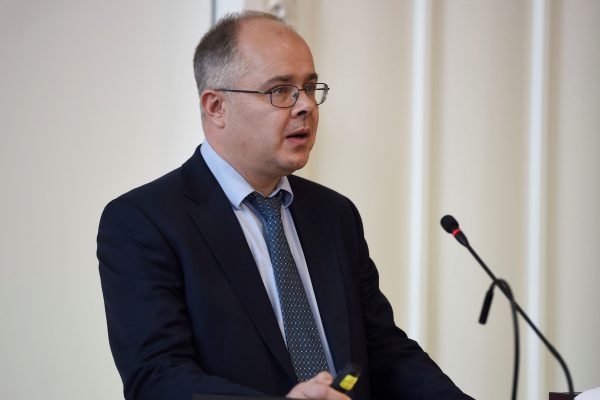 Deutsche Bank, JPMorgan, and Bank of America all cleared dollar transactions for Danske's Estonian branch, some until 2015, sources have told Reuters. Deutsche Bank and JPMorgan, which one of the sources said ended its correspondent relationship with Danske's Tallinn branch in 2013, both declined to comment, while Bank of America wasn't immediately available for comment.
Wilkinson, who told Parliament that he had been offered money by Danske Bank for his silence, said he had received a waiver last month allowing him to talk to U.S. authorities, but added that he didn't expect investigations to lead anywhere.
"We are now here at the back-end of 2018, talking about dirty money from 2007 to 2015. There is no chance in the world … that any of that money is ever going to be tracked down and that any criminals lose a single cent," he said.
'Lack of Interest'
Danske Bank has acknowledged that its money-laundering controls in Estonia were insufficient, but in a report issued in September, the company said the board, the chairman, and the chief executive, hadn't breached their legal obligations. The CEO and chairman have both stood down since the release of the report.
"In April 2014, it became clear that the bank didn't intend to do anything," the former Danske Bank employee said, referring to earlier whistleblower reports. "There was a curious lack of interest at senior management level."
"In this concrete case, we have said that we urge everyone with knowledge about it to go to the authorities," Danske Bank's interim CEO Jesper Nielsen told Danish lawmakers.
"We have breached the expectations society had of us. The case and the course of events around it does not reflect the bank we want to be, Nielsen added.
In Danske Bank's September report, it said the first whistleblower report, which was titled "Whistleblowing disclosure—knowingly dealing with criminals in Estonia Branch," was sent to its executive board, group compliance, and internal auditor at the end of December 2013.
Thomas Borgen stepped down as CEO following the September report, saying that although he was "cleared from a legal point of view," he held "the ultimate responsibility." However, the report concluded that no "red flags" had been shared with Borgen when he held the ultimate executive responsibility for the Estonian branch between 2009 and 2012.
After the bank's Internal Audit's initial findings in February 2014, Borgen recommended an immediate stop to all new business and a controlled closing-down of existing transactions, the bank's report said.
By Teis Jensen and Jacob Gronholt-Pedersen