Colorado's Physical Approach Muscles Aside FC Dallas's Finesse
November 23, 2010 9:48 pm Last Updated: November 23, 2010 11:40 pm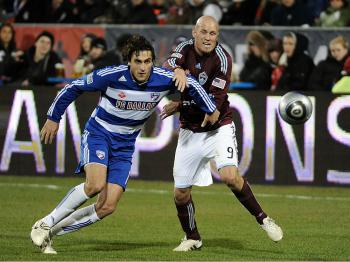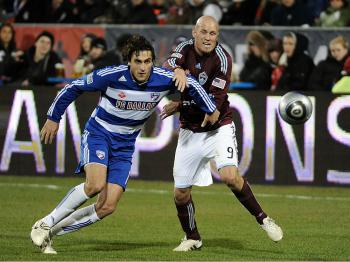 TORONTO—The Colorado Rapids used a rugged approach that personified determination and the will to win in securing their first MLS Cup 2–1 in extra time over FC Dallas last Sunday at BMO Field in Toronto.
FC Dallas central defender George John deflected a weak shot by Colorado substitute forward Macoumba Kandji into his own net in the 108th minute for the winning tally.
It was an ugly winner in a scrappy game in which the referee Baldomero Toledo failed to settle down the physical aspect of the game, not unlike what took place in the World Cup final in July.
Tough Conditions
The first MLS Cup final to be played outside of the United States took place on a clear but cold night. Game time temperature was 45 degrees. There were many empty seats at BMO Field on the cold night, although attendance was reported as a sell-out at 21,700.
It would be the first title for either team and both teams were absolutely leaving nothing off the table as the game got underway.
Rapids striker Conor Casey was in his element, with some hard challenges on several FC Dallas players. The two teams quickly developed distaste for one another.
"The ref basically let the game be played by the players," FC Dallas head coach Schellas Hyndman said in his post-match press conference.
Colorado's tactics were to gain control of the midfield with their tandem of Jeff Larentowicz and Pablo Mastroeni. For long stretches of the game, the tandem was successful.
Head coach Gary Smith knew he had to shut down FC Dallas's midfield dynamo David Ferreira, who was named MLS MVP, and devise a strategy to counter a team that was generally favored to win.
"Sport is about adapting. Our team adapted very well. Not sure it was the greatest viewing for fans. It was such a cut-and-thrust game," Smith said.
"This group is capable of mixing it with some of the more physical and bigger sides, and they kept the ball playing when necessary. For me that's a good balance in a group," Smith added.
Hyndman surmised that Colorado had come up with a plan to take advantage of the conditions and the situation to give themselves the best chance to win.
"Physical play is disruptive. If that was their game plan, it was perfect," said Hyndman.
The soccer spectacle won't be remembered for terrific technical skill but, much like the World Cup final, it was all about a team—the Colorado Rapids—doing what they felt gave them the best chance to win.
In the World Cup final, Netherlands was overmatched by Spain's silky smooth midfield and they adopted an aggressive physicality to try and shut it down.
World Cup referee Howard Webb was criticized for missing Nigel de Jong's karate kick to the chest of Xabi Alonso. (It should have been a red card). Instead, scrappy play went on, and the yellow cards rained down, turning the match into a disaster for soccer purists.
In Toronto, referee Toledo could have shown red to Rapids defender Anthony Wallace for a slide tackle from behind as well dishing out a handful of yellow cards. But instead, Wallace received the only yellow card of the first half.
Ferreira Strikes

While both teams appeared to be canceling each other out, a stroke of brilliance on 35 minutes for FC Dallas gave them the early lead.
Left fullback Jair Benitez sent a beautiful long pass cross field to Marvin Chavez. The Colorado defense let up on their marking and Chavez was able to place a perfect ball into the path of the onrushing David Ferreira.
The MLS MVP duly poked it past Matt Pickens in the Colorado goal. That was precisely the kind of move FC Dallas was capable of pulling off and what Colorado tried so hard to stifle.
Colorado continued to battle hard and they scored in truly scrappy fashion. Just before the hour mark, Casey from in close jabbed one in past Kevin Hartman as both lay flat on the ground.
"He [Casey] did everything I thought he'd do and more. He has that competitive edge in him and he's not willing to lose," said Hyndman.
The battle between Casey and John was tilting in Casey's favor. The two clashed heads on two occasions going for an aerial ball as neither was willing to give ground.
"We didn't have much to say. Told him 'Good game,' thought he played well," Casey said when asked if he spoke to John after the game.
The game remained tied 1–1 as FC Dallas pressed hard for the winner. They looked more likely to take the game, closing down the space and being more creative in the attacking zone than Colorado.
Extra Time
It was a stroke of luck that decided the championship.
A clever nutmeg by Kandji at the side of the six-yard box gave him a chance to send a ball toward Kevin Hartman's net. His floating shot deflected off John and went past a surprised Hartman.
FC Dallas pressed hard at the very end of the second period of extra time. John nearly made up for his own goal but a great diving save by Pickens stoned him.
"George John had a very good game against two of the best strikers in the league [Casey and Omar Cummings]," Hyndman said.
In the end, the grit and determination of the Colorado Rapids paid off and they are now MLS Cup champions.
Colorado captain Mastroeni, 34, who has had an illustrious 13-year MLS career said, "We were a club still trying to find an identity. You have to win the whole thing to be even heard."
Mastroeni's words may be prophetic, not only stemming from himself and Colorado winning their first MLS Cup, but because of how the Rapids got the job done.
Follow Rahul on Twitter at http://www.twitter.com/RV_ETSports