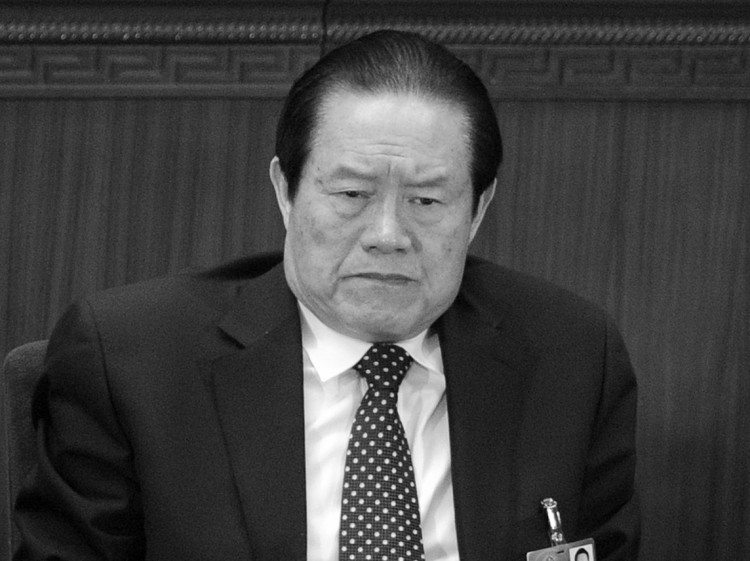 A recent speech by the Chinese Communist Party's security czar effectively repudiated previous work he had done and showed a submission to the current leadership, whom he is at odds with, according to China analysts.
The state-run Xinhua News Agency published on April 24 an article by Zhou Yongkang, the Secretary of the Chinese Communist Party's Political and Legislative Affairs Committee (PLAC), and a member of the powerful Politburo Standing Committee.
The article was a speech Zhou gave at a training session of the National Political and Legislative Committee (NPLC) on March 26. 
There were rumors of a coup attempt in Beijing on March 19; shortly after that, British and Japanese media suggested that Zhou was in custody. The speech would have been given right around that time, though it was not published by Xinhua, the state mouthpiece, until April 24. 
China analysts found the piece remarkable. 
Zhang Tianliang, an expert on China issues and a commentator for Voice of America, said "Zhou Yongkang mentioned Hu Jintao four times [in the speech], and gave the advice 'Let's unify around the CCP Central Committee with Comrade Hu Jintao as General Secretary.'"
This was a change of tone from Zhou's heretofore understood position vis-à-vis the current leadership, whom he was accused of conspiring to overthrow with the help of recently ousted official Bo Xilai, according to reports.
Washington-based independent China analyst Shi Cangshang said: "This was completely different from the talk Zhou Yongkang gave at the 22nd plenary meeting of the PLAC in Beijing. He completely re-positioned the PLAC, and in the article thoroughly negated all he has done. … If it was written by Zhou himself, it seems absolutely impossible for him to write such words. It means that he is rejecting all the work he has done over years." 
On March 26, when Hu Jintao left Beijing for Seoul, Zhou's loyalists within the law enforcement system, including the People's Armed Police, were ordered to attend training sessions in Beijing.
Earlier, on March 20, PLAC party secretaries above the country head level were summoned to training sessions near Beijing. Analysis online suggested this was a way to prevent any untoward movements by Zhou's lieutenants around the country. A similar strategy was used when Mao Zedong wanted to neutralize Lin Biao during the Cultural Revolution, according to analysts.
With research by Sunny Chao and Euly Luo. 
Read the original Chinese article. 
chinareports@epochtimes.com
---
Click www.ept.ms/ccp-crisis to read about the most recent developments in the ongoing power struggle within the Chinese communist regime. In this special topic, we provide readers with the necessary context to understand the situation. Get the RSS feed. Get the Timeline of Events. Who are the Major Players?

---