Chinese Children Die Due to Lack of Medical Care
March 7, 2007 12:00 am Last Updated: March 7, 2007 12:00 am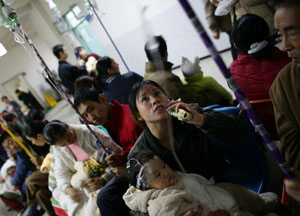 BEIJING—About 400,000 toddlers die every year in China mainly because of a lack of medical care, a member of a government advisory group said on Wednesday, urging greater investment in the health system.
"Most of the deaths happen in rural areas, as about 50 percent of them do not receive any medical treatment at all there," said Zhu Zonghan, a member of the Chinese People's Political Consultative Conference.
"They just die at home or on their way to far-off hospitals," he added, refering to children under the age of five.
China has been grappling with an acknowledged rise in public dissatisfaction over the state of the country's medical system, which once provided almost free, cradle- to -grave care .
People have complained about everything from overly expensive medication to crowded hospitals and fake drugs.
Zhu estimated that the lives of 240,000 children could be saved if the government spent an extra 26 billion yuan ($3.36 billion) a year.
The government's spending on health accounted for 3.4 percent of its overall expenditure in 2006, but that figure would climb by only 0.1 percent to 3.5 this year, he told a meeting on the sidelines of China's annual meeting of parliament.
He labelled such an increase "useless".
"If you have money you live. If you don't, you are left to die ," Zhu said, speaking about about the disparity in health care between China's rich and poor.
"I suggest the government decide upon a fixed ratio for medical care investment, and the figure should reach 10 percent (of total expenditure) in five to 10 years time," said Zhu, a former head of Beijing's Health Bureau said. ($1=7.741 Yuan)