Chinese Author Under House Arrest
March 15, 2007 12:00 am Last Updated: March 15, 2007 12:00 am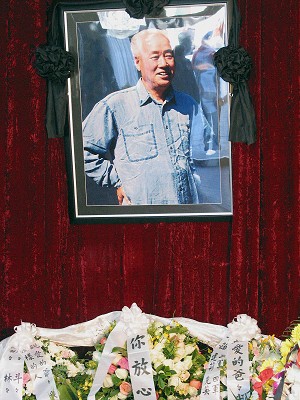 BEIJING—The 87-year-old Chinese author of a new book on Zhao Ziyang, ousted as Communist Party chief in 1989 for opposing the Tiananmen massacre, is believed to be under house arrest, the writer's Hong Kong publisher said this week.
The whereabouts of Zong Fengming, author of Zhao Ziyang: Captive Conversations, has been unknown since he was transferred to a military hospital on Feb. 24, one day after he was admitted to another Beijing hospital with minor heart problems, Zong's publisher Jin Zhong said by telephone.
"Zong Fengming's health condition has stabilized but he has been placed under house arrest over the book ," Jin told Reuters, quoting a source close to Zong.
Zhao was toppled as party chief for opposing a decision by then paramount leader Deng Xiaoping to send in troops to crush student-led demonstrations for democracy centered on Beijing's Tiananmen Square on June 4, 1989.
Zhao died on January 17, 2005, after more than 15 years under house arrest. He was replaced by Jiang Zemin, who stepped down in 2002 and was succeeded as party chief by Hu Jintao. Zong met Zhao more than 100 times when Zhao was under house arrest, the publisher said.
"The book is very sensitive," Jin said. "It details Zhao's comments about June 4, Deng Xiaoping, Jiang Zemin and Hu Jintao."
The book went on sale in Hong Kong in February, but is banned in China.
The Communist Party remains nervous about Zhao's residual influence and has tried to erase him from public memory, blanking out his role in economic reforms that turned China from an economic backwater to a powerhouse.
The party has rejected calls for a reassessment of the Tiananmen protests, labeled subversive, saying Zhao had tried to split the party and made "serious mistakes." Chinese authorities had tried to talk Zong into scrapping the book 's publication, Jin said, adding that Zong's manuscripts were smuggled out of China.
"They warned him that publishing his conversations with Zhao would be anti-party and counter-revolutionary," Jin said, referring to Communist jargon for subversion. "But Zong was determined to publish the book and would rather go to jail," Jin quoted Zong as saying before his disappearance.
Zong's friendship with Zhao dates back to the days when they joined the Red Army and fought against the invading Japanese in their home province, Henan, in the late 1930s and early 1940s. Zong's family and the Chinese government could not immediately be reached for comment.