The Chinese regime's widespread infection testing has led to two confirmed instances of people further spreading the Chinese Communist Party (CCP) virus, also known as novel coronavirus, which can cause COVID-19.
State media cited a government staff member who worked at a test site in Yangzhou City, Jiangsu Province, as a vector for at least 24 infections. Reports suggest he contracted the CCP virus from a resident who visited the test site and was later diagnosed with COVID-19.
A similar scenario happened in Nanjing, where a 2-year-old boy was infected at a test site close to his home. In Zhangjiajie city in Hunan Province, five people visited the same test site on Aug. 5 and were diagnosed on Aug. 8.
To curb the outbreak, the Chinese regime ordered all the residents in the city to be tested at specific sites at a given time. This forced hundreds of residents to crowd together for the test.
The Chinese regime ordered on Feb. 7 that any city with a population over five million should finish testing in three to five days. Cities with less than five million residents have to finish the test within two days.
Yangzhou has a population of 4.56 million. It operated 414 test sites from Aug. 7 to 9. The regime ordered a one-meter (3.28 feet) social distance at the test site, but residents couldn't maintain the distance due to limited space.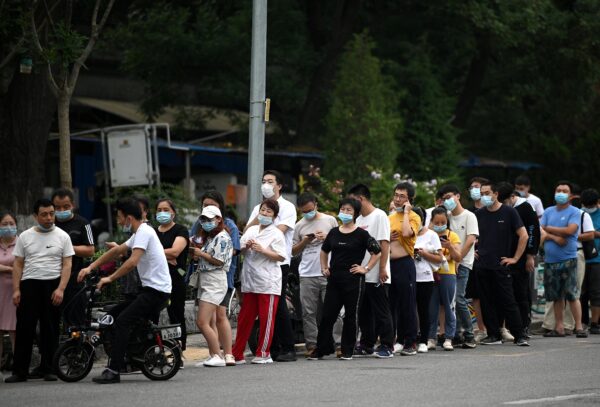 One Spreads Virus to 24
A man named Wang Qiang, 58, worked at the test site at Union Village in Wantou Town of Yangzhou City as a staff member from July 29 to July 31.
Chinese state-run Health Times reported that Wang spread the virus to 23 other people on Aug. 8. On the following day, the number was increased to 24, according to state-run media The Paper.
Wang was diagnosed with COVID-19 on Aug. 1 and then was treated at Yangzhou No. 3 Hospital.
Two staff who worked at the test site and 22 residents who were tested at the test site were diagnosed with COVID-19. The regime said all the individuals contracted the virus from Wang.
The two staff were diagnosed with the COVID-19 on July 31. They worked at the test site at the same period as Wang.
The 22 residents were diagnosed from Aug. 3 to Aug. 7, their ages range from 5 to 80-years-old.
Reports did not include information on how Wang contracted the virus.