Chinese officials in Wuhan and other cities within Hubei Province, where the novel coronavirus outbreak is most severe, reported to their higher-ups in the provincial government that people are not able to secure treatment, running out of supplies amid restrictive lockdown measures, and feeling fearful and anxious about the spreading disease.
Despite such observations, authorities prioritized how to "control the society" and "manipulate public opinion" to view China's efforts to contain the virus positively, according to internal government reports that The Epoch Times obtained.
Authorities in the city of Shiyan, for example, listed their working targets as: "monitor closely petitioners and people whose benefits have been severely damaged"—in other words, people most likely to dissent against the authorities; "strictly prevent key people and groups from assembling and making trouble;" and "punish heavily the people who spread improper speech or rumors related to the epidemic."
'Increased Social Anger'
The Political and Legal Affairs Commission (PLAC) is a Communist Party agency that oversees the country's security apparatus, including police, courts, and prisons. In the wake of the outbreak, local branches of the PLAC in Xiaogan, Shiyan, Xiantao, and other cities within Hubei, have recently written up "working reports on how to control society."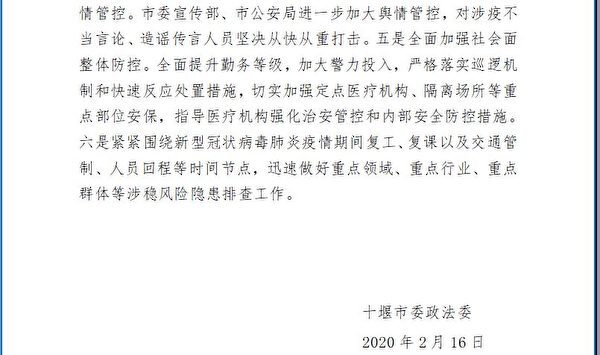 The local PLACs described difficult living conditions after authorities suspended transportation, public gatherings, and economic activities in order to prevent the virus from spreading.
"Because the epidemic is getting worse and worse, the control methods must be upgraded. People have experienced lots of difficulties due to the comprehensive suspension of business operations, transportation, schools, and so on," the Shiyan city PLAC wrote in its report to the Hubei PLAC on Feb. 16.
"After the city was locked down, the majority of residents lost their income," the Shiyan PLAC said. "Overall, people have strong negative emotions, such as grief, panic, anxiety, and suspicion. The feeling of anger among society has increased."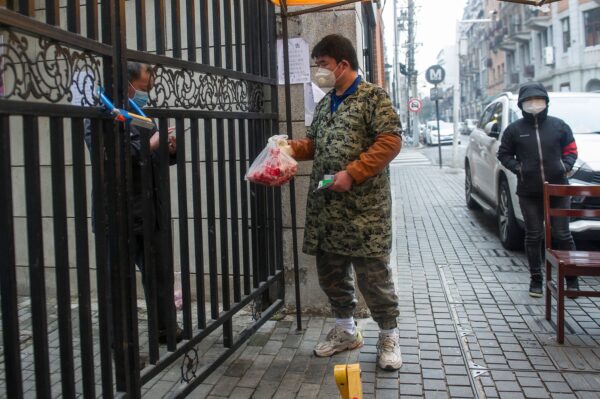 Meanwhile, a new "disease control" agency set up within the Hubei government to combat the current outbreak compiles "daily inspection reports," for Party senior officials to read, such as Ying Yong, the provincial Party boss; Wang Xiaodong, the governor; and Huang Chuping, the vice governor.
The reports go into detail about residents' plight. On Feb. 19, the agency said in its report: "Residents of Hongmiao village in Anlu city [a county-level city within Xiaogan city, Hubei] complained that the city government blockaded the village by using barbed wire net. It has been six days, and nobody has visited them [to supply basic necessities]."
The Hubei Public Security Bureau, in charge of the province's entire police force, also drafts "working reports" for the provincial government on how the police are helping to "prevent and control the novel coronavirus."
The Bureau described life in Hubei thusly on Feb. 21: "In general, residents lack basic life necessities. For example, some families used up all their gas for cooking; some families need baby formula and diapers… A large number of residents want to leave the city and go out to make a living… They become extreme in behavior."
Tight Control
Despite such conditions, the Bureau did not offer solutions to resolve such shortage problems. It explained that one of its main tasks was to "maintain order in makeshift hospitals," facilities built inside stadiums, exhibition centers, and school gyms to isolate people with mild or moderate symptoms of the virus.
According to the Bureau's report, 970 police officers and 882 security guards were dispatched to 20 of such facilities across the province. "Their main tasks are controlling patients who make trouble, patients who don't want to stay there, and patients who refuse treatment," it said.
The Bureau listed future goals, such as tightening security at government offices, hospitals, and quarantine centers; preparing for activities that could "damage social stability;" and locking down "all possible sources of infections."
Propaganda
Authorities also emphasized the importance of spreading positive propaganda about the virus response efforts.
The provincial "disease control" agency listed among its "achievements" in its "propaganda work report" on Feb. 20: 215 positive stories on the app of Hubei Daily, a government-run newspaper; 25 positive stories on WeChat, a popular Facebook-like social media platform; 39 positive videos on the Tiktok app; 72 positive stories on the Toutiao news app; and 42 posts on Weibo, a Twitter-like platform. "Total page views reached 50 million," according to the report.
Another priority is censoring social media posts that portray the authorities in a negative light.
In a Feb. 7 document, the Hubei provincial government gave orders to the provincial "disease control" agency: "Organizing a 24-hour internet monitoring team to surveil online posts from all websites… Remove all negative and harmful information."
The document also noted that authorities removed "4,431 posts which severely damaged public opinion" and censored 3,066 types of negative comments from Feb. 1 to Feb. 8.
Even within the central government's "anti-epidemic leading group"—China's top agency tasked to confront the outbreak—most of its senior officials are from the Propaganda Department and the Ministry of Public Security. There are no members from the National Health Commission.
Such documents reflect Chinese bureaucrats' mentality, "which has existed since the Party controlled China in 1949," said Tang Jingyuan, U.S.-based China affairs commentator in a Feb. 27 interview with The Epoch Times.
"Officials from different levels want to keep their positions. In order to do so, Party members try their best to maintain social stability, which is treated as an achievement," Tang added. "As for people's lives, that is not important in the officials' eyes."