News Analysis
Hungary signed an agreement with Fudan University on April 27 to set up a campus in its capital city of Budapest. This will be Fudan's only overseas campus and another Chinese university to establish a campus in Europe, following Beijing University in 2018 in the UK and Shanghai's Tongji University in Italy in 2014. However, the joint initiative has raised security concerns among Hungarian lawmakers.
The New Campus Is Based on the BRI Investment Model
According to "official government documents" obtained in April by Hungarian media Direkt36, the Hungarian government plans to work with a major Chinese construction company to construct Fudan University's new campus in Budapest. The construction is expected to be completed in 2024. Fudan University is based in Shanghai.
The investigative report claimed that the draft proposal of the Fudan campus project was co-authored by two Hungarian ministers—Minister of Innovation and Technology László Palkovics and Minister of Foreign Affairs and Trade Péter Szijjártó. According to the proposal, "Hungary would provide €300 [million] [around $360 million] directly for the investment, while a remaining 1.3 [billion] [around $1.56 billion] would be lent by China" and state-owned China Development Bank has already submitted a preliminary financing proposal.
The proposal revealed that the project would use "a certain number" of construction materials and labor from China and that Hungary would pay for it through a Chinese loan.
"The Chinese contractor does not even have to fear that another bidder would beat them in open competition" because the "[d]ocuments state that 'the construction can only be carried out as a Chinese only project,'" Direkt36 reported. 
The documents also stated that the project was "based on the model of the Budapest-Belgrade railway investment."
The Budapest-Belgrade railway is part of China's Belt & Road Initiative (BRI, also known as One Belt, One Road) project in Hungary. The railway links Budapest with the Serbian capital Belgrade, with a total length of 22o miles (350 kilometers). The estimated investment of this project is $2.89 billion, with Beijing financing 85 percent of the project, according to the Chinese news portal Sina. The railway is described by the Chinese Communist Party (CCP) as its "landmark project" for cooperation with Central and Eastern European countries, according to state-run media Xinhua.
Budapest Mayor Gergely Karácsony expressed strong opposition to Fudan University's new campus, saying he is concerned with "indebting our kids with more than 500 billion forints just for Hungary to serve Chinese influence acquisition in Europe," according to a report published by Hungary Today on April 19.
"Various opposition politicians have already raised concerns that the Chinese state university will be a national security risk," the report said.
The CCP Controls All Schools in China
Article 30 of the CCP's Constitution stipulates: "A primary-level Party organization shall be formed in any enterprise, villagers' committee, government organ, school, research institute, subdistrict and community, social organization, company of the People's Liberation Army, and any other primary-level danwei [workplaces] where there are three or more full Party members."
All Chinese schools, including primary schools, middle schools, and universities, have CCP establishments, depending on the number of Communist Party members. Chinese universities usually have a CCP committee, led by a party secretary. And the school's president must carry out the party secretary's decisions.
In December 2019, Fudan University revised its charter, which triggered debate among its students. In its new charter, "freedom of thought" was removed from the preamble, and "academic independence" was placed after the new term "patriotic dedication." Chinese leader Xi Jinping's socialist ideologies were added in the charter.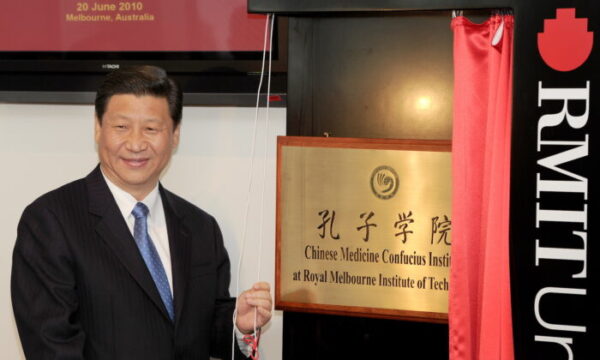 The amendment clearly highlights the "leadership of the Party Committee" as the university's president no longer had the right to exercise his/her authority independently.
The CCP Uses Central and Eastern Europe as a 'Springboard' to Penetrate Western Europe
As early as 2012, the CCP initiated the 16+1 Cooperation, which is a joint cooperation between China and 16 Central and Eastern European countries within the framework of the Belt and Road Initiative. Of these 16 countries, 11 are members of the European Union and five are non-EU countries, with a significant proportion being former socialist countries.
Hungary was among the first EU countries to join the 16+1 Cooperation and the first European country to sign a BRI agreement with China in 2015. In 2017, bilateral trade between China and Hungary surpassed $10 billion, according to official Chinese data. Despite the EU's criticism of the Chinese regime's human rights record, Hungary has repeatedly defended the CCP.
The CCP has been active in investing in Central and Eastern Europe. "From the Baltic states to the Balkans, Chinese companies, flush with money, are buying real estate and competing for public infrastructure contracts," as noted by The New York Times in a September 2010 report. "They are also investing in the manufacturing of products like electronics and chemicals to gain a foothold inside Europe's expansive single market," the report said.
Ma Changlin, the former economic and trade counselor at the Chinese Embassy in Poland, was quoted by the Times as saying that the CCP "is interested in using the region as a springboard to the rest of the European Union."
As of the end of June 2020, the CCP had invested $3.05 billion directly and over $12 billion indirectly in Central and Eastern European countries, according to official data released on the website of the CCP's "Cooperation between China and Central and Eastern European Countries."
The CCP's Technology Theft in UK Universities
More and more Britons are aware of the serious infiltration of the Chinese regime in their country. British universities are a source of cutting-edge technology for the CCP, including prestigious schools as Cambridge and Imperial College.
"Roughly 500 Chinese military scientists have had stints at UK universities over the past ten years, including some who worked on jet aircraft, supercomputers, missiles, and a thin film that could be used to disguise tanks," Daily Mail revealed in a report on Oct. 28, 2019.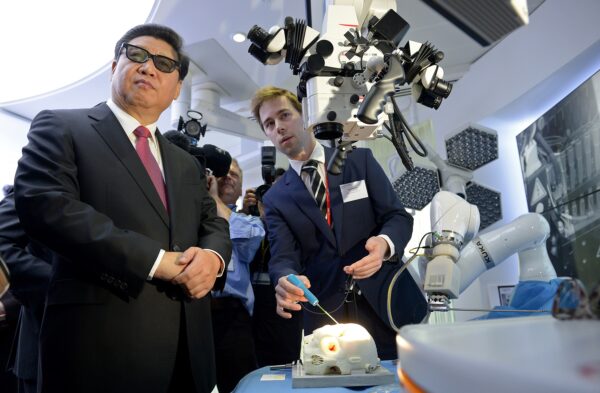 CHISA, a magazine governed by China's Ministry of Education, openly acknowledged in its April 2019 issue that the CCP's National University of Defense Technology (NUDT) sends three to eight students to Cambridge each year for doctoral studies.
Established in 1953, NUDT is China's first military engineering institution of higher education. Its predecessor was the People's Liberation Army (PLA) Military Institute of Engineering, and because it was located in Harbin, it's called "Harbin Military Engineering" for short. The cooperation between NUDT and the Cavendish Laboratory at Cambridge University, best known for its quantum information research, includes producing "the next generation of supercomputer . . . talents for China," the Daily Mail reported on July 17, 2020.
In February 2015, NUDT was added to the Entity List by the U.S. Department of Commerce, because "NUDT has used U.S.-origin multicores, boards, and (co)processors to produce the TianHe-1A and TianHe-2 supercomputers located at the National Supercomputing Centers in Changsha, Guangzhou, and Tianjin. The TianHe-1A and TianHe-2 supercomputers are believed to be used in nuclear explosive activities as described in § 744.2(a) of the EAR," according to a rule by the U.S. Industry and Security Bureau on Feb. 18, 2015.
A report by the think tank Australian Strategic Policy Institute (ASPI) has noted that "[a]t least four of China's 12 state-owned defence industry conglomerates (defence state-owned enterprises, or defence SOEs) have a substantial presence in overseas universities."
"These companies seek to increase their access to world-class training, expertise, and technology through exchanges and joint laboratories with foreign universities," ASPI wrote.
According to the report, the British universities involved include the University of Manchester, Imperial College London, University of Exeter, University of Birmingham, University of Strathclyde, and the University of Nottingham.
According to a 2020 report by the Daily Mail, Imperial College London and the University of Glasgow have collaborated with Harbin Institute of Technology (HIT) and University of Electronic Science and Technology (UEST), posing a "very high risk" to national security. Both Chinese education institutions are deeply involved with the Chinese regime's national defense, with HIT being one of the seven leading universities "with deep roots in the military and defence industry," while UEST with Chinese military background, according to ASPI.
In October 2019, The Times published a report, revealing that GCHQ, the UK's Government Communications Headquarters, issued a warning to British universities "to put national security before commercial interest as fears grow over state theft of research and intellectual property from campuses."
In another report by The Times on Jan. 30, GCHQ has again warned universities about "hostile state actors" targeting British institutions "to steal personal data, research data and intellectual property" that could be used for their own "military, commercial and authoritarian interests."
The UK announced earlier this year that it was tightening visas for Chinese students and researchers "amid concerns about the theft of intellectual property," The Times reported in January.