China's Foreign News Curbs Raise Concern in U.S.
September 12, 2006 12:00 am Last Updated: September 12, 2006 12:00 am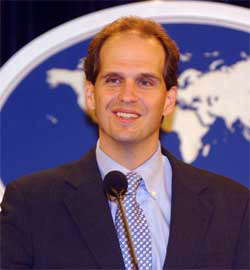 WASHINGTON—The United States expressed concern on Tuesday about new Chinese restrictions on foreign news operations, but said it was still studying the matter.
"Freedom of the press is a fundamental right and it's one that's recognized in China's constitution. And we'd certainly be opposed to any steps that would restrict it," State Department spokesman Tom Casey said at a briefing.
The official Xinhua news agency announced rules on Sunday requiring foreign media to seek its approval to distribute news, pictures and graphics within China.
Warning against dissemination of news that endangers national security, sabotages national unification or promotes cults, the rules empower Xinhua to censor reports distributed in China by foreign media and to delete forbidden content.
The rules also seek to bar international financial information companies, including Reuters and Bloomberg, from selling news services directly to Chinese customers including banks and brokerages.
"We would view any attempt to restrict the free flow of information in China or any place else with great concern. And we certainly would view it as incompatible with China's aspirations to build a modern information-based economy," Casey said. "Certainly we need to study (the new rules) and we understand that news organizations are doing the same."
Restrictions May Violate WTO Rules
U.S. trade officials said they were studying whether the United States could challenge the new restrictions as a violation of World Trade Organization rules.
"We are assessing the new rules, particularly in light of China's WTO commitments, and are also consulting with our trading partners," said Sean Spicer, a spokesman for the U.S. Trade Representative's office.
The European Union has criticized the new Chinese restrictions as a "very negative development" and vowed to raise the issue in human rights talks with Beijing.
International rights groups have denounced the new curbs as step backward ahead of the 2008 Beijing Olympics, when thousands of journalists will descend on China's capital.