Internet celebrity Li Ziqi is known for creating food and handicraft using traditional Chinese techniques. She makes her own soy sauce from scratch. She can even build a bench using bamboo she harvested from the forest, and put the parts together without nails or glue—a traditional Chinese carpentry technique. She collects rose petals, beeswax and mineral powders to create natural cosmetics. Dressed in traditional Chinese Hanfu clothing, Li performs her craftwork leisurely and gracefully—in perfect harmony with nature.
Li's Chinese blog account is now followed by more than 20 million fans. Her Youtube channel, launched in August 2017, now has 8.3 million fans and many are non-Chinese.
Fans are drawn to the peaceful country living portrayed in her videos and admire her skills to make everything from scratch with natural resources.
Chinese Propaganda Authorities Try to Leverage Li's Influence
Chinese state media took notice of Li's videos last year and ran a series of reports last month praising her for promoting Chinese culture to an international audience.
"Li Ziqi is a legend, in that without overplaying it, she achieved international culture influence," China Central TV (CCTV) claimed. "In her videos, she did not use a single phrase to praise China, but she truly did a great job of sharing Chinese culture and telling the story of China."
Li was also appointed as the cultural ambassador to promote Chengdu City, the capital of Sichuan Province, her home province.
Many Chinese netizens pointed out that Chinese authorities are trying to leverage Li's influence to bolster their image.
"One Li Ziqi is equal to ten Central Propaganda Departments," one netizen said.
Another person made a similar comment, "Li's cultural export can be compared with the influence of several Confucius Institutes."
A more outspoken netizen said, "With a single person's influence, the crisis of being referred to as a 'China threat' has been resolved."
The Real Story of China's Countryside
Some Chinese are concerned that Li's viewers, especially outside of China, may be deluded by the idyllic rustic life portrayed in Li's videos. In reality, most Chinese peasants in the rural areas are still living in poverty and their plights deserve international attention.
Shi Qian, a woman from Li's hometown Mianyang area, told the Chinese-language Epoch Times that the real situation in her hometown is very depressing.
"Rural areas all over Mianyang are in shabby condition. Only elderly people are staying in the countryside. It is pathetically dull," Shi said.

Beijing-based artist Ji Feng has many relatives living in the countryside.
"Li's video is far from the reality of China's countryside," Ji told the Chinese-language Epoch Times. "I have been to many places in China, from the north to the south, all rural areas look miserable. Especially in Shanxi Province and Northwestern China, the natural environment is ruined so badly that it is no longer livable. It makes my heart break."
"The Chinese communist regime has been facing international condemnation for having seriously damaged China's environment. Li's videos can be used by the regime to promote how beautiful China's countryside is, and that farmers have the opportunity to start their own businesses," Ji said. "However, the truth is, the majority of the countryside is deserted. Very few still work on farm fields."
Ji also pointed out that forced demolition is common in rural areas, which certainly is never going to be shown in Li's videos.
"Social conflicts and sufferings are the typical theme throughout China's countryside," he said.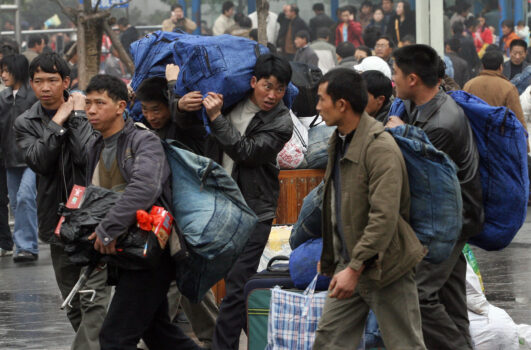 Chinese current affairs commentator Zhang Qi said he hopes viewers will not be deluded by the beautiful scenery in Li's videos as it does not reflect the current situation in China. But Zhang was not criticizing Li. As a for-profit food and craft blogger, her intention is just to make aesthetically appealing videos.
"Under the current economic depression and the various social problems in China, the authorities try to use Li's videos to promote the aspiration for 'La-la land,' a pipe dream," Zhang said.