Lifting people out of poverty is Chinese leader Xi Jinping's signature project. His goal is to turn the whole of China into a "xiaokang" society by 2020—a society where people lead comfortable lives with their material needs met.
However, Party officials have found ways to swindle government funding meant for the poor—making the official slogan all the much harder to achieve.
On Jan. 3, the Chinese Communist Party's (CCP) anti-corruption agency announced that more than ten officials in Zhangjiakou City in Hebei Province would be punished for graft involving poverty relief efforts.
The agency explained that officials were caught faking reports, falsely claiming funds for their own, embezzling money, violating rules for allocating the money, and giving preference to their relatives and friends.
Within the city's Kangbao County, officials established their own treasury with poverty relief funds.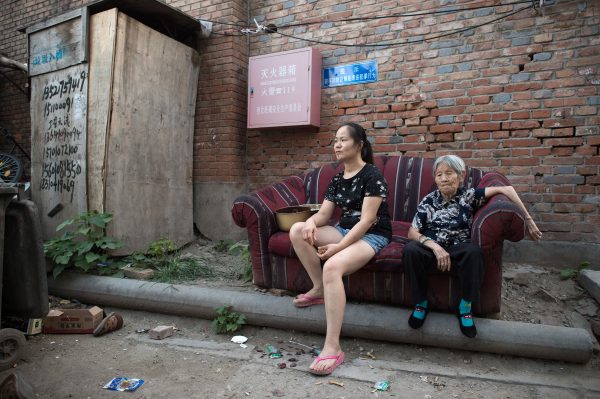 The corruption is countrywide. On Dec. 23 last year, the head auditor at the central authorities' auditor office said that since the beginning of 2017 to October, incidences of misconduct regarding poverty relief involved a total of 970 officials, with 3.2 billion yuan from central authorities misappropriated. 101,800 Chinese citizens were incorrectly identified as in need of poverty relief funds.
Party officials have gotten creative with their means of corruption.
In far-western Qinghai Province, Haidong Prefecture, Hualong County, an official moved "poor" people into a high-end housing property as a part of a project to "relocate the poor." Those residents were given housing subsidies, but out of 630 households, 232 were not poor. About 11.6 million yuan of government subsidies was embezzled.
In July 2017, local officials in Huayuan County, Hunan Province applied for 10 million yuan ($1.5 million) in funds. After going through six levels of bureaucracy, close to seven million yuan was pocketed by officials.
In another county in Hunan, called Fenghuang, officials falsely reported the number of cows and sheep, which allowed them to embezzle subsidies totaling 81,800 yuan ($12,000).
And in a village in Ning County, Gansu Province, officials falsely reported 15 residences as decrepit houses in need of reconstruction. They submitted fake photos and materials as proof and cheated central authorities out of subsidies totaling 215,600 yuan.
Chinese newspaper Beijing News also noted that for officials eager to demonstrate political achievement, they would flub numbers by including non-poor people into poverty numbers. Then, they would claim that the local authorities were able to quickly lift these people out of poverty.
At this rate, poor people getting real help may be far off, and the social conflicts that poverty relief efforts are meant to solve, closer than expected.
Gu Qing'er contributed to this report.
Recommended Video:
How doctors in China turn into murderers