Before U.S. Defense Secretary Gen. Jim Mattis visited China this week, he had made strongly worded public remarks criticizing China's growing military presence in the South China Sea.
He was expected to discuss this and other tough diplomatic issues that have increased tensions between the United States and China.
When he met with Chinese leader Xi Jinping on June 27, Xi did not back down.
"We cannot lose even one inch of the territory left behind by our ancestors," Chinese state television cited Xi as saying.
Mattis, meanwhile, told reporters that talks with Xi had been "very, very" good, but did not elaborate.
Earlier that day, Mattis also met with his Chinese counterpart, China's defense minister Wei Fenghe, who similarly made clear China's hardline positions regarding Taiwan and the South China Sea, according to the defense ministry. Beijing sees Taiwan as part of its territory and has threatened the use of force to reunite it with the mainland, while the United States has recently increased diplomatic ties with the democratic island, upsetting China.
In the South China Sea, China has made claims of sovereignty on several disputed islands, while building manmade islands on reefs in the region. The United States has challenged China's claims by conducting freedom-of-navigation exercises in the area.
It appears the two sides do not plan on budging from their stances, though U.S. defense officials told reporters that the talks were generally positive and candid.
"Areas of disagreement were identified but not necessarily dwelt upon," said Randall Schriver, assistant secretary of defense for Asian and Pacific security affairs, adding that both sides agreed to continue discussions on the South China Sea.
Perhaps actions speak louder than words. As Mattis was in China, American aircraft carrier USS Ronald Reagan was deployed on June 26 to patrol the disputed waters in the South China Sea. Afterward, it anchored in Manila Bay, Philippines, where naval officials from both countries met, according to the Associated Press.
The Philippines has challenged China's claims in the region.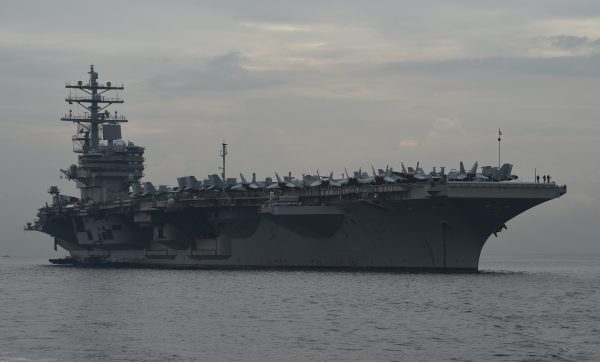 Meanwhile, senior officials of ASEAN (Association of Southeast Asian Nations) countries convened in Changsha City, China, to sign a declaration of conduct regarding the South China Sea. Upon the meeting's conclusion, Chinese foreign ministry spokesperson Lu Kang made veiled criticisms of the United States while discussing the ASEAN meeting with reporters.
"Some external forces have been trying whatever they can to muddy the waters in the South China Sea," he said at a press conference on June 28, claiming that navigation freedom had not been compromised by China's actions. "They should refrain from stirring up trouble out of nothing."
On June 25, the Taipei Times reported that the U.S. Navy has invited Taiwan to participate in a training mission on the Solomon Islands involving military medical personnel, to be held in August.
Citing an unnamed senior Taiwan defense official, the newspaper said the mission is to simulate the event of a natural disaster in the South Pacific region.
This is in sharp contrast to the United States' move to withdraw its invitation to China to participate in a U.S.-hosted joint naval exercise in the Pacific Ocean, which began on June 27 while Mattis was still in China. The United States' rationale for canceling China's invite was that the regime's South China Sea activities ran counter to stability in the region.
The U.S. Congress also recently passed the latest defense budget, the National Defense Authorization Act, which has a provision encouraging the U.S. military to participate in exercises with the Taiwanese military. 
Reuters contributed to this report.