The communist regime in China is imposing sanctions on four U.S. religious freedom officials, in response to Washington's efforts to pressure Beijing over its human rights abuses in Xinjiang.
The sanctions target Chair Nadine Maenza, Vice Chair Nury Turkel, and two commissioners of the U.S. Commission on International Religious Freedom (USCIRF), Chinese Foreign Ministry spokesperson Zhao Lijian said on Dec. 21.
The measures block their travel to mainland China, Hong Kong, and Macau and freeze any assets within China owned by those individuals, according to Zhao. He also noted that the sanctions were "countermeasures" against recent U.S. sanctions, imposed under China's anti-foreign sanctions law.
The United States leveled sanctions on Dec. 10 against a Chinese company and four current and former officials that are involved in the regime's oppression of Uyghur and other Muslim minorities in the far-western Xinjiang region. Last week, it also blacklisted dozens of Chinese entities for aiding Beijing's abuses in the region or for advancing the regime's military.
More than 1 million Uyghur and other Muslim minorities have been incarcerated in internment camps in Xinjiang, where they've been subjected to forced sterilization, torture, political indoctrination, and forced labor. The United States and other Western democracies have labeled Beijing's actions in the region as a genocide.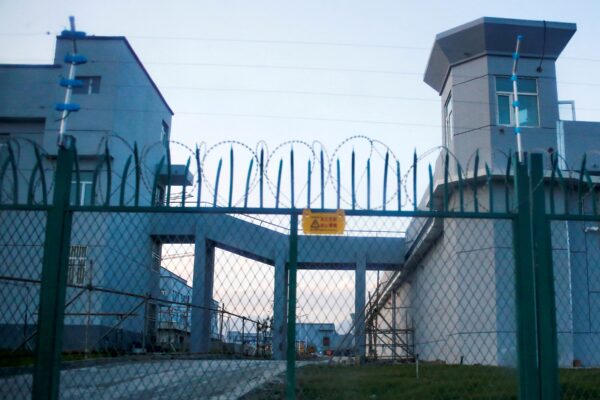 Zhao denied the accusations of abuses and expressed "strong opposition and condemnation" of the U.S. sanctions at the Dec. 21 briefing in Beijing. He accused Washington of "interfering in Xinjiang's affairs and China's internal affairs" and threatened to retaliate.
"China will make further responses in accordance with the development of the situation," Zhao said.
USCIRF, in a Dec. 21 statement, strongly condemned the sanctions.
Maenza said the organization is "not surprised" to be included in the "baseless sanctions" imposed by the Chinese regime.
"As we have said before—USCIRF will not be silenced," she said. "The Chinese government needs to end its state-led oppression of Uyghurs, Tibetans, Christians, Falun Gong practitioners, and others, rather than implementing misguided sanctions."
Three current or former commissioners of the USCIRF had already been targeted by the regime under tit-for-tat sanctions. The most recent target was the body's former commissioner Johnnie Moore, who was blacklisted on May 26, days after the U.S. State Department announced sanctions against a Chinese official for his role in suppressing adherents of the spiritual practice Falun Gong.
The Dec. 21 sanction from Beijing comes amid escalated pressure from Washington and its allies over the regime's repression in Xinjiang. The United States, UK, Canada, and Australia have declared a diplomatic boycott of Beijing's 2022 Winter Olympics.
The U.S. Senate approved legislation on Dec. 16 to ban all imports from Xinjiang over forced labor concerns, which was also approved by the House a few days earlier. The Uyghur Forced Labor Prevention Act now heads to the White House; President Joe Biden has said he'll sign it into law.