China Petitioners Press Case With Embassy Protest
September 18, 2006 12:00 am Last Updated: September 18, 2006 12:00 am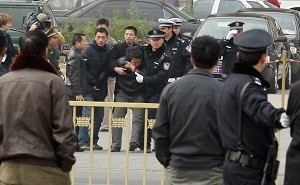 BEIJING—A small group of Chinese petitioners gathered outside the information section of the U.S. embassy in Beijing on Monday to draw foreign attention to their grievances against the Chinese government.
Only about eight protesters took part, but such displays are rare in a country where public protest is frowned upon and any dissent against Communist Party rule can have grave consequences.
One man in a wheelchair shouted "We want rights!" and "We want to survive!" before the group was ushered into a police van as an officer videotaped the scene.
A man surnamed Zhao said the petitioners had come from outside of Beijing to report grievances to the government's "Letters and Visits Office".
China has a long tradition of people coming to the capital from all over China to complain of everything from corruption to police brutality when they are not satisfied with the response from local officials.
But Zhao, who called himself a "person with sympathy for the petitioners", said the protest was prompted when an elderly petitioner from the northeastern province of Heilongjiang was beaten to death by thugs in Beijing.
"The petitioners wanted to send a signal to the international community and inform them of the situation of China's corrupt legal system," he said.
Calls to the petitions office in Beijing went unanswered.