Yongcheng city in central Henan Province went under lockdown on Monday after one local was diagnosed with COVID-19 the day before.
As part of the lockdown, City authorities ordered all the 1.6 million residents must take at least one nucleic acid test from Monday to Wednesday and that only one person per household was allowed to leave home daily to run errands.
Also under lockdown rules, no public transportation is allowed to run, and all shops, companies, restaurants, and conference centers must be closed.
Only grocery stores, pharmacies, and hospitals are allowed to operate, but pharmacies aren't allowed to sell medicines to treat a fever or cough, nor antivirus and antibiotics drugs.
The authorities also set up checkpoints in the city to monitor people's movement and stop those without passes.
Yongcheng is located in the far east of Henan and borders Shandong, Jiangsu, and Anhui provinces, and has two cross-country highways passing by.
Locking down the whole city after one person was diagnosed, is the current policy that the ruling communist regime adopts.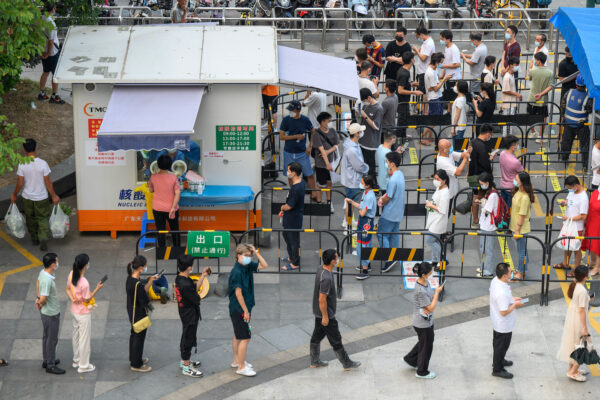 Coastal City
The city of Sanya, the so-called Hawaii of China, is facing the same challenge as Yongcheng with it going into lockdown on Tuesday after a resident was diagnosed with COVID-19 the day earlier.
"The patient has a low-grade fever and is treated at Sanya Central Hospital," the state-run CCTV reported on Tuesday. "The variant that the patient infected was tested to be BA.5.1.3."
Sanya is at the southern end of China's Hainan Island and lockdown measures have also affected boats and ships.
In its approach to attempting to curb outbreaks, Beijing has separated the country into three different regions: high-risk, medium-risk, and low-risk, and has adopted different lockdown methods in these regions.
China has 473 high-risk regions and 636 medium-risk regions located in 18 provinces at 13:00 p.m. on Tuesday, according to the state-run Beijing Daily.