A city in southeast China is responding to its latest COVID-19 outbreak by quarantining infected individuals and their close contacts, including children younger than 12 years old. Medical staff and parents alike have shared stories of grief and videos of their unaccompanied children in hospitals.
A 4-year-old boy in a full white hazmat suit with a backpack—almost half the size of his body—was captured on video trudging alone in a hospital corridor awaiting a CT scan following his positive test for COVID-19. Millions of users circulated the video footage, captured by a nurse at the fever clinic of the Affiliated Hospital of Putian University who uploaded it on Douyin, the Chinese version of TikTok.
"When I saw a child standing alone without parents accompanying [him] in the strange and scary hospital, my heart was really aching," Liang Limin, the nurse who recorded the scene, told a local newspaper on Sept. 14.
Health authorities in Putian, Fujian Province, stated on Sept. 19 that there have been 187 cases of COVID-19 detected over the past seven days. The figure is unlikely to reflect the actual total, given that the Chinese regime is known to grossly underreport its virus numbers, but it indicates a surge in the number of cases, including among school-aged children.
As of Sept. 17, more than 40 percent of cases in the city have been among children younger than 14 years old. Authorities have implemented China's standard containment strategy—mass testing and mandatory quarantines—on parents and teachers, as well as those young students.
Some children are too small, not even able to climb on the scanning table by themselves, Liang told Fujian Health Newspaper.
"We waited a long time for the children this time, because a child cried for two hours before being coaxed by doctors and parents to leave home," she told the local media.
Liang said tears immediately filled her eyes when she saw those "little white guys" step down alone from the ambulance to enter isolation.
Putian authorities said at a Sept. 16 press conference that the country's regulations required hospitals to isolate all patients diagnosed with the CCP virus, the pathogen that causes COVID-19. They claimed that the hospitals had prepared many books and delicious food for the children.
Many people have said on China's social media platforms that seeing children separated from their parents brought them to tears.
According to China's Central Television, the youngest patient in the Affiliated Hospital of Putian University's isolation wards is only 3 years old.
Authorities later said a parent could stay with their children younger than 14 years old. However, the rule only applies to those parents who have received negative COVID-19 test results.
Since two pupils tested positive on Sept. 10, infections have spread to students from more than 10 schools in Putian, including kindergarten and primary schools. In the largest quarantine hotel, there are more than 130 children younger than 12. The youngest is an 18-week-old newborn, according to state-run media outlet Xinhua.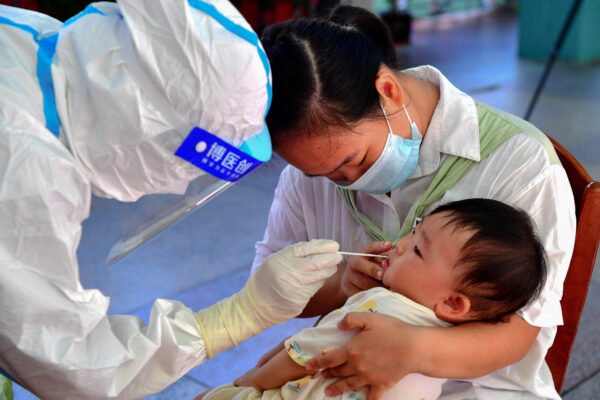 Infected During Quarantine
The Putian Municipal Health Commission reported more than 4,300 people in quarantine hotels or isolated in their homes on Sept. 19. However, national health authorities are attributing the recent outbreak to the quarantine strategy.
Wang Qinghua, a chief immunologist of the Chinese Center for Disease Control and Prevention, said at a Sept. 17 press conference that the likely source of the outbreak, a student's father, could have been infected with the Delta variant of COVID-19 during a mandatory quarantine.
Earlier, state media reported that the father had recently traveled overseas.
The man, surnamed Lin, first experienced a 14-day mandatory hotel quarantine after returning from Singapore on Aug. 4. He underwent another seven-day quarantine in a designated location and another week of medical observation at his home after entering Xianyou County. He had also tested negative for the virus nine times before receiving a positive result 37 days later.
Authorities in Putian have scrambled to enforce stay-at-home orders and conduct mass testing for the city's 2.9 million residents.
Wang warned that infection cases will continue to rise from a spike in cases linked to factories and schools, both of which are densely-populated locations. The outbreak spanned four cities in the Fujian Province as of Sept. 19.