China Frees a Journalist and Jails a Writer
February 5, 2008 12:00 am Last Updated: February 5, 2008 12:00 am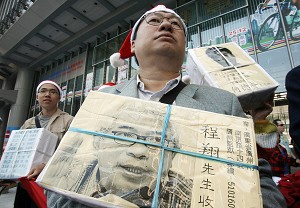 HONG KONG—China on Tuesday freed a Hong Kong-based reporter for a Singaporean newspaper jailed for five years for spying for Taiwan after intense lobbying from activists and politicians for clemency ahead of the Beijing Olympics.
Ching Cheong's release on parole coincided with the jailing of a dissident writer for four years on a charge of inciting subversion over essays he wrote critical of the government.
Ching, reportedly in poor health since his detention in 2005 and whose family had pushed for an early release on medical grounds, was freed ahead of the Lunar New Year holiday–the most important on the Chinese calendar–and was expected in Hong Kong later in the day, a Hong Kong official said.
"We have informed Ching Cheong's family about his release," Susana Kwong, Principal Information Officer for the Chief Executive's office, told Reuters. But she said the conditions of the release were not clear.
Chief Executive Donald Tsang "was particularly happy to see Ching could reunite with his family before the Lunar New Year", she said.
Ching, a reporter for Singapore's Straits Times newspaper, was detained in April 2005 and later sentenced to five years in jail in a high-profile case underscoring the country's curbs on the media and dissent. Beijing says strict controls are necessary to preserve stability.
But the government said it had nothing to do with Ching's release.
"If there is such a decision, it was not made by the Chinese government, but by the judicial authorities in accordance with the law," Foreign Ministry spokesman Liu Jianchao told a news conference in Beijing.
Ching was accused of spying for Taiwan, the self-ruled island over which Beijing claims sovereignty. He was detained in the southern Chinese province of Guangdong.
Calls from around the world had persisted for Ching's early release, many citing China's express intention of fostering a more open media environment–itself an effort to play down accusations of draconian controls over journalists.
"I wouldn't say it's a surprise, but this news has definitely come all of a sudden," said Mak Chai-ming, a spokesman for the Ching Cheong Incident Concern Group.
Ching's release came about four months after Beijing freed New York Times reporter Zhao Yan in a case that became the focus of campaigning by rights groups and U.S. diplomats.
Politically Motivated Charges
China holds 35 journalists and 51 cyber-dissidents in prison, according to Paris-based watchdog Reporters Without Borders.
The New York-based Committee to Protect Journalists blasted Beijing on Tuesday for again leading the world in jailing journalists.
Ching's release coincided with the jailing of dissident writer Lu Gengsong, which also sparked criticism.
"The pattern of sentencing against dissidents and human rights defenders under politically motivated subversion charges in recent months indicates a deterioration of the overall human rights situation rather than the improvement that the world is expecting from an Olympic host," Nicholas Bequelin of Human Rights Watch said.
The International PEN, which champions writers' freedoms, urged President Hu Jintao to free 40 jailed dissident writers, including Ching, ahead of the Summer Olympics.
In an open letter to Hu, the Hong Kong Journalists' Association said Ching suffered from arrhythmia and recently learned that his health had deteriorated in jail.