Editor's note: The anti-corruption campaign surging through China is the most significant political event in the country's recent history. Led by Chinese Communist Party chief Xi Jinping and his deputy Wang Qishan, it has heavily targeted officials closely tied to Jiang Zemin, for years the Party's behind-the-scenes godfather. These include the punishing takedowns of officials like Zhou Yongkang, Su Rong, Xu Caihou, and others. Along with the arrests of those "tigers," as they are called in official parlance, the campaign has been swatting "flies"—officials at a lower rank who engage in corruption—across the country. This regular column documents Xi Jinping's war against graft in the Party as events take place. 
China's antigraft campaign is often said to be merciless, but March 21 was the first time a relatively high-level official has been frogmarched away from his daughter's wedding by inspectors.
Wang Debao, the vice mayor of Nanjing, a large southern Chinese city, thought the men standing around and smoking silently at the back of the room were probably guests of the groom's family. But the "three to five men" turned out to be agents with the Jiangsu Commission for Discipline and Inspection Bureau.
When word got out that CCDI agents were present, several people excused themselves, and some even left their overcoats behind in their haste as they scurried away. The first wedding guest to head for the exit was a vice mayor named Zhang, who happened to recognize the men, who were from the Jiangsu Commission for Discipline and Inspection bureau.
Wang, however, was arrested so swiftly and without fuss that many guests didn't even realize he was gone.
Chinese Internet users poked fun at Wang's humiliating arrest. "Wang's son-in-law probably wanted to climb the social ladder [with his marriage]," said a netizen. "Will he break off the engagement now?"
Many Nanjing officials have been investigated for corruption in the past two years, including municipal secretary Yang Weize.
***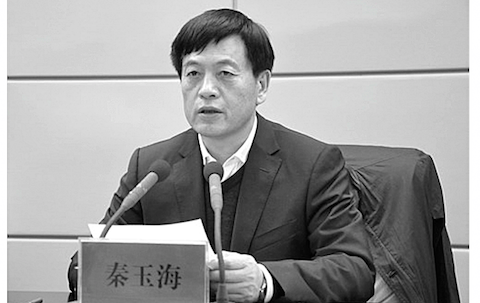 The Central Commission for Discipline Inspection (CCDI) has revealed how the former Party chief of the Henan provincial People's Congress engaged in massive corruption to feed his hobby: a passion for photography.
This led him to neglect his work, abuse his position, and use public funds to put on exhibitions, according to a report on the CCDI website on March 23.
Apart from his official post, Qin Yuhai was the honorary chairman of the Photographers' Association of Henan Province and member of China Photographers Association, and it is under the aegis of these groups that he held exhibitions, paid for by the taxpayer.
Several businesses took advantage of Qin's hobby to make a quick buck. For instance, a Beijing imaging company spent more than 5.7 million yuan ($918,000) to promote Qin and his works in exhibitions both at home and abroad, and in a book and a documentary. The company was rewarded with a lucrative advertising contract that generated 768 million yuan ($124 million) in revenue.
Qin was investigated last September for "serious violations of Party discipline and the law"—a phrase which implies corruption.  
According to 2004 report from the World Organization to Investigate the Persecution of Falun Gong, a non-profit organization, Qin was involved in the persecution of the practice—specifically, overseeing the arrests and torture of Falun Gong practitioners in Henan. When former Politburo member Luo Gan visited the province in 2003, Qin made even more strenuous efforts to hunt down Falun Gong adherents.
***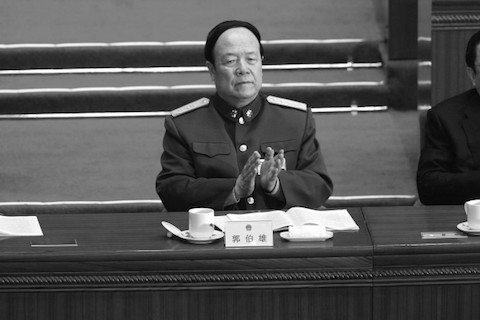 Wu Fangfang, the wife of retired general Guo Boxiong, revealed that her husband has 7 million yuan stashed away in their family home in Hangzhou, according to online news site the Beijing News.
Wu, who has not been seen publicly for a month, claims that 1 million yuan belongs to her. The average Chinese makes only 20,167 yuan annually in 2014, according to the National Bureau of Statistics.
Guo, the former vice chairman of the Central Military Commission, was investigated for corruption last year. His son Guo Zhenggang, a rear admiral in the navy, was detained in February 2015.