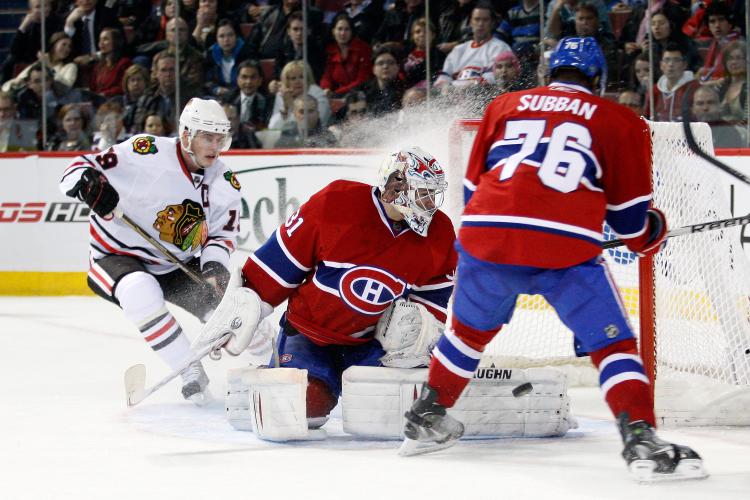 The Montreal Canadiens finally secured a spot in the playoffs with a 2–1 overtime win over the visiting Chicago Blackhawks on Tuesday night at the Bell Centre. They can finish no better than sixth place in the Eastern Conference and could fall to eighth by the time the regular season concludes this Sunday.
The Habs join the Vancouver Canucks as Canada's NHL franchises that will compete for the Stanley Cup. (At time of writing, the Calgary Flames still have an outside chance of reaching the playoffs).
Rookie defenceman P.K. Subban slammed home a power-play goal in overtime for his 14th goal of the season. Subban also picked up two minor penalties in the game, raising his team-leading total to 124 penalty minutes.
As usual, Carey Price came up with key saves, stopping 42 of 43 shots he faced in the rare Original 6 matchup.
The Canadiens have been touted as a playoff-bound team for several weeks and are potentially an undesirable team to face in the playoffs because of Price's remarkable play this season. One only needs to think back to last year's playoffs when Jaroslav Halak showed the NHL what a red hot goalie can do.
Price has carried the injury-riddled Canadiens into the playoffs and is a Vezina Trophy candidate with his 37 wins, 2.37 goals against average, and .923 save percentage.
Subban has assumed the role of a No. 1 defenceman with Andrei Markov and Josh Gorges out with knee injuries. While being a dark horse for the Calder Trophy, Subban's numbers and all-action style of play are reminiscent of the Norris Trophy-winning defenceman Chris Chelios.
While scoring goals has been a serious problem for Montreal, Price and Subban give the Habs two very credible leaders on the back end. As their fortunes go, so will go Montreal's fortunes in the playoffs, to a large extent.
During last year's playoffs, Subban was a revelation. He routinely played in excess of 20 minutes per game and was called on in all situations.
This year, Price will need to do what Jaroslav Halak did in last year's playoffs for Montreal and that is to literally steal games.
The most likely opponent for Montreal in the first round is the Boston Bruins. Such a matchup is guaranteed can't-miss hockey in light of the long-standing rivalry, a 14-goal fight-filled game in February, and of course, Zdeno Chara's hit that sent Max Pacioretty to the hospital with a concussion and broken neck.
The bond between Price and Subban was once again in evidence after the overtime winner. Subban ran straight for Price and the two did something like a chest-bump celebration. Normally after a win, Subban and Price will do the "triple low-five" but Tuesday night was particularly special.
In Subban and Price, Montreal has a two budding NHL superstars for the next several years. These upcoming hockey playoffs will be the first where the expectations on them are enormous. It's time for Price and Subban to shine under the pressure once again.