Canada Opens Doors to Media and 'Fake Lake' for G20
June 23, 2010 11:16 pm Last Updated: October 1, 2015 7:47 pm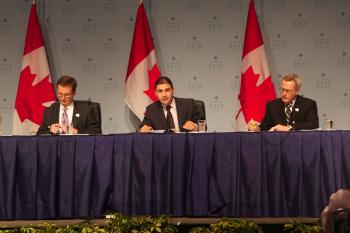 TORONTO-Canada opened its G8 and G20 International Media Centre on Wednesday allowing the press to get its first glimpse of the controversial "fake lake." The lake has drawn ire from opposition politicians and media in Canada as an example of wasteful spending on the part of the ruling Conservatives. The Official Opposition Liberal Party has called the summits a "billion-dollar boondoggle," and has drawn attention to the phony lake in the party's radio ads.
The lake was intended as a backdrop for broadcast media that would provide a more attractive image of Canada than the inside walls of the Direct Energy Centre, home to the annual home and garden shows.
The lake features a shallow pool with a deck and trademark northern Ontario cottage chairs. But at US$55,000, the lake is perhaps not the example waste it has been made out to be. The bulk of the over $962 million price tag for the summits, an eye-popping $1 billion, is set aside for security.
The centre was opened with a press briefing in Toronto featuring the prime minister's communications director and two other Canadian officials.
Communications Director Dimitri Soudas said the two summits, combined for the first time in one city, would draw over 3,000 media, but few were on hand Wednesday to hear him, two days before the G8 Summit begins in nearby Hunstville.
The officials stressed familiar themes in their talk. The G8 Summit, they said, would focus on development, in particular maternal and child health in Africa, as well as global security. The G20 has replaced the G8 as the leading forum for discussing the global economy and talks would focus on the global economic recovery.