Canada Defeats Great Britain in Olympic Women's Soccer
August 3, 2012 5:48 pm Last Updated: October 1, 2015 12:42 pm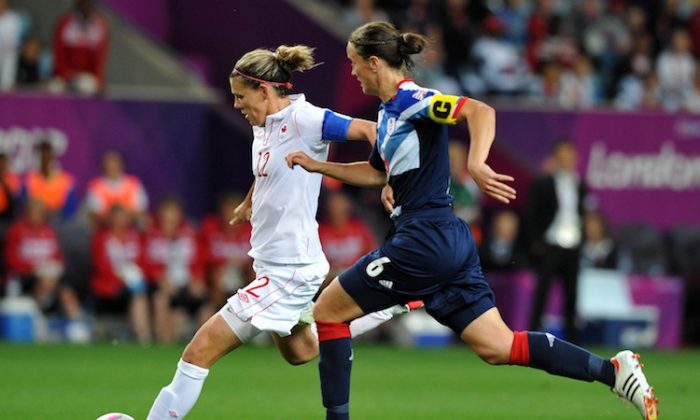 Canada's women's soccer team stormed into the semifinals of the London 2012 Olympics with a solid 2–0 win over host Great Britain in Coventry on Friday. It was the team's best display to date.
The Canadians took an early two-goal lead, defended it for over an hour, and will now face the United States team which advanced earlier by beating New Zealand 2–0.
The defensive lapses that prevented Canada from beating Sweden on Tuesday were nowhere to be found as goalkeeper Erin McLeod put forth a courageous performance and center back Lauren Sesselmann was very convincing in her second game in an atypical role.
Great Britain had not conceded a single goal in the three group stage matches and had taken first place in its group. Canada reached the quarterfinals as the third-place team in its group.
The British team was almost exclusively made of English players, with Kim Little being the only exception. Six of the squad members come from Arsenal's women's team that dominated the English women's league last year.
Canada began brightly, as they did against Sweden, and their attacking play bore fruit early.
In the 12th minute, striker Jonelle Filigno, who plays at Rutgers University in New Jersey, half-volleyed a corner kick for arguably the best goal of the tournament in the women's competition. The corner kick came as a result of a good run and cross by Rhian Wilkinson that the British defense had to clear away.
The spectacular goal silenced the home crowd to some extent, but the British fans were dealt another blow when Christine Sinclair scored on a free kick in the 26th minute. The goal was Sinclair's 140th for Canada.
Like she did in Germany in the World Cup against the host team, Sinclair's right foot put the ball past the wall and into the net. The ball seemed to find a gap in the wall and went in low to British goalkeeper Karen Bardsley's left.
Great Britain had a great chance just before Sinclair's goal as Karen Carney's glancing header from a Jill Scott cross flew wide of McLeod's goal.
After a couple of early corner kicks that weren't convincingly dealt with, McLeod's confidence began picking up after she made a couple of decisive plays.
Canada continued to pressure the British defense in defending their lead. The high-pressure tactics did seem to tire out the Canadian women, but some strategic time-wasting tactics also came in handy.
The second half wasn't pretty, as soccer pundits would say, but when there are precious few minutes left, a team has to do whatever it takes to preserve the lead. Canadian full back Marie-Eve Nault was shown a yellow card for time wasting on a throw in.
Canada was fortunate in the 80th minute as Britain's sharpest player on this day, Eniola Aluko, was fouled in the penalty area, but Japanese referee Sachiko Yamagishi didn't call the foul. In fact, Yamagishi seemed to want to let the players play, as many fouls did not get called throughout the second half in particular.
McLeod and Melissa Tancredi each took slight knocks in a big 6-yard box melee off a British free kick late in the game as Great Britain scrambled to get on the board, but both should feel no after-effects.
In the end, it was a terrific performance for coach John Herdman's women. Canada had to prove that they could beat a highly ranked team that was playing well. England (Great Britain) is ranked No. 9, according to FIFA's latest women's rankings.
Canada's true measuring stick will always be against its archrivals from south of the border. Monday's semifinal takes place at Old Trafford, home of Manchester United. The other semifinal features Japan against France.
Canada has grown in confidence since the opening-day loss to Japan. After beating South Africa 3–0 and putting forth a strong display against Sweden in a 2–2 draw, the beating of host Great Britain is a bright feather in the cap of Canada's national women's soccer team.
Follow Rahul on Twitter @RV_ETSports
The Epoch Times publishes in 35 countries and in 19 languages. Subscribe to our e-newsletter.