Prime Minister Boris Johnson has defended the UK government's handling of medical supplies procurement during the CCP (Chinese Communist Party) virus pandemic, after a government spending watchdog said suppliers with political links had been given priority.
In a report published on Wednesday, the National Audit Office (NAO) reported "a lack of transparency and adequate documentation of some key decisions."
Companies with links to politicians were fast-tracked and had more chances of getting a contract to supply personal protective equipment (PPE) than other applicants, the report said.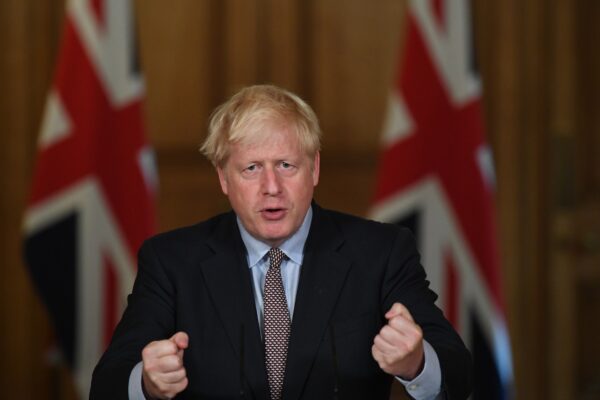 Appearing in Parliament via video link during his weekly Prime Minister's Questions session, Johnson rejected Labour leader Keir Starmer's criticism of the deals, emphasising that there was a lack of PPE across the world at the beginning of the COVID-19 pandemic.
"Seventy percent of PPE is now made in this country, or capable of being made in this country, when it was only one percent at the beginning of the pandemic," he said.
"We shifted heaven and earth to get 32 billion items of PPE into this country," he said, adding that he was "very proud of what has been achieved."
In the push to build up stocks, the government awarded 8,600 contracts worth £18 billion ($24 billion) between March and July, most without a competitive tender process.
Some came from a "high-priority lane" of firms referred by politicians, health professionals, and government officials, which were considered more credible and processed more quickly than others. One in 10 of those firms got a contract, compared to one in 100 from the wider pool of applicants.
In response to the NAO report, Business Secretary Alok Sharma said the government was acting with urgency and under "huge pressure."
"We had to do an enormous amount of work very fast to secure PPE and that's what we did, and I'm not going to apologise for the fact that quite rightly we made that effort," he said in a BBC interview.
The prime minister is currently self-isolating at his official residence in Downing Street, after coming into contact last week with a Conservative MP who later tested positive for the CCP virus.
Downing Street said on Tuesday Johnson had already tested negative, but would continue to self-isolate according to the government's quarantine rules.
Reuters and The Associated Press contributed to this report.